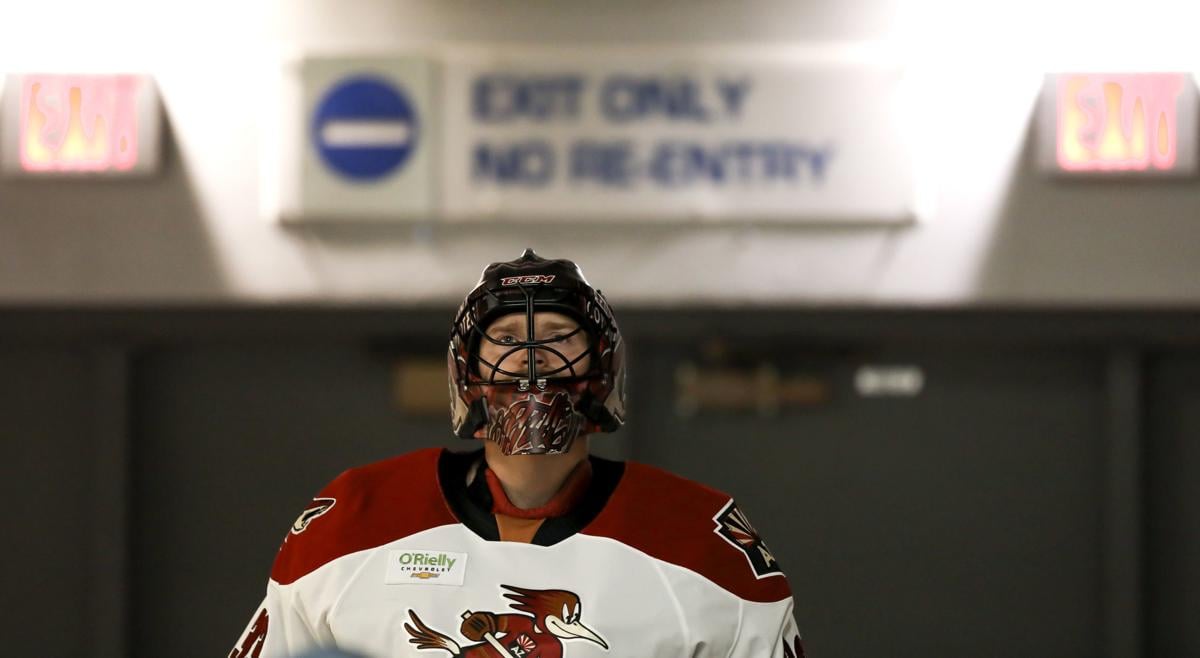 Like so many grinding through the short work week — where Thursday and the chance to grab a turkey leg and inhale some stuffing can't come soon enough — the situation the Tucson Roadrunners face as the upcoming Thanksgiving holiday approaches isn't entirely different.
First, get your work done. Then scarf.
An informal poll of some of the Tucson roster after last weekend's home sweep of the visiting Ontario Reign presented the idea that the Roadrunners will be in San Diego for the holiday as the major plus this season. It's the second consecutive year the club is away from Tucson on Thanksgiving.
"We're going to enjoy every second of it," forward Andy Miele said of being in "America's Finest City" for the latter half of the week. "And we'll also enjoy the weather and the beach while we're there."
But to even get to Thursday, the Roadrunners (14-4-0-0) — owners of the American Hockey League's second-best record, and who currently sit atop the league's Western Conference standings — must first take care of business in Bakersfield. Tucson faces the Bakersfield Condors (7-8-2-1), yet another Pacific Division rival, Wednesday night.
"It's been a really good start to the season," forward Brayden Burke said, adding that he's still cautious not to look too far ahead. "This is nothing. … We're not even in December yet. The season's still young. Anything can happen. There's a lot of good teams in our division that are starting to win hockey games. So we just want to keep doing what's been working for us."
Beginning with Bakersfield, and continuing on to San Diego against the Gulls (7-8-0-0) Saturday evening, and then back home to next week when the Roadrunners welcome the Colorado Eagles (9-8-0-0) to Tucson Arena for a pair, the Roadrunners open up a hefty block of their schedule that pretty won't end until the regular season is over.
With eight games against the Condors, another eight against their Interstate 8 rivals from San Diego, and 12 against the Eagles, the Roadrunners play more than half of their 50 remaining games — 28 in all — against just these three teams.
When asked postgame Saturday what he and his staff knew about Bakersfield, Varady admitted "not much. … We haven't gotten there yet."
That's sure to change by game time Wednesday.
"All of our focus has kind of been on Stockton, San Jose and Ontario," he added, referencing an early-season slate that saw Tucson face the Heat (11-3-1-2), Barracuda (6-10-0-1) and Reign (8-8-2-0) in 10 of the team's first 18 outings. "It's a group effort with our coaching staff. Everybody grabs a little bit, and we'll spend a lot of time talking about other teams. But a lot of our focus is our game, how we progress."
Varady noted that Thanksgiving is a workday first, but said the team can relax a bit in the afternoon.
"It's a practice day for us. So we'll go get our work in, and then we still have another day to work the turkey off after that," Varady said, eluding that he's grateful Tucson doesn't play the Gulls until Saturday, as opposed to Friday night.
Tucson players, like forward Andy Miele, admit it's not easy being away from home. Miele became a new dad just a few weeks ago.
"It's tough being away from family, obviously, but this is our second family," Miele said. "We have a lot of fun together and it's a close group."
Burke echoed that sentiment, adding "just to be with each other and just have good talks … get to know each other a little better, even though we've done a good job of that so far."