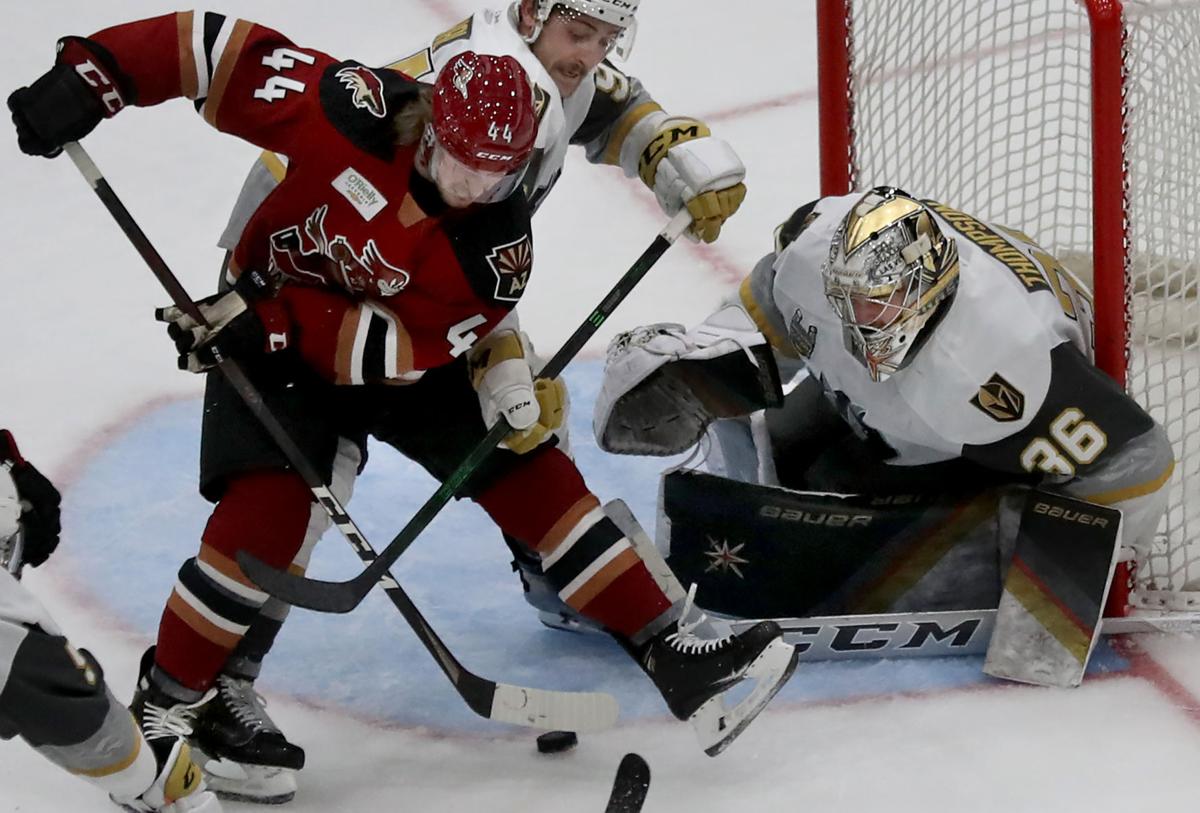 The Henderson Silver Knights proved again Wednesday what they've actually been showing the American Hockey League all season: the number of shots on goal a team takes on a given night doesn't always correlate with how many goals a team scores.
Or, for that matter, whether it wins games.
In their first-ever matchup with the Tucson Roadrunners (7-11-1-0), the Silver Knights (16-3-0-0), the newest team in the American Hockey League's Pacific Division, skated away with a 3-1 victory in the opener of a three-game series this week at Tucson Arena.
Henderson and Tucson square off again Friday and Saturday, with both outings at 7 p.m.
The Silver Knights, who took the early 1-0 lead on a goal by Jimmy Schuldt on the game's first shot on goal barely a minute into the game, only ended up with 17 shots when all was said and done. The Roadrunners nearly tripled that, finishing with 45 of their own. Both numbers were season bests for Tucson, with the 17 against tying the fewest the Roadrunners have allowed all season through 19 games, and the 45 in favor topping Tucson's previous high of 42.
"I think we're doing a good job of generating (offensive) zone time, and funneling pucks on net. But I think we need to get inside and get sticky around the net," Tucson defenseman Kyle Capobianco said.
"I think goalies are so good in this league, that you've got to take away their eyes," he added. "And we've got to capitalize on second chances. I think there were some rebounds kicked out today that were just in a spot that I think we can find a soft area and maybe get one of those."
It's not as if Wednesday's scenario was anything new for Henderson, even if it has rarely been that lopsided.
In its first season as the AHL affiliate of the NHL's Vegas Golden Knights, Henderson has been outflanked in total by more than 100 shots on goal so far this season. That's happened even as their league-best win percentage climbed to .842 with Wednesday's win. On average, the Silver Knights take about 26 shots on goal while giving up 32. Tucson, for its part, came in to Wednesday's game averaging near identical marks of 31 shots for and 31 against per outing.
But the clearer issue for the Roadrunners these days isn't so much getting pucks to the net; it's getting them in. The team's 2.58 goals per game is now third-worst among the AHL's 28 teams. Tucson's scoring defense of 3.47 goals against per game is in the bottom six, league wide. Those marks have contributed to Tucson falling into a near dead-heat for last place in the Pacific Division with the Ontario Reign.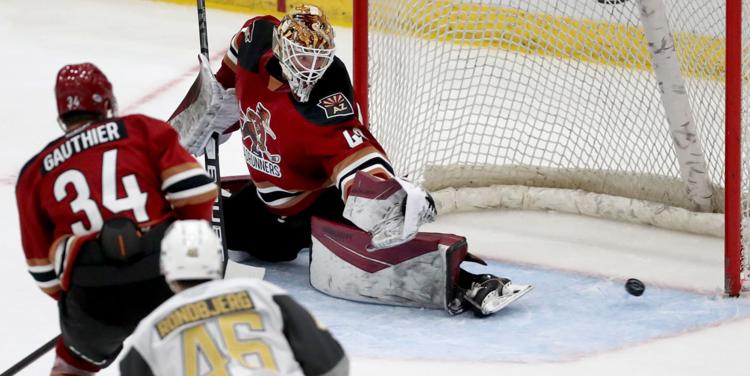 Tucson's lone goal Wednesday came on a 5-on-3 advantaged by prospect Barrett Hayton, with Brayden Burke and Capobianco recording assists. After being reassigned from the Coyotes to the Roadrunners, Hayton's AHL season started without any points in his first eight games. But over his last seven games, he's notched two goals and three assists for five points.
"He needed a bounceback game. I don't think he was really satisfied with his game (last weekend) in San Diego," Tucson coach Steve Potvin said of Hayton. "He came out the last couple of days in practice and he had some real intent, and had some things that he wanted to clean up. … He showed up with a mindset of striking and playing his game."
Hayton's goal came just less than three minutes after Henderson's initial score in the first period, tying the game at one apiece five minutes into the game.
Henderson added two more — both in the second period. Carl Dahlstrom scored 16 minutes into the middle period, and Cody Glass with less than a minute to go. Glass finished the game with a goal and an assist, while Lucas Elvenes carded three assists for the Silver Knights.
Thompson stopped 44 of the Roadrunners' 45 shots, while Tucson goaltender Connor LaCouvee turned away 14 of 17 in defeat.
Photos: Roadrunners fall at home to Henderson 3-1, AHL action
Roadrunners vs Henderson Silver Knights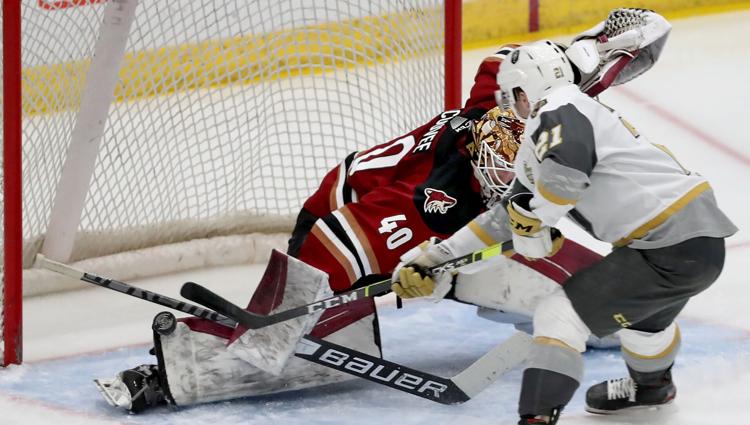 Roadrunners vs Henderson Silver Knights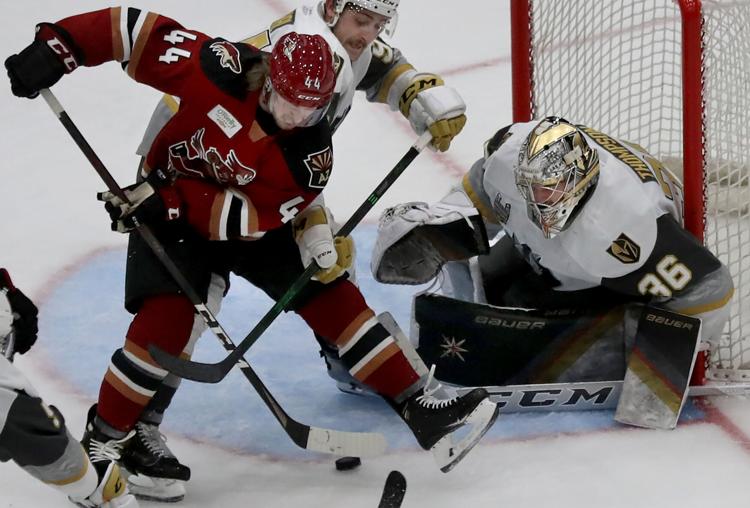 Roadrunners vs Henderson Silver Knights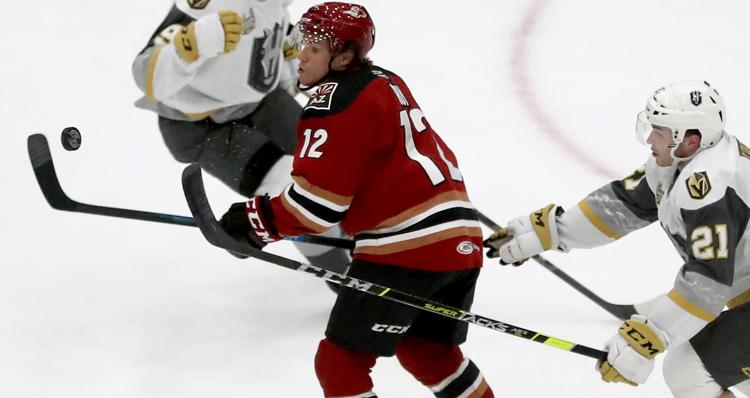 Roadrunners vs Henderson Silver Knights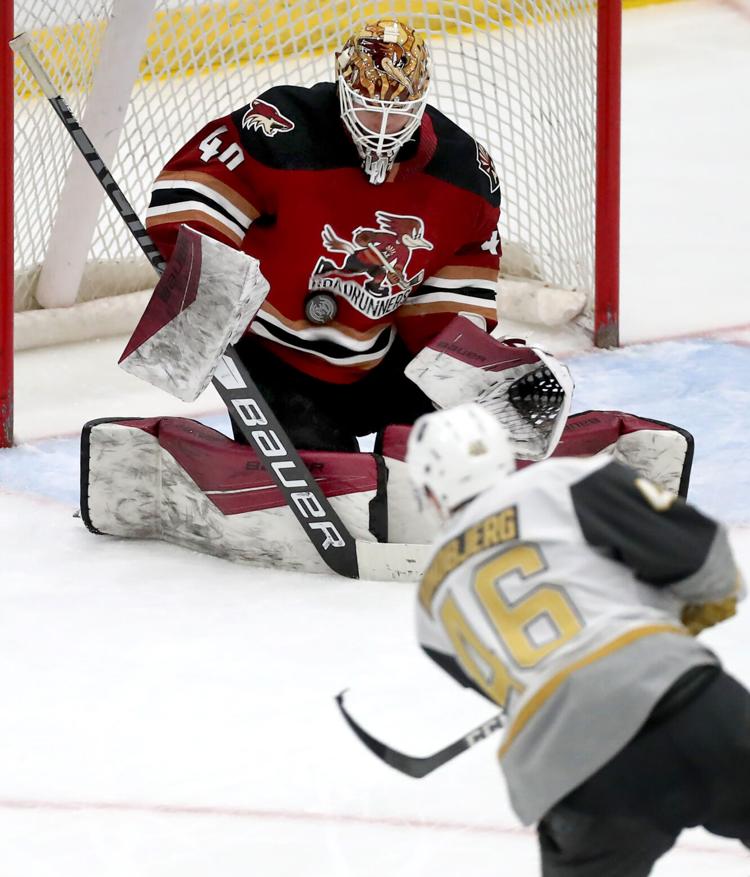 Roadrunners vs Henderson Silver Knights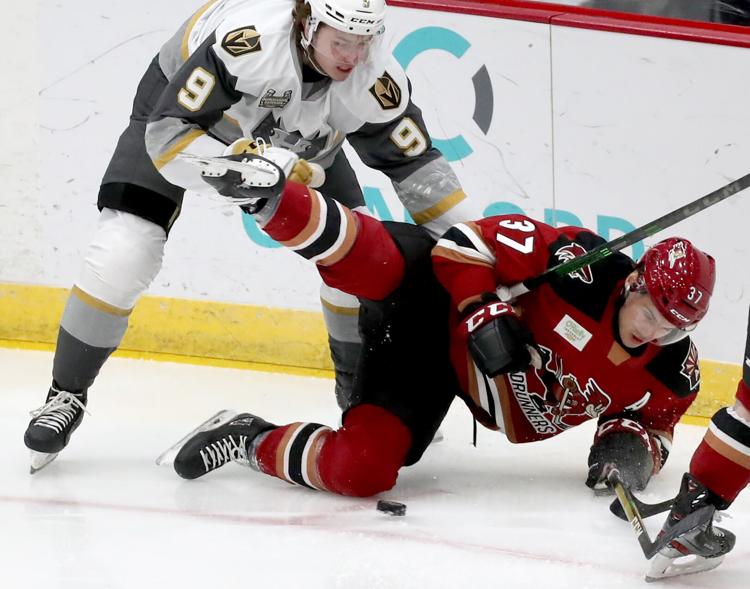 Roadrunners vs Henderson Silver Knights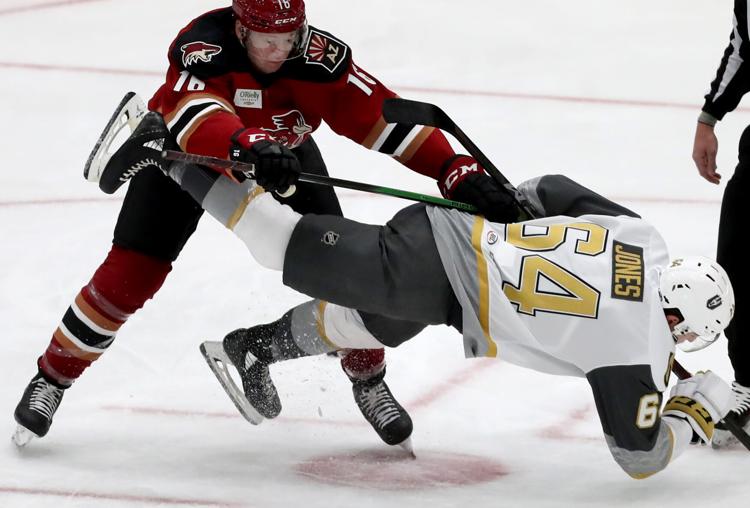 Roadrunners vs Henderson Silver Knights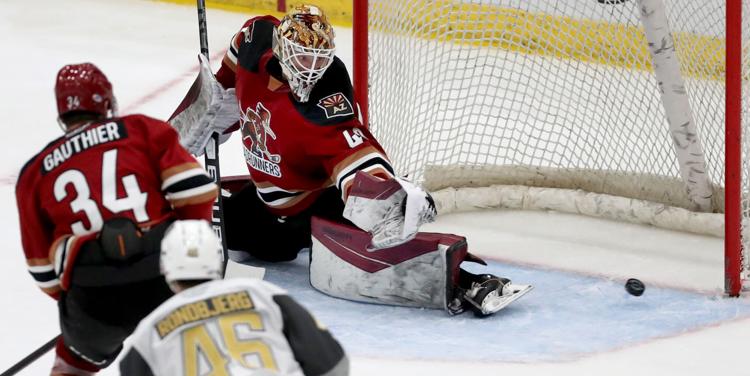 Roadrunners vs Henderson Silver Knights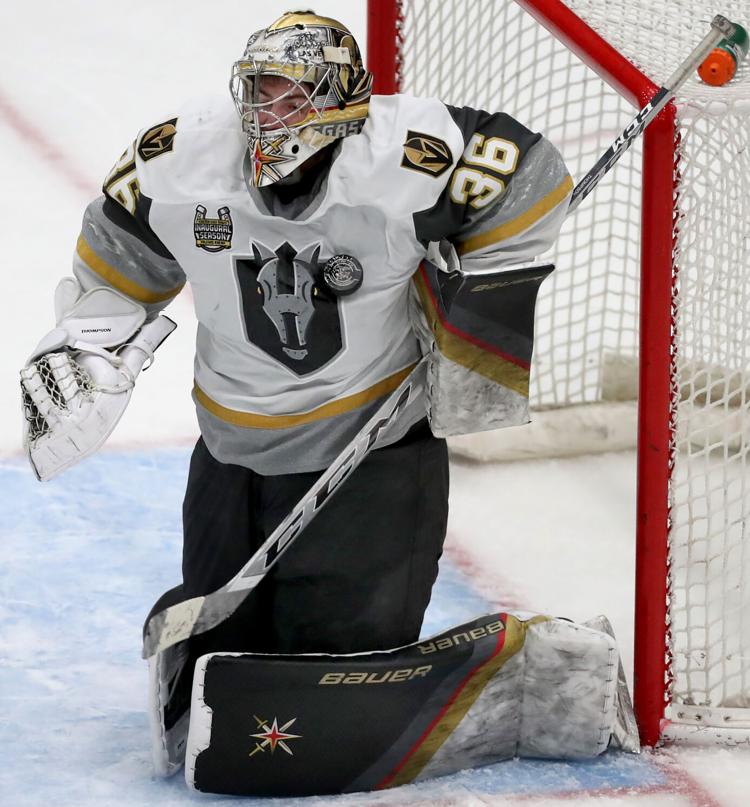 Roadrunners vs Henderson Silver Knights

Roadrunners vs Henderson Silver Knights