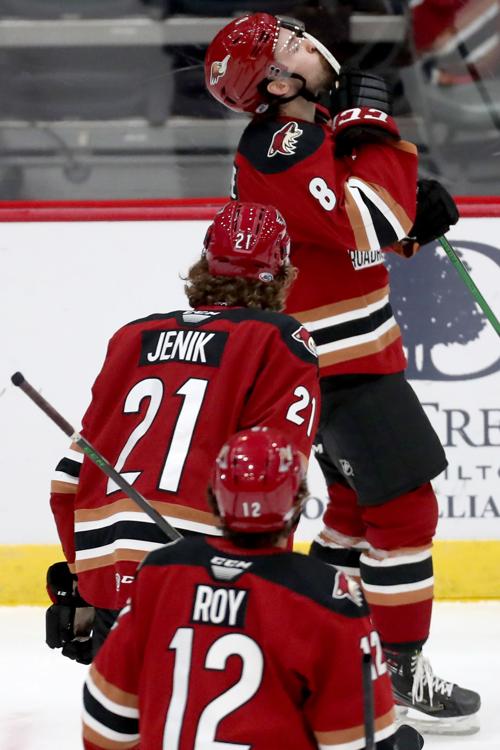 Longtime Tucson Roadrunners forward Michael Bunting's scorching run with the Arizona Coyotes has been well-chronicled.
He's deposited nine goals since March 31, putting his name squarely alongside of the more revered modern NHL scoring threats.
But back in Tucson, Bunting's seemingly-permanent departure has led to two of his former teammates taking flight.
As a result, forwards Michael Carcone and Tyler Steenbergen are both now at the top of the AHL charts.
Carcone's nine goals over 13 games is tied for tops in the AHL. Steenbergen is one goal behind him with eight.
Steenbergen scored the first goal in the Roadrunners' Feb. 7 season opener, then was held scoreless for the next 19 games. But over his last 13 games, Steenbergen has contributed one two-goal night, followed by six one-goal outings. He scored one apiece in Tucson's back-to-back games against San Diego last weekend.
"Trusting the process was a big thing. … I think he was starting to have a little self-doubt. He was doing a lot of the right things. He was putting himself in positions to score, and they just weren't going in," Tucson coach Steve Potvin said this week as the Roadrunners prepared for Thursday night's game at the Texas Stars. "It's real exciting to see him start to get rewarded. Of any player he deserves it. He shows up every day in a quality way, he's a good human, he's always a positive person. He's a pleasure to coach and a pleasure to be around."
Most of Carcone's goal-scoring output came in a two-day span last month, where he posted a team-record four goals one night and added two the next day. But against San Diego on Saturday, Carcone proved he had more than one trick in the bag. He posted four assists in Tucson's 9-2 win.
"Quite honestly, it's amazing how he can spring himself open," Potvin said of Carcone, who's on loan from the NHL's Nashville Predators. "You can shake your head at it sometimes thinking, 'Jeez, he's on another breakaway.' He gets two breakaways a game. It's kind of laughable."
Carcone may not be a one-trick pony, but he's likely to be a one-year wonder. The better Carcone plays, the more value he brings to the Predators' organization.
An anniversary in Texas
A division championship banner hangs on the south wall of Tucson Arena as proof that, had 2019-20 AHL season not been shut down last March, the Roadrunners would have made their second appearance Calder Cup playoff appearance.
This year, the AHL has announced that again there will be no league-wide playoffs. The Pacific Division, however, will hold its own mini-tournament to determine a division winner.
Details on how that Pacific Division tournament will take place are still to be announced, but this week's trip to the suburbs of Austin, Texas, brings back memories of the last time the club played a postseason game.
Three years ago this week, the Roadrunners faced the Stars and ultimately fell in five games of the best-of-seven series. Texas advanced all the way to the Calder Cup final before losing to the Toronto Marlies.
The three games in Texas marked Roadrunners forward Brayden Burke's debut with the club.
"Everything I remember was good memories, except obviously getting knocked out of the playoffs," Burke said. "But it was exciting to get in my first pro game, and Austin is a fun city. (I remember) just being with the guys and getting my first taste of pro hockey."
Burke has battled an number of injuries this season, limiting him to just one goal in 23 games this season. But his playmaking output has risen of late; Burke's 12 assists are second-best on the club.
A night to remember
Tucson's nine goals against San Diego on Saturday marked the team's highest output ever in a single night. The previous record of eight had happened multiple times, most recently against Ontario in December 2019.
Carcone's four-assist night gave him two four-point games in the last month. The Roadrunners' top-10 point producers of all time only combined for that feat four times. Bunting, the Roadrunners' career leader in points, and Lane Pederson, who sits second, have never reached that mark in their AHL careers. Defenseman Kyle Capobianco and first-year Roadrunner forward Kevin Roy did do it earlier this season.
Including Carcone, seven different Roadrunners recorded multi-point workdays: Jan Jenik (2 goals, 1 assist), Ryan McGregor (3 assists), Burke (2 assists), Josh Wilkins (2 goals), Jalen Smereck (2 assists) and Victor Sodorstrom (2 assists). In the Roadrunners' 10 previous games, Tucson skaters had amassed the same number of multipoint games — seven — combined.
Goaltender Ivan Prosvetov finished with a career-best 47 saves, on 49 San Diego shots. Marek Langhamer set Tucson's club-record with 50 saves on 54 shots in a 5-4 win over Ontario in March 2017.