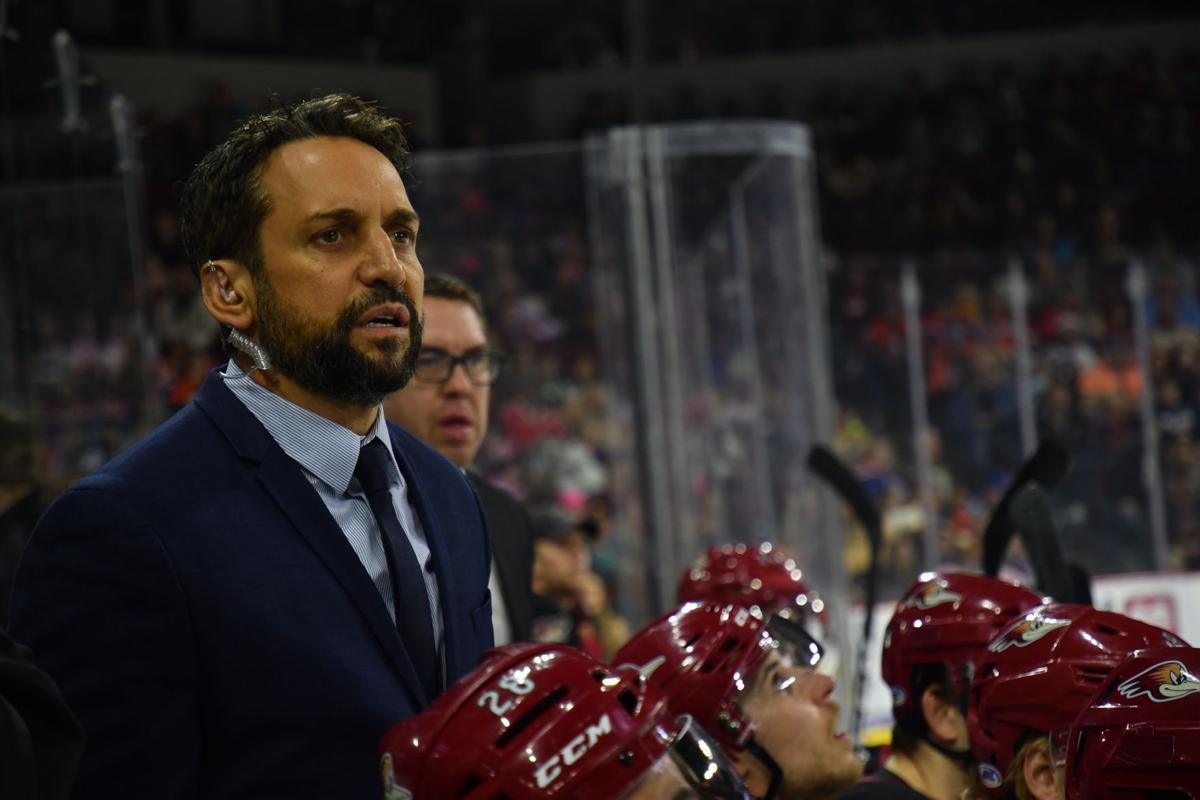 This time of year, the Tucson Roadrunners are typically packing their bags.
February traditionally marks the American Hockey League team's nearly month-long departure from Southern Arizona. The Roadrunners move out of Tucson Arena, and the famed Tucson Gem and Mineral Show takes over.
"February is typically so difficult for us," said first-year Roadrunners head coach Steve Potvin, promoted last month after three seasons as an assistant. "We end up spending something like 20 days on the road."
Those treks have been relentlessly unforgiving. Even as it won a pair of Pacific Division championships in four seasons, Tucson has gone 9-17-0-2 on the road in the month of February.
But, like so much else in sports these days, things are different now.
For one, there is no Gem Show in 2021, meaning the Roadrunners don't need to be away from Tucson for one grueling chunk of time. And some fortuitous scheduling means the Roadrunners should end up playing more games in their home building than any other AHL team.
"For us to get this type of card dealt our way," Potvin said, "yeah, we're happy about it."
Most importantly, though, this particular February also means the actual start to the AHL season itself. Pushed from early October to align with a re-tooled NHL schedules after last year's pandemic-influenced delays, Tucson takes on the San Jose Barracuda at noon Sunday at Tucson Arena.
San Jose will be the designated home team for Sunday's tilt and Monday's 7 p.m. follow-up; the Barracuda are playing their first two "home" games on the road because of restrictions on certain types of events in Northern California.
Potvin is clear he isn't attempting to make light of the Gem Show's cancellation or the Barracuda's situation in Santa Clara County. But he is also aware that come next year, the Roadrunners will likely be back on the road for much of February.
"Oh, 100% … we expect that," said Potvin, Tucson's fourth head coach in the club's five season. "So we're going to take it (this year), and we're going to run with it."
That "run with it" mantra could fit the run-up to Sunday's season opener in the first place. It's been a mad dash to even get to this point.
Tucson's regular-season schedule has already been reworked twice — first when one opponent elected to play exclusively in Canada this season, and then again when the season opener was pushed from Friday to Sunday. The latter move came following a positive COVID-19 test by a Barracuda player during an exhibition matchup last weekend in Las Vegas. The game between San Jose and the Henderson Silver Knights was canceled between the second and third periods.
"Week to week, day to day, minute to minute," Potvin said of how he'll approach a season like this that likely will have more twists along the way.
There will be no fans inside Tucson Arena Sunday or Monday, but Roadrunners officials are still confident that will change at some point this season. It's possible some season ticket holders could watch Tucson's official home opener Feb. 18.
Until then, the most familiar faces in the building likely belong to returning veterans like forwards Michael Bunting, Lane Pederson and Brayden Burke, as well as defenseman Dysin Mayo.
Bunting is the Roadrunners' all-time leader in virtually every major statistical category, while Pederson and Burke earned their first AHL All-Star nods in 2020. Mayo, one of just three players to take part in all five Roadrunners training camps, will help backbone Tucson's defensive unit.
While Tucson's 25-man opening day roster includes 14 players who have never spent a single game in a Roadrunners' sweater, the 11 that are back in Tucson are expected to carry the momentum from last year's division championship-winning squad. Eight of those 11 have spent at least part of the last three seasons with the Roadrunners — that timing coinciding with not only Potvin's tenure but that of assistant coach John Slaney, who is also in his fourth year in Tucson.
While Ivan Prosvetov is back for his second season in net, newcomers include defenseman Jordan Schmaltz, a Stanley Cup winner with the St. Louis Blues and brother of Arizona Coyotes forward Nick Schmaltz. Defenseman Victor Söderström, who already has two NHL games with the Coyotes under his belt this season, and forward Jan Jenik are among the top NHL prospects to watch in Tucson.
"It's important to have a good blend. You always want fresh players, fresh attitudes, to keep that development process growing, really," Potvin said, adding that — like predecessor Jay Varady — developing prospects is the chief goal at this level, even sometimes over winning. "So we're fortunate to have a blend of young veterans and returning players. That is definitely going to help us as coaches."