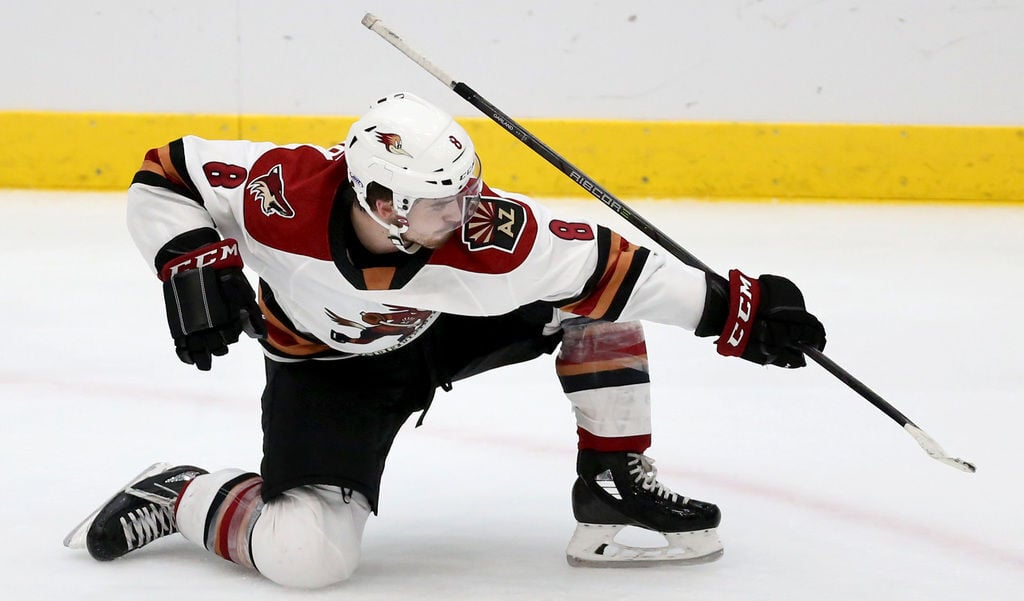 The Tucson Roadrunners' 2021 season will now begin Sunday instead of Friday after a San Jose Barracuda player tested positive for COVID-19 last weekend.
Instead of playing the Barracuda Friday, Saturday and Monday to open up the re-tooled American Hockey League season, the teams will skate twice — Sunday at noon and Monday at 7 p.m. Tucson Arena is still the site for both matchups; San Jose will be the designated home team as it starts its season out of state because of heightened COVID-19 protocols in California's Santa Clara County.
The Barracuda learned of the positive test midway through Saturday's exhibition in Las Vegas against the Henderson Silver Knights. Players were pulled off the ice between the second and third periods, and the game was canceled with Henderson leading 1-0.
The AHL canceled a preseason game between the Roadrunners and Barracuda scheduled for Monday night in Tucson. At the time, the Barracuda announced it was "postponing all team activities for the next several days," per AHL policy.
"These schedule changes were made out of an abundance of caution in accordance with the AHL's health and safety protocols," the AHL said in a news release sent Tuesday morning.
This marks the second schedule revision in as many days for the Roadrunners.
Monday, the Stockton Heat — which normally plays in the same division as the Roadrunners — announced that they will be based out of Calgary this season. The move attaches the Heat to their NHL affiliate, the Calgary Flames, to mitigate travel issues across the U.S.-Canadian border. Stockton will play a modified scheduled against the AHL's Canadian teams.
The Roadrunners were originally scheduled to play the Heat four times, but will instead play two more games against the Ontario Reign and San Diego Gulls. The Reign are playing their home games out of El Segundo, California, while the Gulls are based in Irvine, California, for the season. The moves ensure the teams will stay close to their affiliates, the Los Angeles Kings and Anaheim Ducks.
While the Roadrunners will still enjoy the creature comforts of home during the opening series against San Jose — that includes sleeping in their own beds and a familiar locker room — the Barracuda being designated the home team means Friday's cancellation doesn't officially impact Tucson's home schedule.
The Roadrunners are still on track to play 20 official home games, in addition to the two "away" games against San Jose Sunday and Monday.