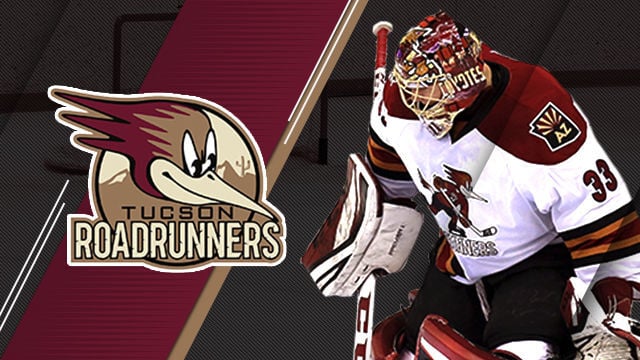 For 135 Tucson Roadrunners' regular-season home games and counting, David Lieb has had arguably the best seat in all of Tucson Arena.
By day a public advocate attorney in the Phoenix area representing youths in juvenile delinquency cases, Lieb heads down Interstate 10 for every Roadrunners home game.
He does it always clad in one of his custom-made Roadrunners' jerseys, and always sits in the same seat: ice level, between the penalty boxes.
And he brings the same accessories to every game, too: a list of pronunciations for the visiting team's roster, a bottle of cold water, another smaller bottle of warm water — this one with a bit of honey in it to soothe his throat when necessary.
No, Lieb isn't a season-ticket holder. For all of the team's five seasons of American Hockey League play in Southern Arizona, he's been rinkside for every goal, every penalty, every triumph and every heartbreak, moonlighting as the Roadrunners' public address announcer.
"Yeah, I was there from Game 1," Lieb said, the inflection in his distinct voice displaying a speck of pride in that accomplishment.
As the Roadrunners (6-6-0-0) return to Tucson Tuesday against the Ontario Reign (3-10-2-0), there surely can't be more than a few individuals more excited for this particular matchup than Lieb.
That's because, for the first time this season — the first time in precisely 370 days — the Roadrunners will have fans in the building at Tucson Arena when they take the ice for a 6:30 p.m. faceoff.
The Roadrunners' front office has been collaborating for months, team president Bob Hoffman said, with Pima County officials and representatives of ASM Global, the organization that manages Tucson Arena, on a plan to get a limited number of spectators back in the seats. Similarly, the University of Arizona announced parallel plans for a limited number of attendees to be allowed inside Hi Corbett Field and Hillenbrand Stadium for UA baseball and softball games, respectively.
Beginning Tuesday at Tucson Arena, limited concessions will be available, but via "grab-and-go" only. Ticket holders will also have specific entry and exit protocol to follow, and will only be permitted to sit in small, pre-designated pods in the arena's horseshoe-shaped single-level grandstands.
Tucson Arena's capacity will start at 650 people — 10% of the building's capacity. There's a possibility that numbers grow later in the season.
For each of the five Roadrunners' games at Tucson Arena so far this season, Lieb has been at ice-level doing the same job he's always done. That includes rattling off sponsor messages, energetically announcing in-arena activities, and, of course, calling the goals themselves.
"You know, I'm always somebody who enjoys a challenge," Lieb said. "(I've been) announcing to a fan base in the arena of scratched players, scouts, team staff, AHL off ice officials, (broadcast crew) and that's pretty much it. So it was weird."
Lieb said he's taken his role just as seriously this season even with so few around to hear him.
"Part of it is to give the players a sense of, yes, this is a real game. Everything is just going like normal, even though when they look out at the stands, they see nothing," he said. "I do it because I do hope."
As the loudest person in the building, Lieb is anything but monotone when the call includes a Roadrunners goal.
But it was also especially strange, he said, when he was to call the first two games this season treating the San Jose Barracuda as the home team. San Jose's first two "home" games took place in Tucson due to restrictions on sporting events in Northern California's Santa Clara County.
The first game, Lieb's voice stayed level for anything related to the Roadrunners, but got high — as it would for the home team — when the Barracuda came on to the ice or scored.
That didn't last long. By the next afternoon, Lieb decided to give both teams the feeling of excitement a home ice announcer would bring.
"I want to be more than just the disembodied voice in the arena," he said with a laugh. "When you hear me getting excited during a game and you know if you hear me raspy after the game, it's because I was really excited about what was going on on the ice."
Lieb isn't be the only person at ice level happy to see more faces in the building. Roadrunners coach Steve Potvin said that having natural crowd noise is something he considers part of the game. A number of his players agree.
"Of course you love the game on its own, but you're used to hearing the noises of the game — feeling the energy of the crowd," Potvin said. "It can build mistakes for the other team. Your heart rate rises. … And on the visitor's side, you feel the energy, too.
"I think at the start of the year, we were just so happy to be playing. So we're going to have to adjust when we go somewhere else now."
Tucson is the first team in its division to have fans at games. The Henderson Silver Knights will follow suit this weekend.
"Obviously as athletes you feed off of people supporting you and people being there and noise as it brings," Roadrunners forward Nate Sucese said. "But whether you're home or on the road, I think it will be nice to have a little bit of normalcy back to the sports world."