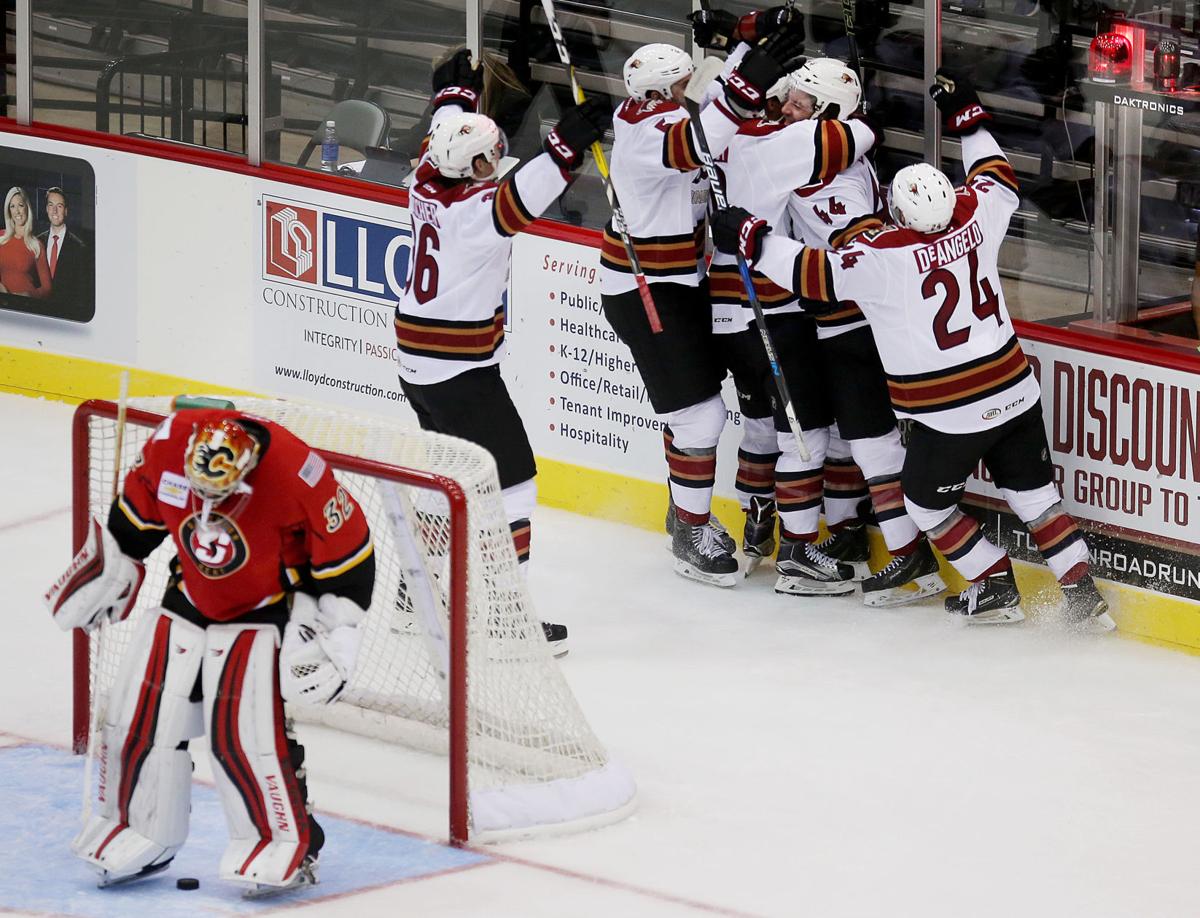 At exactly 5:30 p.m. Friday, fans poured into the newly renovated Tucson Arena to watch the Tucson Roadrunners for the first time.
A mixture of Tucsonans and Phoenicians packed the arena to watch the future of the NHL's Arizona Coyotes and witness the debut of a new professional sports team in the Old Pueblo.
Mayor Jonathan Rothschild cut the ceremonial ribbon and declared it "Tucson Roadrunners Day." Rothschild, American Hockey League president David Andrews and Coyotes owner Anthony LeBlanc conducted a ceremonial puck drop just before 7 p.m.
Then, the Roadrunners put on a show.
Tucson eliminated a three-goal, first-period deficit and rallied to beat the Stockton Heat 6-5 in front of a sellout crowd of 6,521. Wing Eric Selleck's goal with 3:10 remaining sealed the victory.
If nothing else it was clear, at least on this first night, that Tucson really is ready for a hockey team.
"It was awesome," Selleck said. "It was obviously not the start we wanted but the fans never let us down, we came back and they erupted so it was an awesome game, for sure."
Glen Spivak, a long-time Coyotes season ticket holder, drove down from Phoenix, clad in an NHL jersey, as many fans were. Across the board, loyal Coyotes fans are excited to have their team's minor-league franchise within driving distance, as opposed to on the other side of the country as it was when the Roadrunners — previously the Falcons — were in Springfield, Massachusetts, prior to moving to Arizona.
"It's outstanding," Spivak said. "It's really good for the Coyotes, it's nice to have, for them to just be a couple hours up the road instead of across the country. It'll make a big difference for the pro team … it's cool for the city of Tucson to pick up a little hockey too. It's going to be a great way to grow the game."
The energy that greeted the Roadrunners was sapped rather quickly, though, as the Roadrunners quickly fell behind 3-0 within the first nine minutes.
Mike Angelidis scored Stockton's first goal on goalie Adin Hill just over two minutes into the first period, and the Heat came right back and scored another goal just over a minute later, this time from left wing Hunter Shinkaruk. Hill finished the game with 36 saves.
Stockton's third goal occurred eight minutes into the period when Mark Jankowski made it a three-goal lead for the Heat.
"That's hockey," said Tucson coach Mark Lamb. "That's why it's a 60-minute game, there's a lot of ups and downs, there's a lot of momentum changes which happened tonight. We regrouped and started getting our game back and it was a great win for us."
After that spurt of offense, Tucson took control the rest of that first period, and finally scored its first goal when defenseman Jarred Tinordi converted a slap shot of an assists from center Tyler Gaudet and defenseman Anthony DeAngelo.
The Roadrunners cut it to 3-2 before the end of the first period on an unassisted goal from center Mark Olver.
After Tucson went into intermission, though, it lost some momentum as Stockton pushed it back to a two-goal lead on a score from left wing Morgan Klimchuk.
The crowd kept getting louder as the Roadrunners cut it back to 4-3 on a goal from center Ryan MacInnis with 6:32 left in the second period. Then, MacInnis scored again to tie it up at 4-4 with 4:40 remaining.
The Roadrunners continued the hot streak into the third period on center Chris Mueller's power-play goal, assisted by DeAngelo and defenseman Jamie McBain. That lead only lasted five minutes as Stockton tied it on a goal from Garnet Hathaway at the 9:57 mark.
But, in the end, Selleck scored the game-winning goal and the Roadrunners held on for the win, despite being outshot 41-31.
"I liked everything about the atmosphere," Lamb said, "and for people that came to the game that haven't seen a lot of hockey or even seen hockey before are going to go away pretty excited about how it all played out."