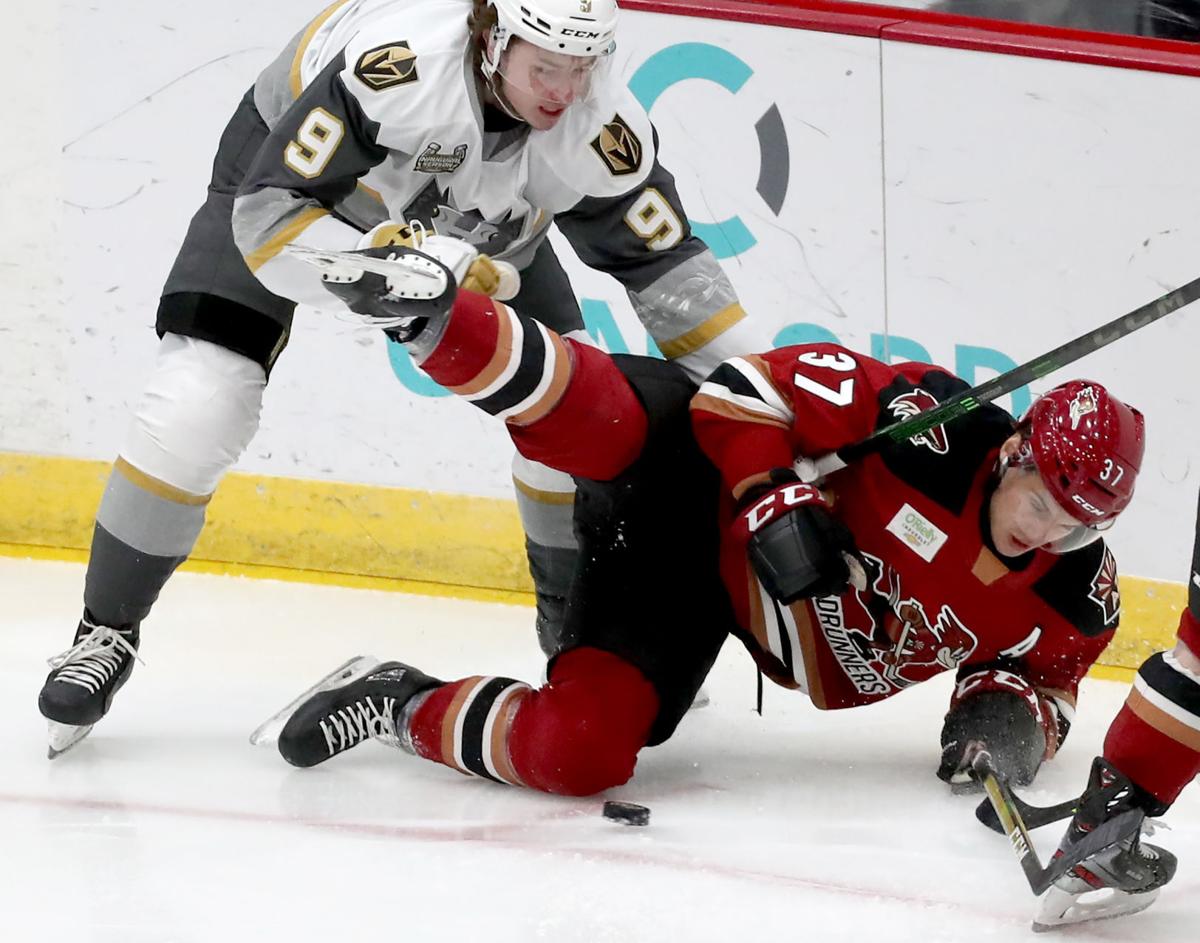 Losers of six of their last eight games? Glass half-empty.
Winners of two of three — both over the top two teams in the American Hockey League's Pacific Division? Glass hal-full.
Both scenarios are true. But there's little debate over which approach Tucson Roadrunners' locker room is leaning on heading into Thursday's 7 p.m. road matchup against the first-place Henderson Silver Knights (18-6-0-0) — the first of a Thursday-Saturday-Sunday set this week against the Pacific Division's standard-bearer.
"We can play against any team when we play the right way and we play together as a team," forward Kevin Roy said on the heels of a 4-1 win over the San Diego Gulls Saturday in Tucson Arena. "A lot of times we didn't get the fate we always deserved. But getting these results helped build confidence going into this week against a really good team."
It isn't just Saturday's win that has the Roadrunners (9-13-1-0) on a bit of a high as they head north to Southern Nevada for the first time. Even in a 8-6 defeat to the Gulls the night before, Tucson's offense hit that elusive third gear for the first time in weeks. The team's newly entrenched top line of right-wing Michael Carcone, center Frédérik Gauthier and Kevin Roy out left cranked the volume up for a combined six goals and eight assists over the two games against San Diego.
And the game before that — six days earlier — the Roadrunners convincingly knocked off the same Silver Knights club they'll see this week, 4-2.
The two-of-three mini-run is a big step for a club that after starting the season 4-0, has faced two different five-game losing skids, with only four total wins and nine points over its last 19 outings.
Rock-bottom could certainly have been attributed to a stretch that saw Tucson manage just seven goals over a five-game span — all losses from March 21-April 2. But that immediately precluded the Roadrunners most recently scoring 14 goals over their next three games.
The scoring binge has brought, at the very least, some hope inside the locker room.
"If you look at it, we had a good week against them," said Roy of the Roadrunners taking only one of three games over Henderson in Tucson earlier this month, but playing more complete outings even in a pair of 3-1 losses. "We've got to have the confidence that we can get it done any night against any team there."
Hudson Fasching, tied for third on the Roadrunners' career goal list but playing with Tucson for the first time last weekend after spending most of the year on the Arizona Coyotes' NHL taxi squad, was impressed with how Tucson rallied from an 8-6 loss to pull off a 4-1 win.
"We kind of did everything right," Fasching said after the Roadrunners' win Saturday. "It was a big transformation from the game yesterday. Obviously giving up that many goals wasn't something we wanted to do. To only give up one late was a big accomplishment for us tonight."
Still, the Roadrunners will more than likely be without Fasching or top-scoring defensemen Kyle Capobianco in Nevada. Both were recalled this week to the Coyotes' taxi squad.
The bus trip north mark's Tucson's first-ever trip to face the Pacific Division's newest team, and just the second series the teams have played so far. Tucson's aforementioned 4-2 win over the Silver Knights came on April 3, following up a pair of 3-1 losses the same week, all in Tucson Arena.
After the first meeting between the teams on March 31, Potvin said he could see a new rivalry budding.
"I can see it definitely being a rivalry," Potvin said. "We're going to be playing them here quite often. Obviously they've got a good team we want to beat, and that's going to set a tone for the years and games to come.
"They're a stingy team. They play to their strengths. They play a good, patient game, and sometimes it can make us fall on the sword," he added. "They're the top team right now. So we're going to try to push and do everything we can to measure our game and our stacks against theirs, and do what we can to keep building toward closing or narrowing that gap."