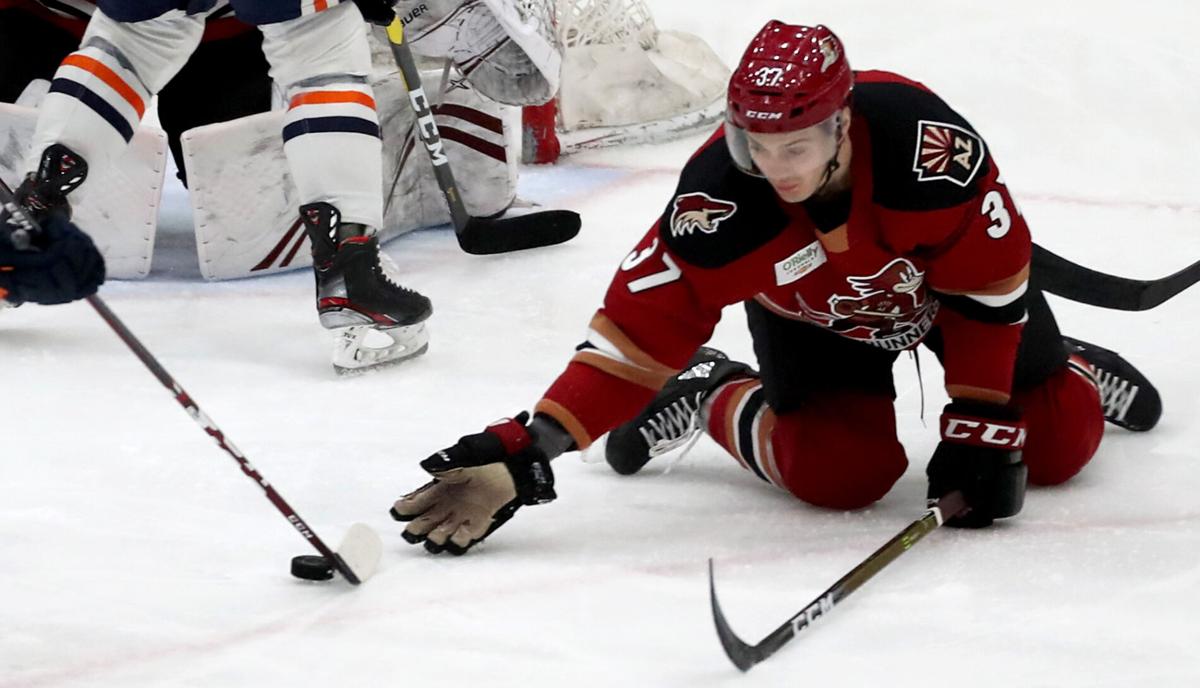 While puck doesn't drop on the American Hockey League's 2021-22 regular season for a couple more weeks, the caravan traveling down Interstate 10 this weekend marks an annual tradition: The opening of training camp for the Tucson Roadrunners.
Tucson's coaches and players have spent the past two weeks as part of the Arizona Coyotes' NHL camp. Coyotes general manager Bill Armstrong announced the first NHL camp cuts Thursday, sending the first players — including a number of familiar faces — south to the AHL club.
Defenseman Dysin Mayo, the longest-tenured Roadrunner set to begin his sixth season with the club, will be joined by fourth-year Tucson blueliner Cam Dineen and forwards Hudson Fasching and Blake Speers. The four were put on waivers Thursday, as first reported by Craig Morgan of PHNX; all four are expected to clear waivers and report to Tucson this weekend.
Joining that group are newcomers Liam Kirk and Matias Maccelli, both known prospects set for their first North American professional hockey action in Tucson.
Defensemen Cameron Crotty and Ty Emberson, forward Ben McCartney and goaltender David Tendeck are among the players with at least a bit of experience in a Roadrunners sweater.
After a last-place finish in the AHL's Pacific Division during the shortened and reconfigured 2020-21 season, the Roadrunners have the pieces to contend in the now nine-team Pacific Division. Depending on what the Coyotes do with forwards Barrett Hayton and Jan Jenik, defenseman Victor Soderstrom and goaltender Ivan Prosvetov — let alone veteran returnees like defenseman Kyle Capobianco or newcomers like Bokondji Imama — the Roadrunners may be looking at one of the deepest lineups in club history.
Additional training camp moves are expected on through the weekend. The Roadrunners hit the ice for their own training camp on Monday in Tucson Arena.
FanFest set for Sunday 
As players and coaches get ready for their first workout, fans are invited to get back in the hockey spirit, too.
The Roadrunners are hosting their first "Fan Fest & Fun Run" Sunday at Silverbell District Park in Marana, 7548 N. Silverbell Road.
The event begins at 9 a.m. Admission is free, though attendees are asked to bring a non-perishable food item to be given to the Community Food Bank of Southern Arizona.
Attractions include family-friendly games, food trucks and a closeout sale of never-before-worn and team-issued workout gear and gym shoes, novelty shirts and various signed items.
Registration for "Dusty's Fun Run" is $25 in advance or $35 on site, and includes a race day T-shirt, raffle ticket, Roadrunners souvenir, and a ticket voucher to a home game this upcoming season.
Closeout sale and Fun Run proceeds go to Roadrunners Give Back, which is part of the Arizona Coyotes Foundation.
Preseason game looms
The Roadrunners will play their first exhibition game Wednesday at Tucson Arena against the Henderson Silver Knights. The 6:30 p.m. tilt is the first of three scheduled preseason games, and the only one in Tucson.
The Roadrunners open their regular season on the road against the Stockton Heat for a Friday-Saturday double-dip, Oct. 15-16. Their first regular-season home comes a week later, when the Texas Stars visit Tucson Arena on Oct. 23 (7 p.m.) and Oct. 24 (4 p.m.).
After the last two seasons were shortened, the Roadrunners will return to their traditional 68-game schedule this year. Starting in 2022-23, all AHL teams will play a 72-game schedule, meaning Roadrunners fans will have two additional dates to see their team in its home building.
That change is part of an effort to stabilize the AHL's schedule league-wide. While the Pacific's nine teams will all play 68 games again this year, 10 AHL teams will skate 76 times, and another 12 will play 72 times.
Roadrunners vaxxed
Armstrong said recently that 100% of Coyotes players, managers, coaches and other personnel are vaccinated against COVID-19.
The Roadrunners are at 100%, too. Their list includes coaches, equipment and training staff, and all other team personnel.
NHL officials have said they expect 98% of players league-wide to be fully vaccinated by the start of the season later this month. While no such threshold has been shared regarding the AHL, the heavy majority of players eventually assigned to Tucson will be on two-way NHL contracts via the Coyotes.