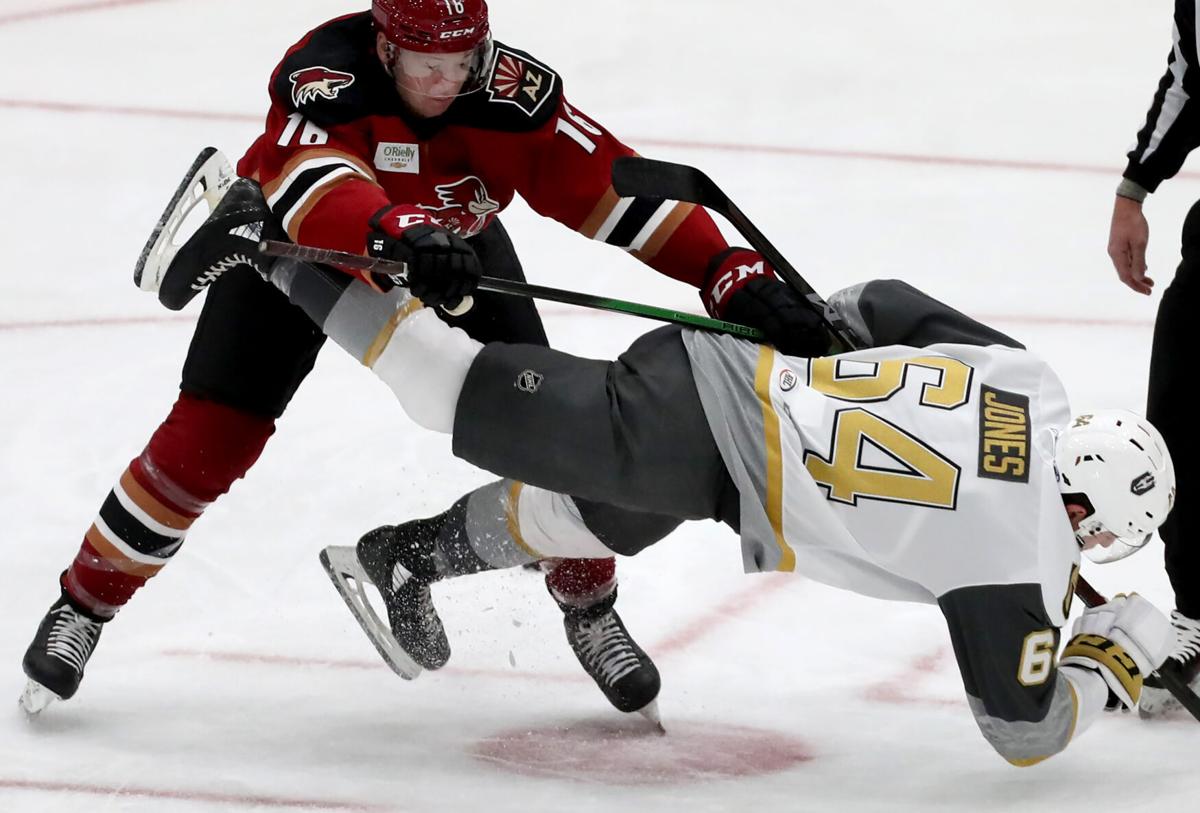 On paper, the Tucson Roadrunners wrapped up their pandemic-reconfigured 2021 schedule last week every bit a bottom-tier team among the American Hockey League's 28 participants this season.
They won barely 40% of their regular-season games while averaging just 2.86 goals per game. Both those numbers were fifth from the bottom, league-wide, while the Roadrunners' 3.5 average goals against wasn't much better — a bottom-six mark.
But that's not the whole story, contends first-year Tucson head coach Steve Potvin, who took over the club after three years as an assistant.
Potvin has long pointed to the two-pronged approach often consistent with AHL teams when making his own assessment of whether the Roadrunners are successful or not. His players tend to agree.
On the one hand, said rookie forward Jan Jenik, "you always want to win every single game and you're always trying to do your best out there."
On the other: geographically and operationally-close AHL franchises serve as development centers for NHL clubs. That's the role the Roadrunners play for the Coyotes — and on that front, the 2021 season will eventually be seen as a success, Potvin notes.
"Wins and losses are defined by whether you get two points at the end of the night. But if I look back, there were certainly a lot of wins within those games," he said. "The days we spent together, I think it was environment of growth. And for that, I think it was a successful season."
Growth, as Potvin puts it, came in a number of ways during the 2021 season.
For veterans like Michael Bunting and Lane Pederson, that meant turning near-league-leading AHL numbers into prolonged opportunities at the NHL level.
"It's important to celebrate the guys that were called up and now are there as full-time Coyotes," Potvin said, adding that he'd like to actually see a "shrine" of sorts built to show young players in Tucson Arena that there is a path to follow. "It's important that we have a visual picture … some type of reminder of guys that played here."
While Pederson spent some time shifting back-and-forth with the Coyotes and their taxi squad after his call-up, Bunting was there to stay. The Roadrunners' career leader in games played, goals, assists and points finished his first extended NHL action with 10 goals in 21 games.
Ryan McGregor, a rookie signed to a two-year deal prior to the season, said there was no replacing the scoring punch and leadership of Bunting and Pederson following their late-March departures. But their jump also opened up opportunities, he said.
"Obviously, when you lose your two best players, it's hard to replace that scoring and replace what those guys are in the room for us," McGregor said. "But I think there's some stuff that I was able to do later in the year where I might not have gotten that opportunity."
Potvin noted that McGregor, Jenik and many of the Roadrunners' talented rookies, turned the certainly compact 2021 season into their own breakout parties. McGregor collected nine of his 18 points on the season in the Roadrunners' final eight games, while Jenik was clearly Tucson's best offensive weapon at season's end. Including his two-game NHL call-up at the end of the Coyotes' schedule and the Roadrunners' lone playoff matchup — a 2-1 loss to the San Jose Barracuda last Tuesday to end Tucson's season — Jenik scored seven goals in his final six games.
"When you're coming from junior ranks, or college, or even sometimes in Europe, there's a lot ot adapt to. There's a lot of habits that are new that you've got to buy into," Potvin said, also citing the play of former NCAA standout Nate Sucese in his first year, as well as defenseman Victor Sodorstrom, one of the Coyotes' top prospects. "They played such a big role."
Jenik, Sodorstom and goaltender Ivan Prosvetov joined Pederson as the four Roadrunners this season to make their NHL debuts with the Coyotes. Last year, just one Roadrunner made the jump during the season.
The 20-year-old Jenik said he appreciated the patience shown by Potvin, assistant coach John Slaney, video coach Brady Morgan and the team's support staff.
"They take their time with us. They spend extra time they don't even have to," he said.
Jenik, Sodorstrom, Prosvetov, McGregor, defenseman Cameron Crotty and top Coyotes prospect Barrett Hayton should all be in Tucson heading into 2021-22. They're all on contract for a least one more year, as is Kyle Capobianco, Tucson's career leader in points for a defenseman.
Beyond that, there may not be much roster carryover.
Leading 2021 goal scorer Michael Carcone, on loan to the Roadrunners from the NHL's Nashville Predators, is a free agent. The same goes for top point-producer Kevin Roy, a former NHL regular who turned a professional tryout contract with Tucson into a season-long gig.
It's unclear if Dysin Mayo will return to Tucson's blueline for a sixth season. He's a restricted free agent, as are defenseman Cam Dineen, 2019-20 leading scorer Brayden Burke, and Tyler Steenbergen, who scored nine of his 10 goals over the season's final month.
Potvin isn't guaranteed to return to Tucson — the Coyotes are still figuring out their own head coaching situation — but said he hopes to be here.
"I'm proud of our staff. I'm proud of how we handled things day to day," he said. "Everybody from our equipment managers, our training staff, our coaching staff, our video coaches, you know, everybody just found a way to adapt to new norms."