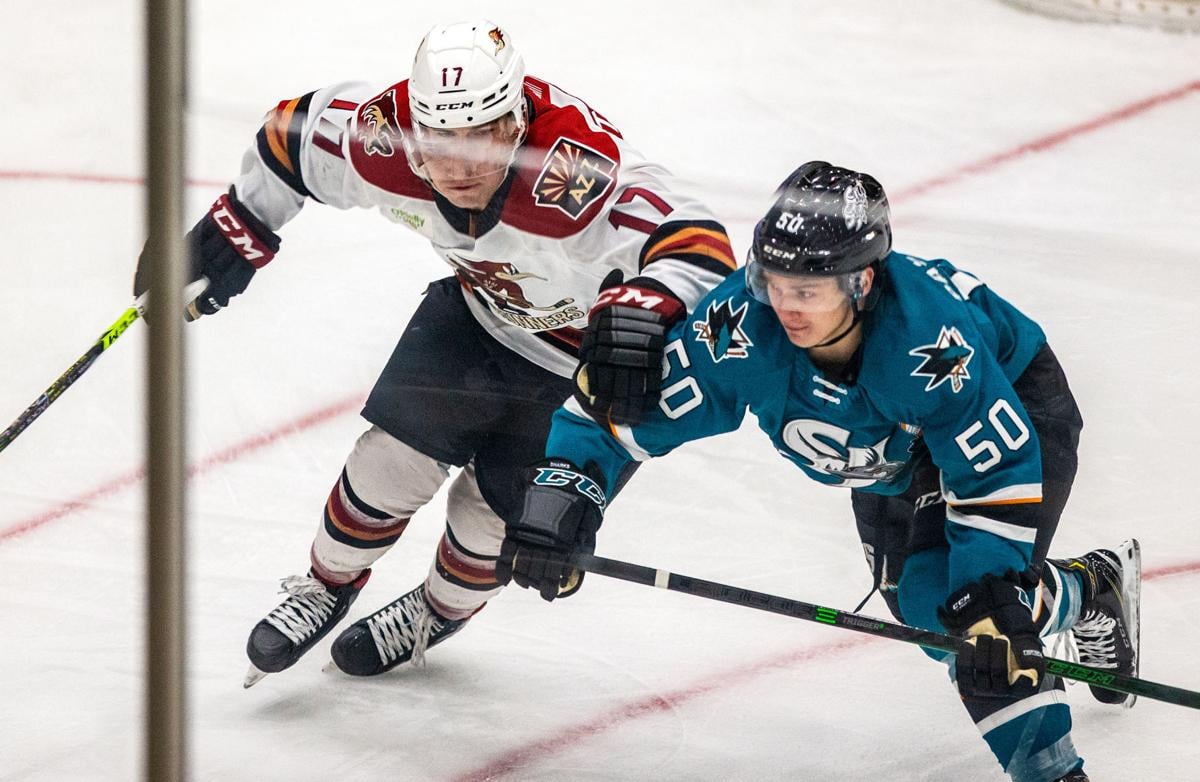 After scoring eight goals and recording 26 points in 57 games last season, third-year Tucson Roadrunners forward Tyler Steenbergen admits even he couldn't predict this would be his statline at 2021's midway point: 18 games played, one goal, one assist, two total points.
That lone goal happened to be the first of the entire season for Tucson, scored in the second period of a 2-1 win over the San Jose Barracuda in the Feb. 7 season opener.
But Roadrunners coach Steve Potvin said he looks beyond that part of the box score when evaluating the contributions of a cog like Steenbergen.
"As a coach, you feel confident putting him out there," Potvin said. "He's staying over pucks. He's always on the right side of the play."
When the Roadrunners (7-10-1-0) face the red-hot, first-place Henderson Silver Knights (15-3-0-0) Wednesday night at Tucson Arena, they'll carry with them a penalty kill unit ranked second among the American Hockey League's 28 teams.
Steenbergen has been a fixture on that unit this season. Paired most often alongside forward Jeremy Gregoire, Steenbergen has helped Tucson kill 88.6% of its shorthanded situations — a statistic that ranks second only to the Lehigh Valley Phantoms, who sport a 90% efficiency rate when a man down.
While the Phantoms have been shorthanded 50 times this season, giving up just five goals, Tucson has put itself in position to face 70 penalty kill situations. Opponents have scored eight times; the Roadrunners have scored one shorthanded goal.
It's a role Steenbergen has taken even more seriously considering his offensive numbers.
"Obviously with the PK I've had to adapt to a different role than I've had in past years," he said.
Prior to his three seasons in Tucson, Steenbergen was an offensive force with the Swift Current Broncos, potting 98 combined goals in his final two junior major junior seasons.
"I'm getting my chances still. If I wasn't getting those chances, I'd be worried," he said. "Eventually it will start clicking and hopefully come in bunches.
"I'm doing other things well, I think. Turning pucks over. Being stingy in the (defensive) zone. That goes for all the guys on the PK right now. We're making it hard for the other teams."
Steenbergen's statline does have another glaring number, though: it's zero — as in the number of penalty minutes he's served through 18 games.
There's an argument that Steenbergen has been better on that front than nearly all of the 800-or-so non-goalies to skate for an AHL team this season.
While the AHL and its member teams don't share stats for minutes played, Steenbergen is one of nine players league-wide to appear in 17 or more games without being whistled for an infraction.
"The one thing that Tyler and I speak about often is creating a battle and winning a battle," Potvin said. "He's made that a real focal point this year."
As for Steenbergen's offense showing back up in the second half of the season?
"He's getting his chances," Potvin said. "He's been a scorer in the past and I know that he's got that ability to that next step with the shot that he has."
Steenbergen doesn't plan to slow down or change his game; he believes it's going to happen soon enough, too. That includes continuing to do what forwards do: get shots on goal.
"If I'm not shooting the puck, then there's no way it can go in," Steenbergen said. ="When you keep shooting, the percentage will work itself out eventually.
"Maybe it will be a flukey one, or a nice one. It doesn't matter," he added. "It will start going in."