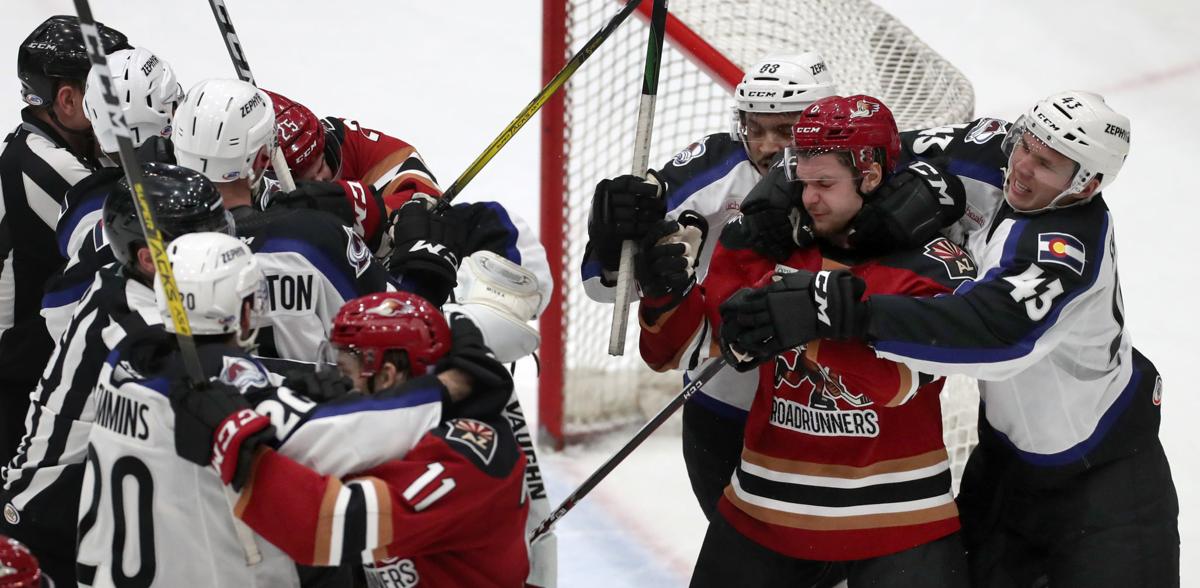 A handy countdown clock sits embedded at the top of the Tucson Roadrunners' official website. As of Tuesday afternoon, it read 18 days and counting until the club's next home game at Tucson Arena.
During those 18 days, the Roadrunners will spend their annual "Gem Show Road Trip" playing seven games in six cities. The stretch could either — solidify or possibly undo — what the still-barely-first-place Roadrunners have spent the last four months building.
"It's a pretty big batch of games in really not that much time," second-year defenseman Cam Dineen said, adding that the Roadrunners (28-12-1-1), struggling of late and looking for a jump start, could use to get off on the right foot in Wednesday's 7:30 p.m. game at the Bakersfield Condors (19-20-4-1). "So I think if we get it rolling early … we'll all be pretty excited to come back (to Tucson) and keep it rolling."
Dineen admits that's easier said and done — even if the Roadrunners' players, coaches and broadcasters, training and equipment staff who departed Southern Arizona on Monday knew it was coming.
"I think road games are always kind of a little bit tougher to get up for, just being on the road and going through the grind," Dineen said, adding that the team is hungrier after playing well enough to win this past Friday and Saturday at home against the Colorado Eagles, but still earning just one of a possible four points.
"But I think after these two games, we know we've got some more to give … I think we'll have some jump going into the road trip."
The trip itself is hardly a new phenomenon for the fourth-year American Hockey League affiliate of the NHL's Arizona Coyotes.
Every February, when what locals and visitors alike refer to simply as "the Gem Show" takes over most of the TCC grounds, the Roadrunners become road warriors.
This go-round, the Roadrunners travel between Bakersfield, San Diego and Ontario in California, and then Loveland, Colorado, then back to California in Stockton and San Jose.
You better believe Roadrunners' equipment manager Eric Bechtol and his assistant, Ryan Andrus, have the most dependable laundromats in each city on lock. This year's schedule of seven games over a span of 13 days is actually more grueling than in years past.
And based on the results of how the trip has gone in prior years, there is no predicting how this one might shake out for a team that, despite being 5-7-1-1 over its last 14 games, still enters Wednesday with the AHL's second-best record.
The Roadrunners most certainly don't want a repeat of what happened in 2016-17, their first campaign in Tucson. The team went 1-5 during the long February trip, part of a 2-13-2-0 nosedive that effectively doomed the season.
Their best results came a year later, when Tucson made a playoff run. The Roadrunners won five of six games over the 13 days, and rode that momentum to the division and conference regular-season crowns.
Then there's last season, when Tucson was 2-2-1-1 on the trek. Respectable, all things considered, although the last game on the trip, a 5-2 defeat in San Diego, was the start of a seven-game skid that sent the Roadrunners from being in the driver's seat for a playoff berth to eventually on the outside looking in.
This year, it's a good sign the trip starts in Bakersfield. Tucson did lose a pair at home to the Condors a week and a half ago, giving Bakersfield a remarkable seven in a row over the Roadrunners at Tucson Arena dating back almost two calendar years. But while Tucson is 5-9-0-0 at home all-time against the Condors, the Roadrunners are a remarkable 10-2-1-0 at Bakersfield's Mechanics Bank Arena.
Tucson coach Jay Varady is never one to wax poetic about the nuances of playing at home or away. To Varady, "Our approach doesn't really change. I know it sounds cliché, but we're going about business."
He does have a message for his team, though.
"Go enjoy it. It's hockey," he said. "You've got to play so many games on the road, so many games at home. It doesn't really change anything, so let's enjoy the process. Let's be good at it. Whatever we're going to do, let's try and be as good as possible.
"If it's going on the road, let's be a good road team," he added. "Let's do the little things that make us successful when we do that."