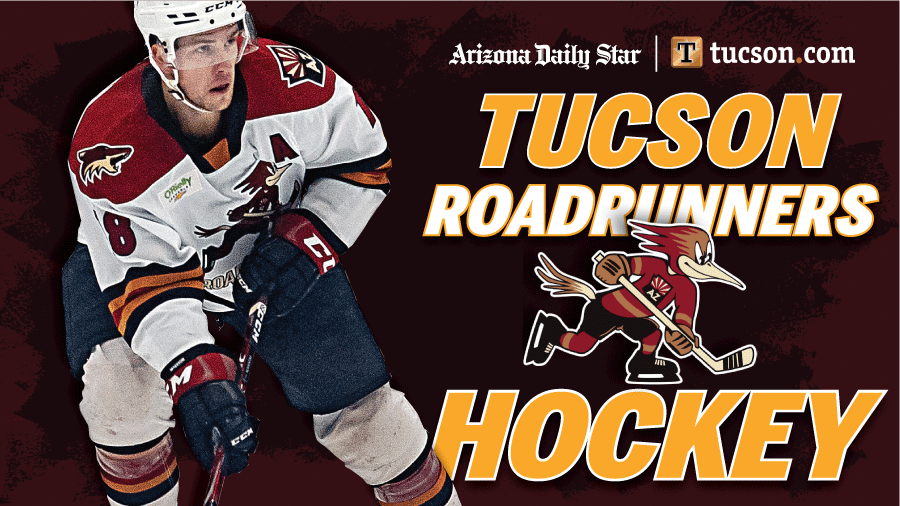 No hockey player or coach can say with absolute certainty which way a lucky bounce, a finicky deflection or an unpredictable rebound will precisely go on a given night.
But they certainly know "puck luck" when they see it.
On Friday, the spirits guiding that six-ounce chunk of vulcanized rubber around the Tucson Arena ice tipped the scales toward the Tucson Roadrunners (11-15-2-0), a team able to turn being a bit "snakebitten" of late, per head coach Steve Potvin, into a 3-2 victory over the visiting Colorado Eagles (12-10-2-1).
A night after peppering Colorado goaltender Hunter Miska for an American Hockey League season-high 53 shots on goal, but still losing 4-2, the Roadrunners succeeded in Friday's rematch in finding ways to make at least one of those lucky bounces work for the home team, rather than against it.
With the score tied at 2-2 midway through the second period, Roadrunners' leading goal scorer Mike Carcone intercepted the puck at center ice, skated into the Colorado zone, and flicked a snapper at the Eagles' net. Miska got his glove on it, but the puck deflected up into the crossbar. It bounced straight down on the red line before settling inside the goal for the 3-2 lead.
"We actually earned that bounce," Potvin said with a laugh. "Honestly it's fun to win these types of games. We had some lapses. We had some breakdowns. But we stayed strong.
"And it's nice to see them seal and close out a one-goal hockey game," he added
Even just a week ago, plays like that didn't seem to be going in favor of the Roadrunners, or Carcone for that matter. In an overtime matchup on the road against the first place Henderson Silver Knights eight days earlier, Carcone, playing otherwise solid defense in the Tucson zone during the three-on-three extra frame, got his stick in the path of a shot by Henderson forward Gage Quinney.
But Quinney's stick, Carcone's stick, and the puck all met at the same time, ejecting the disc into the air and up and over a seemingly surprised Chris Nell, in goal for Tucson that night. Goal, set, match, Silver Knights.
Yet, in getting the better end of the deal Friday against Colorado, Carcone said his mindset is to "just put pucks on net and see what happens. I was fortunate enough to get a good bounce there. It's nice to see. Sometimes it goes your way, sometimes it doesn't."
But even on a night where the good puck luck helped the Roadrunners to their third win in their last five games, it was a moment of bad luck that appeared to take out one of their most dependable blueliners. Right off a faceoff deep in the Tucson zone, Colorado defenseman Dennis Gilbert's slapshot struck Tucson defenseman Dysin Mayo square in the face. Mayo barely went to a knee but for a second, rushing off the ice and to the locker room.
He'd return to the game late in the period. In the third, Mayo showed no signs of letup, tussling briefly with the opposition who were tracking too close to Tucson goaltender Ivan Prosvetov, and disrupting multiple Eagles rushes by tying Colorado skaters up along the boards.
"We know Dysin pretty well. And of course we were worried about him. But we knew if there was a chance for him to get back, he was going to suck it up for himself, for the team, for everybody involved," Potvin said of Mayo, second all-time in games played for the Roadrunners with 243 over five seasons. "We're happy to see he's doing well. You know when you see a teammate go down, and we're all worried about him, and he comes back, you get automatic life. You want to do it for him."
Carcone said Mayo's resolve is what makes him a presence on the ice and in the locker room.
"He's a warrior. He's a tough guy," Carcone said. "He's really good on the back end for us. Really solid, brings it every night. You know, he's a really good teammate too. He's got a lot of great attributes to be a leader, and I know a lot of guys lean on him."
Roadrunners forward Nate Sucese's first-period goal, assisted by Cameron Hebig, opened the scoring less than four minutes in. Colorado's Jean-Luc Foudy tied it six minutes later.
Forward Tyler Steenbergen, who started the season ice cold offensively with just one goal and one assist in the Roadrunners first 20 games, scored early in the second for the 2-1 Tucson lead. It was Steenbergen's sixth goal and eighth point in the last eight outings, with Jan Jenik and Jalen Smereck credited with the assists.
The Eagles' Alex Newhook knotted it up again with his goal just shy of the midway point of the middle frame, before Carcone's unassisted marker in the second would turn out to the game-winner after a scoreless final period.
Ivan Prosvetov stopped 33 of Colorado's 35 shots on goal for his sixth win of the year in net. Miska turned away 28 of the Roadrunners' 31 attempts on net a night after recording a career-high 51 saves.
The rubber match is Sunday at 1 p.m. The game will be the fifth of six Roadrunners' home matchups televised this season by KWBA-TV, better known as The CW Tucson. Adrian Denny will handle play-by-play duties on the simulcast, also broadcast on the local Fox Sports Radio affiliate, 1450-AM. Alex Kinkopf will provide the color commentary.