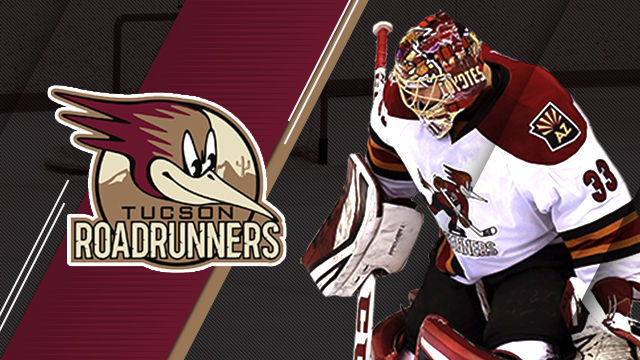 No, Saturday's matchup between the Tucson Roadrunners and Bakersfield Condors wasn't technically over after the game's first seven minutes.
But an early Bakersfield onslaught set the tone, with the Condors (19-18-4-1) turning two goals on their first two shots against Tucson goaltender Adin Hill into an eventual 4-1 win at Tucson Arena over once-dominant Roadrunners (28-11-1-0).
"That's not the way you want to end it — in a game headed into a break," Tucson coach Jay Varady said of the Roadrunners' weekend as a whole — a two-day set with the Condors that saw Bakersfield outscore Tucson 7-3 over two games and hold the Roadrunners' potent offense to just 45 combined shots on goal.
The once dominant Roadrunners now head into the American Hockey League's All-Star break nursing the top record in the AHL's Pacific Division after winning in just five of their last 12 outings. Including both Friday's 3-2 loss to Bakersfield and Saturday's defeat in the rematch, the Roadrunners are 5-6-1-0 overall since the last significant break of the season, coinciding with the Christmas holiday.
"Unfortunately ... we've got to wait around for a while," Varady said.
On the flipside, Tucson forward Andy Miele contended that "it's nice to have a little break here and get away from the rink. … We haven't been our best since the last break, so we'll be able to regroup and come back better."
For the second straight night, the Condors not only jumped out to quick leads in the game's opening moments, but built  a 3-1 advantage that Tucson couldn't come back from.
Josh Currie opened the scoring 5:59 into the first period on an otherwise broken play in front of Hill and the Tucson net. Luke Esposito followed that up 41 seconds later — a redirected blast from the point that also found its way past Hill, giving Bakersfield a 2-0 advantage with just two official shots on net at that point. A Kelly Klima second-period goal cut the lead to 2-1, but Currie's second score of the night, followed by an empty netter from Markus Granlund, sealed it.
Klima appeared to be a bright spot virtually from the get-go for the Roadrunners, after Varady mixed Tucson's lines up significantly after Friday's loss. Klima was inserted into the top right wing spot alongside Miele and All-Star Brayden Burke, and a jump in Klima's step gave Tucson some of it's early changes before he'd eventually convert in the second period on a post-clanging blast from point blank.
Burke was credited with the assist, moving his team-high point total to 38 as he, defenseman Kyle Capobianco and Varady travel to Ontario, California for the two-day AHL All-Star Classic on Sunday and Monday.
While Tucson was attempting to mount a comeback, it struggled to get pucks all the way through to Bakersfield goalie Stuart Skinner. The Roadrunners managed only one shot on goal in the opening 10 minutes of the third period, and, at that point — with just 10 minutes to play, too — Tucson had just 12 total shots on goal. In the end, Skinner stopped 21 of 22 Tucson shots. Hill turned away 21 of the Condors' 24 attempts on net for the Roadrunners in a losing effort.
"You've got to give credit to (Bakersfield). They blocked a lot of shots," Miele said. "It's sacrifice. That's what you've got to do to win games. They had a playoff mentality tonight — the last two nights — and I don't think we did."
At the conclusion of league-wide games Saturday, the majority of AHL players and coaches now get that aforementioned league-mandated few-day break — that is except those heading to Ontario. for the midseason AHL All-Star Classic. Tucson forward Lane Pederson was slated to join Capobianco, Burke and Varady representing the Pacific Division, but the same lower-body injury that's kept him out of action for each of the last four Roadrunners' games — including Friday and Saturday — will sideline him from the All-Star event, too.
The two-day league showcase begins with Sunday's skills competition, followed by Monday's 3-on-3 mini-tournament, pitting rosters of players from each of the league's four division against each other. National television coverage via NHL Network begins Sunday at 6 p.m. and Monday at 8 p.m.
Tucson returns from the All-Star hiatus next weekend with a pair of 7:05 p.m. faceoffs at Tucson Arena against the Colorado Eagles. The Eagles, who had their 12-game point streak snapped in a 4-2 Tucson victory Jan. 11, have still managed to earn at least a point in 15 of their last 19 games.