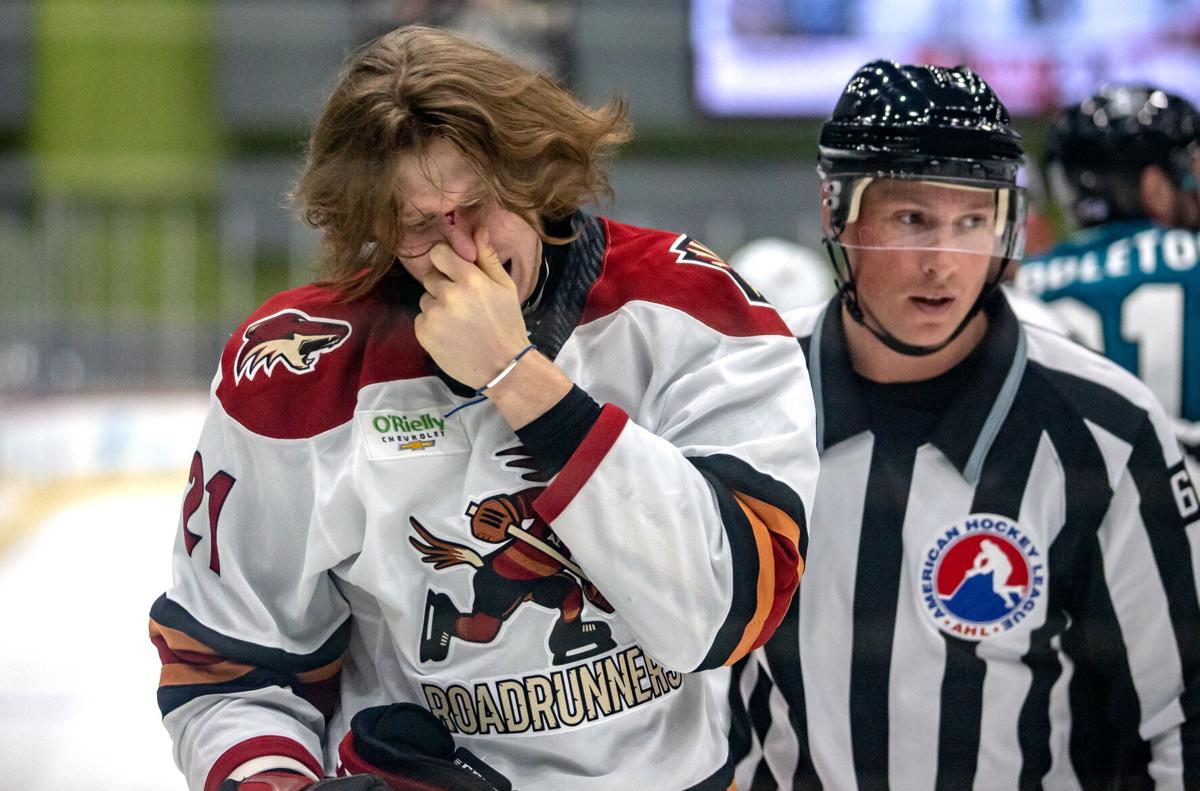 The 2021 American Hockey League season has been unorthodox, to say the least.
Matchups have been postponed or canceled due to COVID-19 protocols. The NHL has implemented a "taxi squad" to keep near-ready players adjacent to the big-league club for quick insertionif needed.
And schedules themselves are significantly shorter, lessening the number of games for up-and-comers to get valuable experience.
For the Tucson Roadrunners (11-16-2-0), the club's 7 p.m. Friday road tilt against the San Diego Gulls (22-13-1-0), is game No. 30 of 36 — a far cry from the usual 68-game schedule.
Logic suggests this all would create a more difficult path for those climbing the pro hockey development latter. But Roadrunners coach Steve Potvin sees the shortened season through a different lens.
Potvin thinks early-career prospects, including defenseman Victor Sodorstrom, forwards Barrett Hayton and Jan Jenik and goaltender Ivan Prosvetov, may emerge closer to NHL-ready because of everything that's been going on.
"A lot of times when you have a 68-game schedule, you start to think there's a little bit more time. (Players) may not always value their time as much as we are today with the shortened season," Potvin said. "Every day at practice means something. Every day after practice means something."
Sodorstrom, Hayton and Jenik — all 20 years old — started slow offensively. And injuries in net at the NHL level have shuttled Prosvetov, 22, between the AHL and the Arizona Coyotes time and again. Even still, Potvin said each has gained valuable experience they likely wouldn't have had in a more prototypical season.
The skaters in particular are getting 13 to 15 minutes a night plus special teams experience that rookies likely wouldn't see. In other years, with more veterans on hand and no NHL taxi squad, those minutes would be closer to 9 or 10 a night.
Potvin broke down the Roadrunners' young prospects before the team left for Southern California.
Barrett Hayton
The basics: Forward; 6-foot-1; 190 pounds; 2018 1st round draft pick (5th overall)
Breakdown: "He's very mature," Potvin said. "Coaches will re-watch games and sequences and cut-ups, and we'll dissect, and he does the same if not more. I give him an assignment and he's right on it right away and he'll give me feedback instantly. He's unique that way."
Potvin calls Hayton, arguably the top prospect in the Coyotes' system who does already have 34 NHL games under his belt, a "huge self-analyzer," adding that Hayton "Conducts himself like an older wise man."
Hayton, who notched a goal and five points in five games with the Roadrunners last year, slowed a bit to three goals and six points through 19 games entering this weekend.
"I think it does affect him when he's not scoring," Potvin said. "But we're starting to see some really good things from him. … He's starting to play a real 200-foot game."
Jan Jenik
The basics: Forward; 6-foot-1; 181 pounds; Draft: 2018 3rd round (68th overall)
Breakdown: "When you're coming from juniors, and you're used to playing an abundance of minutes, you're also used to having the puck on your stick a good portion of the game," Potvin said. "Then when you come and play pro, the puck touches are fewer and farther. So when (Jenik) would get the puck touches, he'd try to hold on to it, or try to make another stick handle or other play, and a lot of times it would result in a turnover."
Potvin said that even in the last few weeks, he's seen a significant shift from Jenik on that front.
"He's playing a quick, simple brand of hockey, and it's really impactful," Potvin said, adding that, as a modern power forward, Jenik, with two goals and seven assists in 25 games with Tucson, "has zero fear in his game. He's a guy who stands up for teammates. He's the guy that finishes every check."
Ivan Prosvetov
The basics: Goaltender; 6-foot-5; 176 pounds; Draft: 2018 4th round (114th overall)
Breakdown: "He really is in love with the game. He wears it on his sleeve," Potvin said.
After 27 games with Tucson last year, it was expected that Prosvetov would carry the lion's share of the duties in goal for the Roadrunners this season. But plans change, and Prosvetov ultimately made his first start in goal for the Coyotes on April 10. But most of the season he's been relegated to some sort of NHL backup duty.
"Of course, he wants to play every night," Potvin said. "But I think he appreciated his time being up in the NHL and observing and watching and being with the coaches there, and then having the opportunity to come back and apply it here has been somewhat of a bonus for him."
Victor Sodorstrom
The basics: Defenseman; 6-feet; 196 pounds; Draft: 2019 1st round (11th overall)
Breakdown: "It's not always the easiest for a young man to travel across seas, and with that a new style of hockey and new style of living," Potvin said.
Sodorstrom, now with two goals and six points as an everyday Roadrunner, arrived in the U.S. from Sweden ahead of the start of the 2021 NHL and AHL seasons.
"I think for him it was settling in and putting both feet really in Tucson," Potvin said. "At first he was maybe a little bit more reluctant to surf up and close the gaps and maybe not jump into the offense as much. But man oh man, recently we've been seeing some great breakout pop plays, him jumping into the rush. He's starting to call for pucks now.
"I think the best thing about Soda is that willingness to shoot the puck," Potvin added. "Young defensemen — they're a little gun-shy at times. He came right in wanting to shoot the puck."