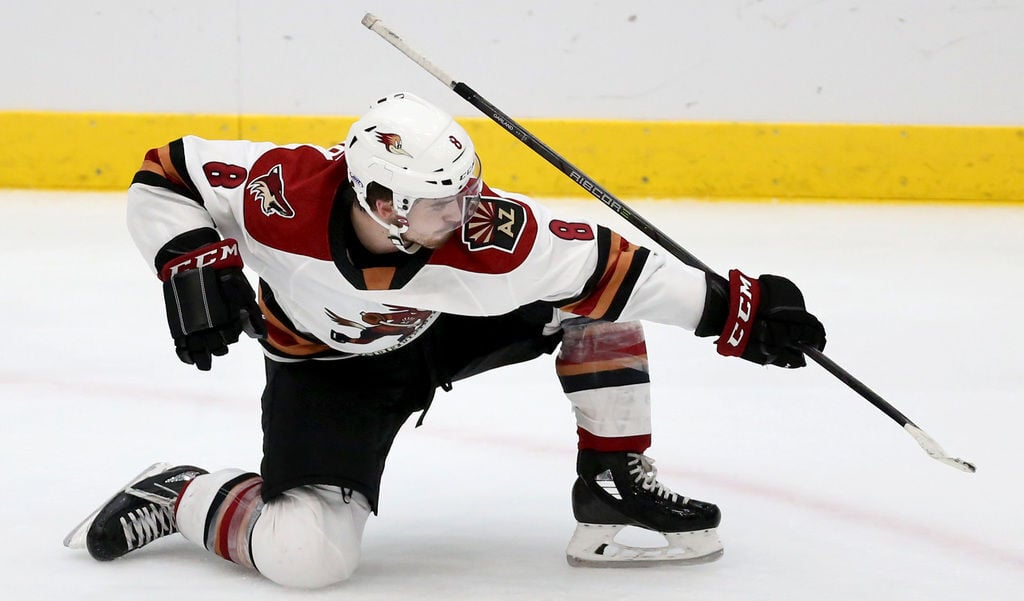 Back when the Icecats roamed Tucson Arena, an apt — if geographically questionable — nickname took hold for the centerpiece of the nearly 50-year-old Tucson Convention Center complex.
"The Madhouse on Main Street," the building was called; it held then, and still today, a standing-room only crowd of close to 7,000 for hockey.
OK, so the arena itself may not technically sit on Main — although, perhaps, the reference is less about the avenue itself and more about the building's place downtown, not far from the well-traveled Broadway and Congress thoroughfares.
There's little doubt among those connected to the building's primary hockey tenant these days — the American Hockey League's Tucson Roadrunners — that the horseshoe-shaped facility would have lived up to that name this week.
The Roadrunners were destined to host the first of potentially a string of 2019-2020 AHL playoff games. They would've started this week — and possibly tonight.
To be sure, Tucson Arena would have been packed.
"I don't even know how to put that in perspective, really," Tucson coach Jay Varady said this week from his family's home in Everett, Washington. "When the season stopped, our team was just kind of preparing, building, thinking about that ability to get an 'X' next to our name. That point where you're in the playoffs.
"But we weren't there yet."
Yeah, but Tucson sure was close. When the AHL season was put on hold March 11, the Roadrunners were in first place in the AHL's Pacific Division with 10 games to play. They were close to a playoff certainty, staring at a first-round matchup with the one foe they've played more than any other in club history — the San Diego Gulls, their Interstate 8 "Border Rival."
Roadrunners president Bob Hoffman is trying to take a glass-half-full approach to this week, of all weeks. Hoffman says he wishes he could see Tucson's downtown streets electric with folks clad in the Roadrunners' traditional red, black, sand and white motif and packing local haunts like the famed El Minuto Café just across the street from TCC.
"I certainly miss those moments," he said. "I certainly miss it moreso, probably most, for our players who had just an unbelievable run and built so much momentum.
"But I miss it for our fans, too, who share in those wins and losses and everything that goes through the successes and failures we have in a season," Hoffman said. "And to think it just ended so abruptly and paused so quickly, there hasn't been that next step. I feel for those two groups, and obviously my staff, too, that they're not a part of moving on to what might be a postseason or a Round 1."
The staff Hoffman speaks of — notably front office, game operations, logistics and ticket sales personnel — has been hit especially hard. Beginning Wednesday, 50% of all employees on the payroll of the NHL's Arizona Coyotes, the Roadrunners' parent organization, began furloughs that are set to last nearly 10 weeks, through June 30.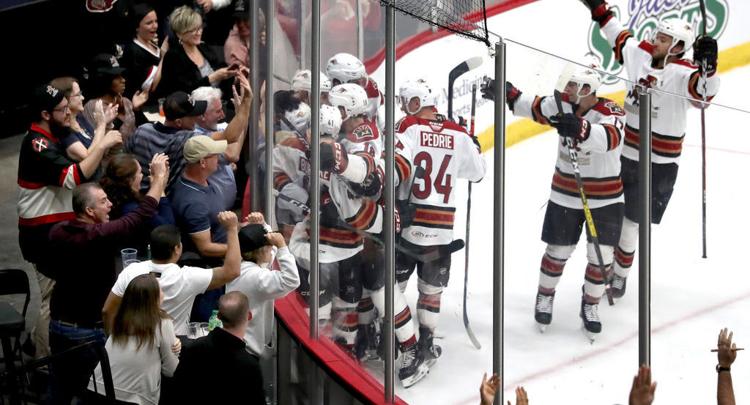 "It doesn't appear that the NHL will resume play in the immediate future, so this decision was necessary," Coyotes (and Roadrunners) owner Alex Meruelo. "We all remain hopeful that hockey will be back soon and look forward to welcoming back our team members at that time."
While the Roadrunners wouldn't say which staff members remain at work, by all accounts it's a skeleton crew.
But, as Hoffman notes, something amazing is happening at the same time. Fans are buying season tickets for 2020-21.
"They are. This week, on that front, has actually amazingly been really good for us," he said. "I think (fans) are just champing at the bit. I think sifting through the what everyone's talking about … of what the coronavirus situation looks like, and they're feeling a little bit more confident."
The Roadrunners were averaging 4,057 fans per home game when the season was suspended. That figure is slightly lower than a year ago, but Hoffman said the organization had already hit four-year highs in corporate sponsorships, season tickets sold, group tickets sold, and a number of other metrics.
The team had six home games remaining when the season was suspended, and they were going to be doozies.
"We had a first responders night planned, a 'Touch of Tucson' night where we were wearing specialty jerseys," he said, noting the debut of "Correcaminos" jerseys — that's Roadrunners in Spanish — that have since been auctioned off instead. "And, of course, fan appreciation weekend, the Conor Garland bobblehead night, "Hockey and Hops" night, which people had already bought tickets for."
Hoffman said he hopes to resume the season. But if not, 2020-21 — the club's fifth anniversary in Tucson — should give everyone connected to the Roadrunners something to look ahead to.
Brayden Burke, the Roadrunners' leading scorer and breakout star, is doing a similar balancing act. Burke made his professional hockey debut with the Roadrunners two seasons ago during the Calder Cup playoffs, but saw action in just two road games. The chance to play in the playoffs again, at home this time, has not been lost on him — even as the 23-year-old sees the bigger picture.
"It's obviously a unique situation. You can't really get ready for this," he said by phone from his family's home in Edmonton, Alberta.
"When it happened, I was disappointed because I was just getting back ready to play. But at the same time, I have grandparents, and I have friends with underlying health issues and whatnot. So when it comes to that, you really have to think about what's more important right now.
"Hockey's going to be there next year," Burke added. "Obviously at a time like this, the health of everyone in the country and everyone in the world has to come first. So you just have to take it with a grain of salt and be ready if we do get back there."