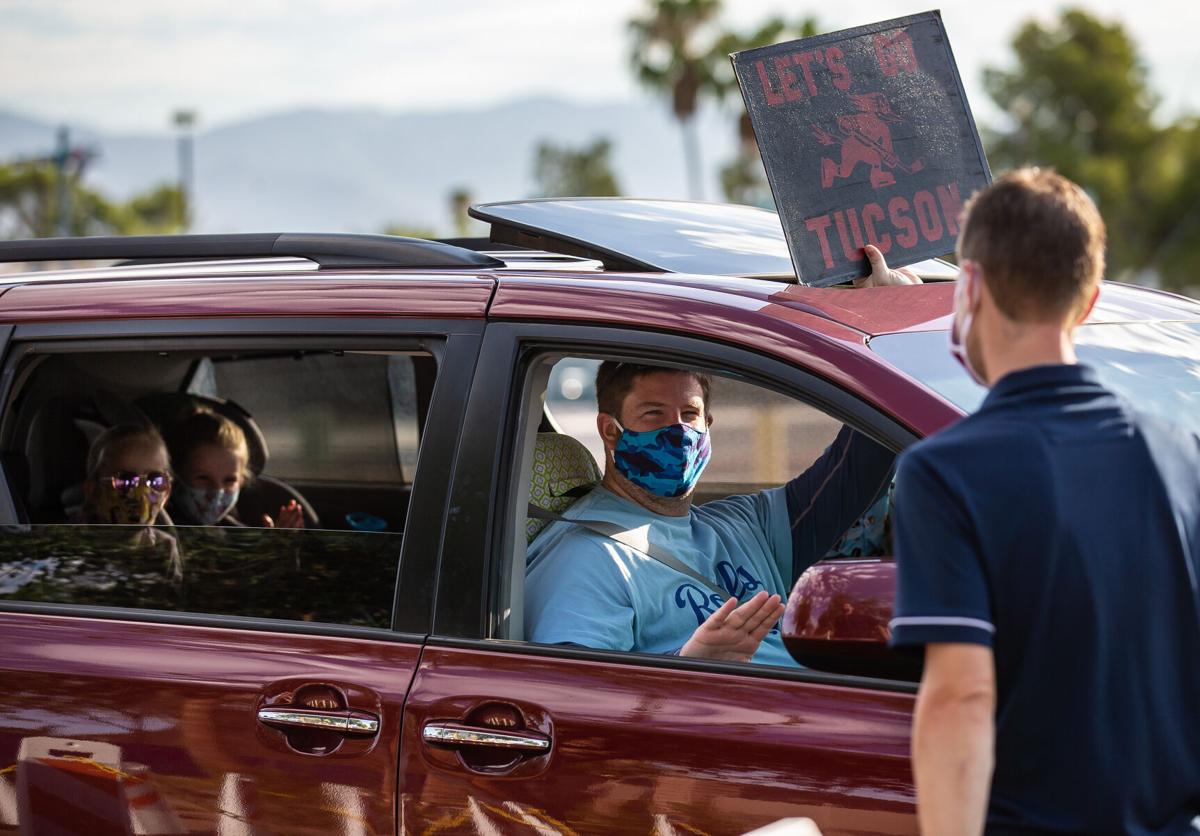 Seven months into the pandemic and with the start date for the 2020-21 season still up in the air, the Tucson Roadrunners are finding creative ways to stay connected to fans and giving back to the community.
Saturday's Community Day, held in conjunction with the team's Hispanic Heritage month celebration, will be held in Parking Lot B from 11 a.m.-2 p.m. Xavier Gutierrez, the president and CEO of the parent Arizona Coyotes, is scheduled to attend.
Fans can compete for prizes in from the safety of their own cars by playing Celebrity Cornhole, Roadrunners Plinko and the Tucson Wheel of Winning. Dusty the Roadrunner will be posing for photos with fans inside their cars. Sunnyside High School's Mariachi Los Diablitos will perform at 11:30 a.m.
In exchange for each donated item of canned food, bottled water, toys, pet toys, diapers or baby items, fans will receive a raffle ticket and be entered into the team's Mystery Weekend Jackpot. The team will raffle off 100 prizes, including game-worn jerseys, signed pucks and mini sticks, Arizona Coyotes autographed memorabilia and more. Collected items will donate a variety of Southern Arizona organizations.
Roadrunners Give Back, the team's branch of the Arizona Coyotes Foundation, will be selling player-signed Kachina sticks for $50; 50/50 raffle tickets will be available, with proceeds going toward local organizations that align with the team's Hispanic Heritage Month initiatives.
The team will be following all current Pima County Health Department guidelines, including face masks and social distancing. Fans driving through are also asked to wear face masks and please remain in their vehicles.
Over the past several months, the Roadrunners have hosted several community events, including street hockey equipment and face mask giveaways.
Last month, the team announced the creation of season membership spending accounts, which will allow members to choose the games they want to attend and use their balance to attend Coyotes games. Plans for a return to the ice remain fluid, according to the team's website, and will be guided by state and local authorities, along with health departments and other medical experts. The team has already announced a variety of new policies and requirements for when the season returns.
Slap shots
• The Roadrunners will host members of the Boys and Girls Clubs of Tucson for afternoon hockey workshop on Wednesday at the William J. Dawson Memorial DEK Hockey Rink, 3155 E. Grant Road.  Club representatives, including Dusty the Roadrunner, will show kids how to handle and shoot a puck, and plan to give away face covers and hold drawings for team merchandise.
• The Coyotes have signed defensemen Kyle Capobianco and Ilya Lyubushkin for next season. Capobianco led all AHL defensemen in points per game last season. The three-time AHL all-star has signed a two-year deal. Lybushkin's deal is for one season.