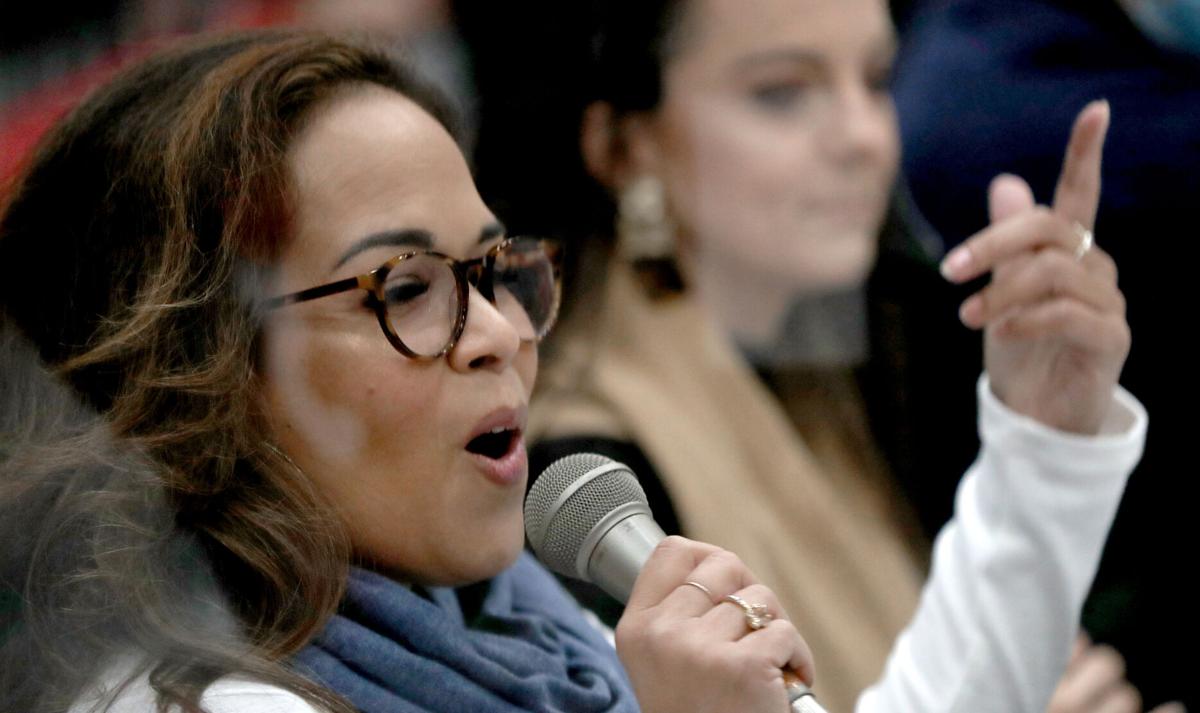 To break through one of professional sports' glass ceilings, Kim Cota-Robles is stepping into a tempered glass box.
The fourth-generation Tucsonan made her debut as the Tucson Roadrunners' public address announcer on Wednesday. She sat at ice level, between the penalty boxes, for the club's 5-1 preseason loss to Henderson at Tucson Arena.
In doing so, Cota-Robles became the first woman to serve as a regular public-address announcer for North American professional hockey, according the club.
The magnitude there certainly isn't lost on Cota-Robles, who admits she was still a bit nervous to have arena patrons here her voice for the first time.
"I have thought about it. How could I not?" Cota-Robles said of possibly being the first in such a role.
She noted that she's used to hearing men over the PA system at sporting events, weddings or in other lively occasions.
"A male voice is the voice that gets people hyped up, and then you go to the airport and you hear a woman say, 'the white zone is for the immediate loading and unloading of passengers only,'" she said, her voice turning mellow and soothing. "I think women historically are more like instructional guide voices than hype voices.
"So I'm nervous, and I think it's going to take the fans a second to kind of settle into my voice."
Despite a résumé that includes significant voiceover work — experience that gave her the confidence to reach out to the Roadrunners — Cota-Robles said she thought about "dropping my voice a little bit lower in register … because that's where I thought maybe the fans wanted."
She didn't, though, after those around her who suggested she keep it natural.
And Roadrunners brass, including team president Bob Hoffman, agreed, hiring Cota-Robles to serve as a regular in that seat during the early-season schedule. Come January, she'll share the P.A. seat with Paul Cicala, a fellow Tucson native and Ch. 4 sports anchor.
"She just nailed it," Hoffman said of Cota-Robles' tryout. "She blew us away and was the best, by far."
"She sounds great," Hoffman said. "She's done the voiceover work in the past, so that was never a concern. But we told her we don't want her to sound like a (typical public address announcer). She's conversational."
Cota-Robles plans to treat the job as a fan, and one with "amazing seats," she said.
Part of that, Hoffman and Cota-Robles agree, comes from being a season-ticket holder since since 2016. Cota-Robles' seats are exactly one row behind the ice-level scorers booth, and her cousin has the seats right behind her. So in a way, Cota-Robles upgraded her own seat by a row.
"I told her, 'look, I don't want to take away your fandom. You cheer louder than anyone," Hoffman added.
That's why Cota-Robles and Cicala will share duties after Jan. 1. Cota-Robles wants to attend games as a fan alongside her kids, 21-year-old Megan and 12-year-old Max. On nights Cicala is on the mic, she'll be in her normal seats, vocal as ever.
Cota-Robles said she's excited for her new role, and not just because she's been following the Roadrunners for years. She's a longtime member of the Tucson community, a holder of multiple degrees from the University of Arizona who served 11 years in the United States Navy — she completed her service with the rank of Lieutenant Commander — and, by day, a physician recruiter for Banner Health.
And her new Roadrunners' duties are hardly her first work foray into hockey. A fan since the early 1990s, Cota-Robles was also a photographer as a UA undergrad, often shooting Icecats games for the Arizona Daily Wildcat student newspaper. She'd then worked as a freelance sports photographer for the Arizona Daily Star.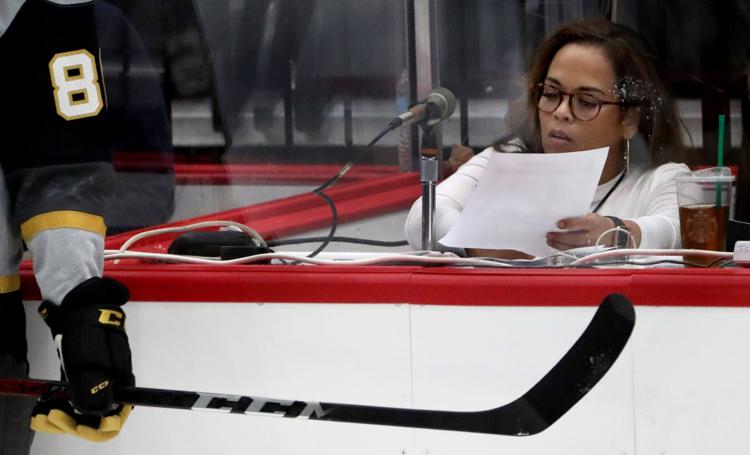 Cota-Robles is also a proud hockey parent, too.
"When I'm at (roller hockey), or when we're at ice, it's always 'Max's Mom,'" she said with a laugh.
In addition to Cota-Robles and Cicala, the team announced the return of KFMA-FM 102.1 radio personality Beef Vegan for his sixth season an in-game host inside Tucson Arena. Tucson native Yasmine Lopez, an editor, reporter and host with KOLD-TV, will join Vegan as an in-game host.
Hoffman said the addition of all four to the Roadrunners game-night presentation was about "creating new fans in Tucson" by putting the city front and center.
"It totally couples with what we're trying to in the community," he added.
Added Cota-Robles: "Look, I drag everybody that I can to Roadrunners games. I will meet people and they'll be like, 'There's hockey in Tucson?" and I'm like, 'Yeah, OK, we're going to go to a game.'"