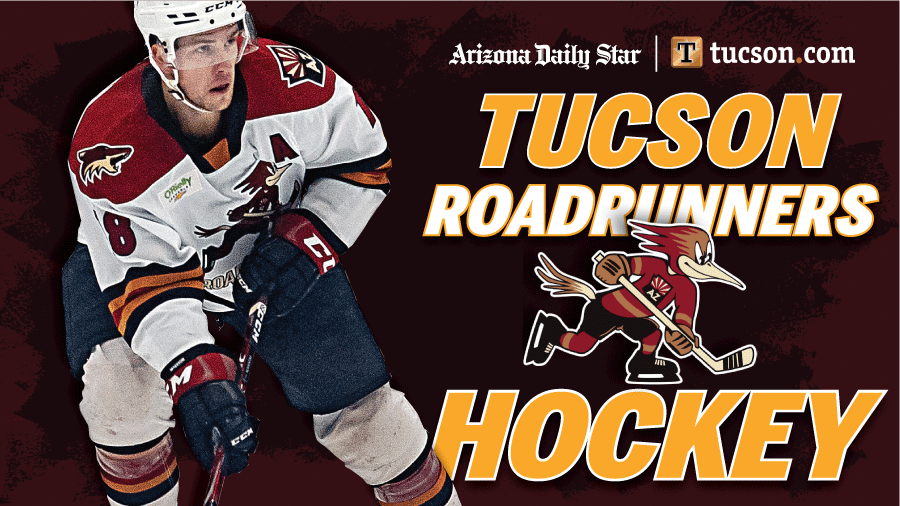 Giving up two goals, too fast can be one of hockey's kisses of death.
The Tucson Roadrunners tested that fate Friday night and survived; on Saturday, they weren't so fortunate.
The Roadrunners (9-8-1-0) gave up two first-period goals just 1:14 apart, and then another two in the third 2:21 apart as the first-place Stockton Heat (15-2-2-1) pulled away for a 5-1 win in Tucson Arena.
Stockton's victory came the night after the Heat performed the same trick — two goals within about two minutes or so on two different occasions. While Tucson managed to claw their way back for a 5-4 Friday overtime victory, Tucson couldn't muster the offense to compete Saturday.
"Momentum swings," Tucson coach Jay Varady said. "We've talked about it. The quickest two goals in a game shift momentum. It's something we have to learn as a group here."
Added Ryan McGregor, whose late second-period goal was Tucson's only of the night Saturday: "One big thing every coach talks about is having a good shift after they score or after we score. Try and get momentum back on our side. So, yeah, there's some stuff to clean up there."
Varady noted that this weekend was similar to many of the club's weekend sets so far this season. In eight weeks of play, Tucson has played mostly Friday and Saturday. On six of those eight weekends, the Roadrunners have split the series outright.
"We've seen some good Friday night performances with some not so good Saturday night performances (this season), and we're looking at another one of those (this weekend)," Varady said. "It's just another thing we're going to address as we move forward."
Saturday was the Roadrunners' near-annual Teddy Bear Toss event, where fans bring stuffed animals to the arena to throw on to the Tucson Arena ice after the team's first goal of the night.
McGregor finally got on the board with a wraparound goal past Stockton netminder Dustin Wolf with 12 seconds to go in the second period. Tucson defenseman Vladislav Provolnev was credited with the assist, marking his first point of the season.
Thousands of stuffed animals poured down, prompting on-ice officials to send the teams to their respective locker rooms for a slightly early second intermission. Team staff piled the toys into awaiting pickup trucks.
When the teams returned to the ice, they played a quick 12-second completion of the second period before heading back to center ice and officially starting the third right away.
McGregor was one of four Roadrunners — joining Victor Sodorstrom, Blake Speers and Travis Barron from Friday — to notch his first goal of the season this weekend.
"These guys have been working incredibly hard for our hockey team," Varady said. "Doing some things like killing penalties. Blocking shots. Taking face offs. Things that are important to our group but don't get rewarded or talked about as much."
After setting a career high with 47 saves on 51 Heat shots in regulation and overtime Friday, Tucson goaltender Ivan Prosvetov was outdueled by Stockton's Dustin Wolf Saturday on short rest. Prosvetov played better than his Saturday numbers would indicate. He stopped 30 of 35 shots, moving to 6-5-1 in 12 appearances for the Roadrunners this season, with a .908 save percentage and 2.87 goals-against average.
Stockton's scoring Saturday came from Glenn Gawdin and Ilya Solovyov in the first, followed by Connor Zary in the second and Emilio Pettersen and Solovyov in the third.
Wolf, who is yet to lose in regulation and is 11-0-2 on the year, turned away 29 of 30 from Tucson.
Tucson remains the only American Hockey League team to defeat Stockton more than once this season.
The Henderson Silver Knights visit Tucson Arena Tuesday and Wednesday, with the puck dropping both nights at 6:30 p.m.
In Las Vegas on Nov. 5, the Silver Knights shut out the Roadrunners, 3-0. The next night, Tucson pushed Henderson to overtime, picking up a point in the standings but falling 3-2.
Tucson, which entered Saturday in third place in the AHL's Pacific Division race, now sits tied for sixth with the Abbotsford Canucks. While Stockton and the second place Ontario Reign have roared out front of the pack, third place through seventh in the nine-team division are separated by mere percentage points and seem to trade paint with every loss or win accumulated.
McGregor said Tucson is ready to move on from Saturday.
"We thought we did some good things (this weekend). Obviously, they're a good team on the rush, and we didn't execute very well today," McGregor said. "But they kind of made us pay on our mistakes and turnovers. So just some stuff to clean up."
Varady said he didn't expect his players to "keep it around too long."
"Tomorrow's a day off," he said. "We'll get back to work on Monday. We'll get ready for Henderson coming in here on Tuesday."