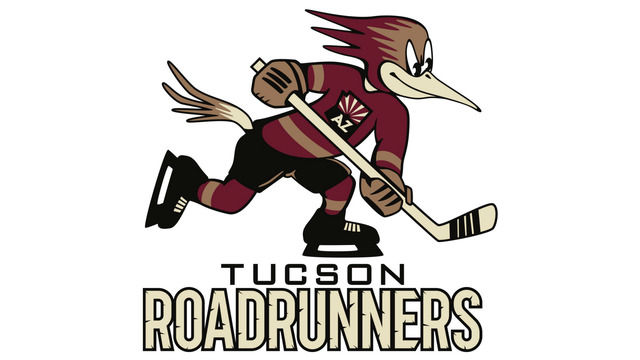 When Tyler Steenbergen scored the first goal of the Tucson Roadrunners' 2021 season back on Feb. 7, surely he thought that could be the start of big things for both himself and his team.
But for much of the schedule since, the Roadrunners's offensive output as a team, and that of Steenbergen himself, has sputtered.
Both broke out in a big way Saturday night, though, as Steenbergen's second and third goals of the season propelled the Roadrunners (8-12-1-0) back into the win column with a 4-2 victory over the first-place Henderson Silver Knights (17-4-0-0) at Tucson Arena.
"Obviously it was pretty nice to get hose two, but it was also nice to get the two points and the win," Steenbergen said. "We've been struggling lately, and it was nice to get the two points there."
Coming in, the Roadrunners had lost five in a row, managing just seven total goals over that span. The three games before Saturday, Tucson had just a goal apiece, and the Roadrunners' 2.5 goals per game heading into Saturday was also deep on the American Hockey League charts at 26th of 28 teams.
Tucson also fell 3-1 in both of two outings earlier this week to this same Henderson opponent.
Considering those offensive struggles, and who the Roadrunners were playing — Henderson is still far in front of the AHL's Pacific Division while sporting the league's top overall record — Tucson's three traditional goals and late empty-netter constitutes more than just a typical everyday win.
"It was an emotional win. The boys got together and they just didn't accept it," Tucson coach Steve Potvin said. "Everything definitely came from within the room."
Steenbergen scored a shorthanded goal to tie the game at one each three minutes into the second period and struck again to put Tucson up 3-1 nine minutes into the third. But he wasn't the only Roadrunner to break out Saturday night. The other was the player who indisputably spent all of last season as the Roadrunners' top offensive weapon. Brayden Burke led the Roadrunners in goals and points as an AHL All-Star 2019-20. But this season, he'd yet to hit the back of the net himself appearing in 14 of Tucson's first 20 games while battling a multitude of injuries during what he said has been "just a weird start to the season."
Burke scored his first of the year Saturday just 34 seconds after Steenbergen got the Roadrunners on the board in the middle frame, to flip a 1-0 deficit to a 2-1 lead.
"I've had a few — two, three — injuries that kept me out of games and had me playing a little bit banged up. Obviously no excuses, but I needed to get a goal so it was nice to get off the schneid tonight," Burke said, adding that he hopes he can keep it up when Tucson next returns to the ice Friday at 7 p.m. against the San Diego Gulls (15-10-0-0) at Tucson Arena. "I hope so. I mean, I hope I can continue to build off that and start putting the puck in the net a little bit more consistently here. We have I think 15 games left and this is a big push for this team."
Tucson's Jeremy Gregoire also made an impact in more ways than one. He assisted on both of Steenbergen's goals, and, skating for a team that needed a spark in whatever way possible, Gregoire did that by scrapping with Henderson's Jermaine Loewen. The skirmish, just two minutes into the game and at arena center like a pay-per-view prize fight, didn't' last long, with Gregoire hitting the ice first. But the pair would chirp at each other multiple times throughout the night — the tone set early that Tucson wasn't looking to roll over for a third time in four days.
"It's a big play by a leader on the team, and I'm real happy he did that," Burke said. "Tonight was probably the most physical of the three games (against Henderson). You kind of have got to get gritty, and grind it out. I think we did a good job of everybody — all four lines — staying in the game and staying aggressive."
Added Steenbergen: "Gregs doing that for us, that really got us going and really got us into the game."
Nate Sucese rounded out the Roadrunners' scoring with an empty-net goal — his fourth of the year, while Kevin Roy picked up his 19th point in 21 games with an assist on Burke's second-period goal. Victor Sodorstrom also had an assist on that same goal.
Tucson goaltender Connor LaCouvee stopped 25 of 27 shots against, improving his goals against average to 2.62 and save percentage to .907 in 10 appearances this year. Henderson's Jiri Patera stopped 31 of 34. Jimmy Schuldt opened the scoring with a goal less than three minutes into the first period to put Henderson up 1-0, and Dylan Sikura's third period goal cut the Tucson lead to 3-2 before Sucese capped the scoring late.