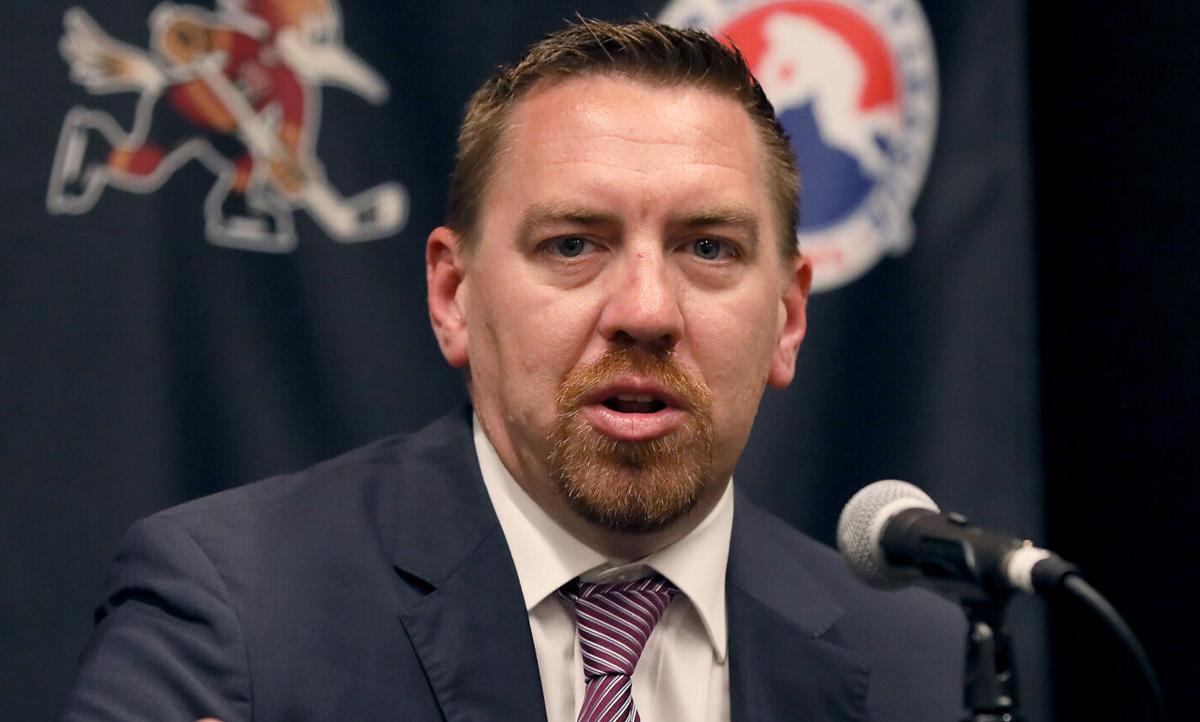 Arizona Coyotes general manager Bill Armstrong continues to shuffle the deck at the NHL level.
He hired a new head coach, André Tourigny, earlier this month, and has a number of other spots to fill, including bringing in an assistant general manager, in the coming weeks.
But at a press conference Thursday inside the new DoubleTree by Hilton Downtown Hotel, Armstrong made it clear that not only does he not plan a similar overhaul with the Tucson Roadrunners, the Coyotes' American Hockey League affiliate, but that what worked as recently as the 2019-20 campaign is what he sees working again as Southern Arizona's own pro hockey franchise embarks on its sixth season of play this fall.
Thursday's press conference served to formally announce the news the Roadrunners and Coyotes released a day earlier: After a year serving as an NHL assistant with the Coyotes, Jay Varady, Tucson's head coach in 2018-19 and 2019-20, is returning to his once and future role steering the Roadrunners' ship.
"(Varady) gets the most out of his guys. They have a tremendous amount of respect for him, and they play hard," Armstrong said. "You know what you're getting from his teams every single night."
Added Varady: "Bill and his staff putting faith in us to develop the next group of Coyotes — that's something that's really important to us. We take it to heart."
The newer news Armstrong confirmed Thursday, though, was that he and Varady were putting the whole band back together.
Steve Potvin, the Tucson assistant coach who stepped into the head coaching slot for the AHL's pandemic-adjusted 2021 season, will go back to a support role. Also sticking around is John Slaney, who will mark his fifth season as an assistant in Tucson in 2021-22, and Brady Morgan, the club's video coach, for a sixth season.
"They're great coaches, first off," Varady said of his staff — to be sure, the exact group that guided the Roadrunners to an AHL Pacific Division crown in 2019-20 in Varady's second season.
Varady broke down what he sees each bringing to the table in terms of experience and the way they work.
"Potsie (Potvin) is a guy who is passionate about the power play, about working with guys," he said. "John Slaney played in the NHL. He's what, second now all-time AHL defenseman in points.
"The last guy is Brady. He does everything for us," Varady added of Morgan, known as a bit of a Swiss Army knife, or taskmaster, among the coaching room. "He does everything for us. If we didn't have Brady, I don't think we'd know which way we'd walk."
Varady admitted that in both his own case and that of Potvin, who earned praise from Armstrong after shepherding the Roadrunners through a difficult 13-20-3-0 seventh-place finish in the AHL's Pacific Division earlier this year, these types of career moves may not be seem like perfect scenarios at first.
"Sometimes it's a hard conversation. There's players who get sent down. They're unhappy. But those players, they have to get work when they get here. I don't think it's any different for myself or Potsie," Varady said. "Maybe there was a day or two where you had a long face. But it didn't last very long and I think we know what we have to do down here."
Armstrong credited Varady and Potvin for the way they've responded.
"First of all you're dealing with quality people. They may not always like what you have to say, but they respect, it. Their main focus is to operate with the team, and what's best for the team at the time," Armstrong said. "I think Potsie had a tremendous opportunity and he made the most if it down here. A lot of great feedback. Now he gets to step back and kind of absorb what he did last year, and support Jay with the team this year. I think in the end, it's going to make Potsie a better coach."
Armstrong said he's excited that Varady is returning to the AHL with a newly-crafted NHL mindset.
"With Jay coming back from the NHL, he's excited because he's learned a few tricks up there and been around some NHL players, and now he's going to bring that knowledge back to our young kids and young prospects," he said. "He's going to help them advance and learn quicker with the knowledge he brings back from the NHL."
Varady emphasized multiple times Thursday how excited he is to not only be back in Tucson, but to have the chance to work within a top-down Coyotes' hockey structure soon to be put into place by Tourigny.
"I know he's a good man. I know he's a good coach," Varady said of Tourigny, who he's known from previous hockey stops.
Tourigny himself was only installed as the Coyotes head coach barely a week ago.
"Andre's going to be setting the coaching curriculum, so to speak, for the organization, and it's going to be our job to implement that," Varady added. "He's got a reason for the things he's doing, and we're going to be excited to get in the room and start talking about those."
While the NHL and AHL return to regular season action this October, up next for Armstrong is continuing to round out rosters at both the NHL and AHL levels, as well as prepping for the July 23-24 NHL entry draft. That's followed by the NHL Expansion Draft, where the newly-minted Seattle Kraken franchise will have the chance to raid the coffers, to an extent, of their fellow NHL teams.
Training camps at the NHL level will convene in September, with an NHL regular season start date in mid-October. AHL camp will overlap that, with the Roadrunners' 68-game AHL season starting approximately Oct. 15.