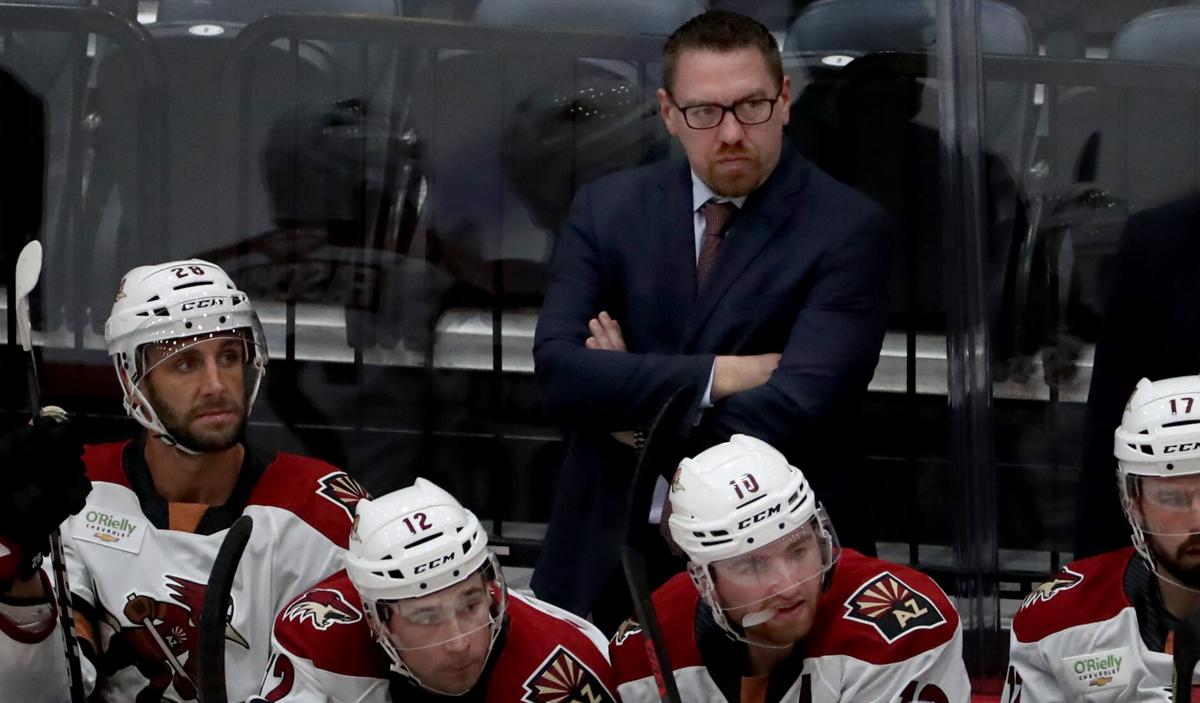 Like any grizzled veteran would do, Tucson Roadrunners defenseman Cam Dineen spoke Monday at the outset of the team's preseason training camp about the importance of leadership, setting a good example, and what "coming in as an older guy" means now that he's in his fourth season in Tucson.
Wait a minute. Did he really say "older guy?"
Dineen turned 23 in June.
He's not necessarily wrong, though. Dineen, whose 136 regular season appearances as a Roadrunner rank eighth on the club's all-time list, certainly fits that bill in terms of this year's Tucson lineup.
Despite debuting to a 5-1 loss Wednesday in its preseason opener at Tucson Arena, the Roadrunners' 2021-22 roster looks to not only be one of the youngest in the club's six-year American Hockey League history, but also one of the most talented. Tucson could boast eight players age 21 or younger in its lineup on Oct. 15, when the Roadrunners open their season in Stockton.
And Dineen — just like his long-time colleagues Dysin Mayo and Hudson Fasching — takes his job as a leader seriously.
"The organization's kind of bringing in a lot of young guys — a lot of prospects — so as older guys now you've got to show these guys the right way to play, the right way to treat their bodies on and off the ice," Dineen said.
Mayo, who turned all of 25 less than two months ago, is just 10 games away from taking up the mantle of Tucson's career leader in games played. With 251 appearances so far, he's been a stalwart on the Roadrunners' blueline, seeing action all six years they've existed in the desert southwest; he even played five games for the Springfield Falcons, the team that moved west to become the Roadrunners.
"Yeah, it definitely feels weird being the old guy, but I'm happy to be back," Mayo said. "I still feel like a young guy, but on this team right now … I think I'm the oldest guy on the back end.
"It's nice to be back (in Tucson), though," he added. "It's nice to stay in the same city year after year and have that familiarity."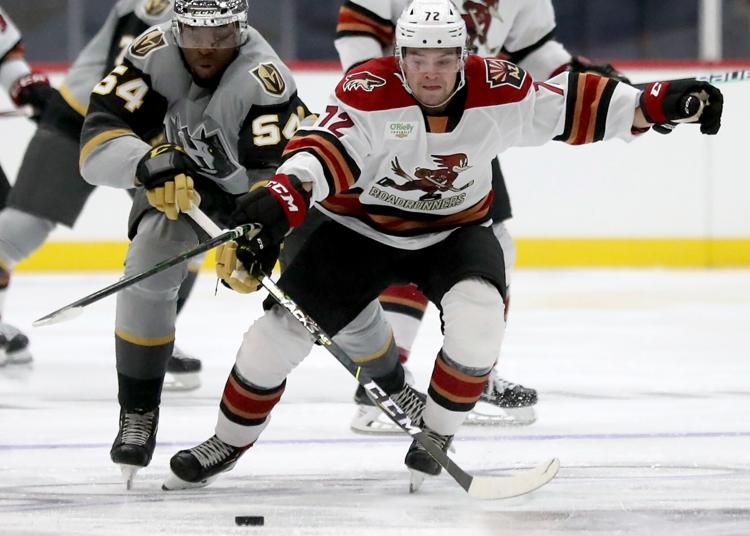 Roadrunners head coach Jay Varady, set for his third season in Southern Arizona — he led the team from 2018-20, then spent last year as an assistant with the NHL's Arizona Coyotes — flat out called the trio of Mayo, Fasching and Dineen his "leadership group" for the 2021-22 campaign.
That's usually a phrasing used for players who will wear either a captain's "C" or alternate captain's "A" on their jersey. Varady hasn't said whether those players will wear the letters, but it would surprise nobody if he did.
"They grew up here. They grew up in Tucson, in the Coyotes' organization, and in terms of the standards and the way we want to go about our business, they understand what that means," Varady said. "So they're able to pass it along, help the younger guys understand the situations that we're yet to encounter but (we know is) coming throughout the course of the season."
Being a leader means helping newcomers get acclimated away from the ice, too. Varady said those with even a year or two of experience — or five, in Mayo's case — can help younger players, barely out of their teens, figure out how to get settled in a their new home city for the first time.
"You know where the apartment is, you know where to eat, you know where to park. That familiarity walking into the rink. I think that is helpful," he said. "Especially when you've got leaders like Dysin Mayo, Hudson Fasching. We've got a lot of new faces here, so that can help those guys get settled … and get used to the community here in Tucson."
Newcomers to Tucson this year include Coyotes forward prospects Liam Kirk, 21, Mattias Macceli, 20, and Ben McCartney, 20, and defenseman Ty Emberson, 21. While McCartney and Emberson spent a few days with the Roadrunners at the tail end of last season, they haven't until now had a legitimate chance to get acclimated to their new hockey home.
Fasching admits that heavy roster turnover can bring uncertainty. The Roadrunners certainly had that this offseason, with five of the team's top 10 in career games played departing the organization over the summer after spending at least part of the 2020-21 campaign in Tucson.
"There's always the worries of new guys and unexpected things, but there's also … the new possibilities, new combinations and new ways of doing things," he said, adding that new Coyotes' head coach André Tourigny setting the tone for the entire organization — including Tucson — opens up those doors.
Fasching is in an interesting spot. He only played two games in Tucson last year, spending virtually the entire shortened 2020-21 season on the Coyotes' NHL practice squad — an instrument created amid the pandemic to keep extra players close to the NHL clubs to lessen contact and travel needs. He spent the season with Varady, giving him three straight full seasons with Tucson's once-and-again head coach.
"I've been with Jay all four years I've been here, basically. We've just kind of been following each other around," he said.
Having Varady return alongside assistant coaches Steve Potvin and John Slaney — Potvin served as Tucson's head coach last year but will return to a deputy role this season — creates stability.
"We have a new coach up top with some changes to the system. So along with new players, we have new systems, so it's definitely going to be a little bit different," Fasching said. "But at the same time, it's kind of like we had that foundation, it's just a different iteration."