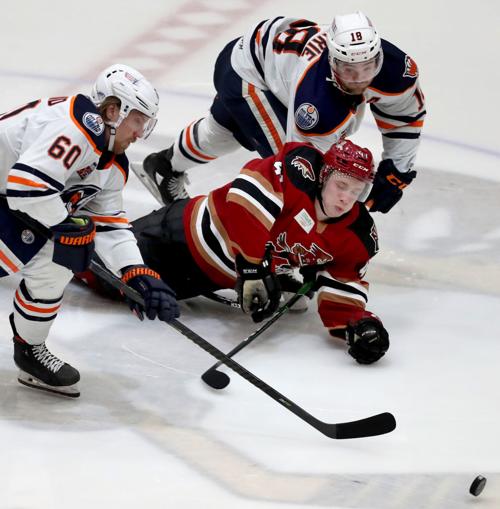 Brayden Burke sure is playing as if he has been here before.
As for Andy Miele and Beau Bennett, the guys skating beside him: They have actually been here before, and then some.
And it's their team, the once-invincible Tucson Roadrunners (31-17-1-2), that is certainly counting on the trio to guide them to the American Hockey League's Calder Cup playoffs.
While Burke, 23, has taken the AHL by storm in his second pro campaign — his 21 goals and 51 points entering Wednesday's game against the San Diego Gulls (26-17-5-2) have him on pace for Roadrunners' single-season marks in both categories — it's the play of Miele and Bennett that has been a revelation for the Tucson club now in a dogfight of a Pacific Division race.
Bennett and Miele have combined for 23 seasons of NCAA Division I or professional hockey. Their careers have spanned three continents, 625 games at the AHL level, 215 NHL contests, and contributions to teams reaching the NCAA Frozen Four and the NHL's Stanley Cup championship. They are the Roadrunners' elder statesmen.
But they are also scoring in bunches of late, helping Burke challenge for a possible top-five league finish in both goals and points.
"I really enjoy playing with them. We complement each other really well," said Burke, paired on a line with Miele and Bennett 10 out of the last 20 games.
The Roadrunners, mired in a slump since the calendar turned from 2019 to 2020, have needed every bit of production they can get out of the trio. Burke, Miele and Bennett have either recorded the goal or an assist in 12 of the club's last 16 goals. Burke said it is no secret his own output has spiked skating alongside Miele and Bennett.
"They've done this for a number of years now, so they know what works and what doesn't," Burke said of Miele, 31, and Bennett, 27. "We have a lot of young guys on the team who are trying to get their feet, learning how to play the pro game and be professionals every day.
"So they're nice to have around the room."
Bennett and Miele's production has popped alongside Burke, too. Miele has at least a point in each of Tucson's last six games and has rocketed to an internal competition with Michael Bunting, the organization's career leader in goals and points, for second in point production this season behind Burke. Entering Wednesday, Miele has 15 goals and 43 points in 51 games.
Bennett's two-goal night Saturday against Stockton — he is making a whole new living these days feasting on scraps near the opposition goal crease — was as big a reason as any why Tucson is still competing for the top spot in the AHL's Pacific Division.
Burke said Bennett "does the little things well. He's good at finding pockets of space. … He's definitely found a good role at handling the puck, making plays and being in the right spot at the right time."
Added Bennett, postgame Saturday: "In my later career, that's where all the pucks go in. … I was a little more perimeter when I was younger, so just getting to those areas and then getting bounces, that's huge for our team."
Tucson coach Jay Varady stressed Saturday how impressive Bennett's surge this season has been — and not solely because of his on-ice prowess.
"It seems like any time there's an issue with our group, with our team, he has the right answer and he has the right actions as well," Varady said. "He's a real leader."
Miele, a Roadrunners' alternate captain this season, has been every bit that leader. Miele's age — hardly ancient, but in some cases more than a decade older than teammates or opponents — means he has to prepare differently than he might have at the onset of his career.
"I have to be that much better than everyone else every day because of my age. You know, otherwise I won't get a contract," he said. "I've got to bring that mentality every day and hopefully the younger guys can see that … and that's just going to make them better."
Burke said it's no surprise Miele has been hot his last 15 games. While Tucson has struggled at times to get wins, Burke said Miele's play has been as big a part of why the Roadrunners have been able to stick in contention as any other.
"If you're able to make plays and trust in your linemates and you have a good bit of chemistry, you're going to get chances to score," he says of Miele's leadership on the ice.
In as much of an "if-I-knew-then-what-I-know-now" moment as could be, Miele said whatever he can give back to the team, he's going to do so.
"I think that was something younger in my career, where I wasn't an everyday guy, it probably hurt me," he said of understanding his role. "That's something I'm going to try to do my best now, and I hope they follow and learn from it.
"We have of young guys who are very skilled — good people and good players. So, if they can learn something from me, I'm happy to do it, and I'd love to see them have a career they all want."
Be the first to know
Get local news delivered to your inbox!