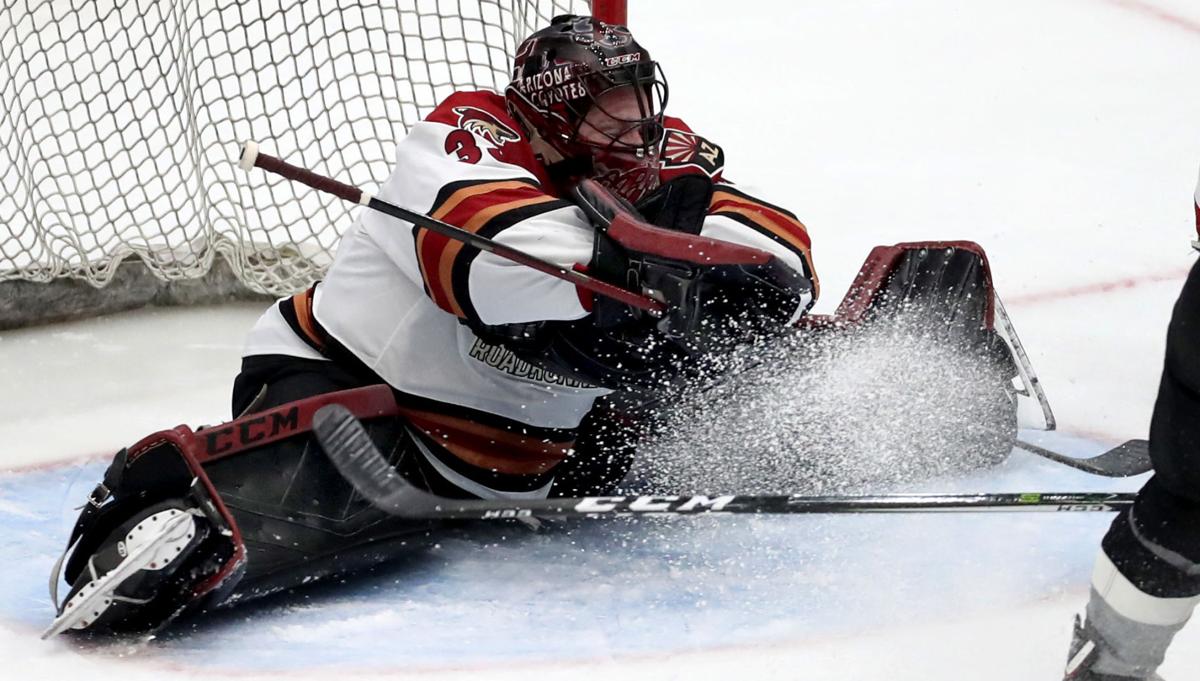 The NHL's Arizona Coyotes enter the Stanley Cup qualifying round this weekend as underdogs in almost every sense.
Seeded 11th out of 12 Western Conference teams and, offensively, better than only two of the 24 clubs traveling to host cities Edmonton or Toronto, the Coyotes' odds don't look all that great on paper.
But if they do somehow make a run, it's natural to think it may just come via the pads of their 1-2 punch between the pipes: all-star-caliber goaltenders Darcy Kuemper and Antti Raanta.
Few NHL teams were better defensively in the 2019-20 regular season. But with Kuemper and Raanta both prone to injury in recent years, what chance do the Coyotes have if one happens to get sidelined at some point in the coming days or weeks?
Tucson Roadrunners netminders Adin Hill and Ivan Prosvetov might have something to say about that.
Kuemper and Raanta were primarily responsible for the Coyotes' finishing in the top three, league-wide, in goals against average (2.61) and save percentage (.919). The Roadrunners' numbers, paced by Hill and Prosvetov, weren't far off. Tucson was seventh in both categories (2.81 and .908).
Few of the NHL/AHL's 31 affiliations topped the Coyotes' and Roadrunners' joint 2.70 goals against average and .914 save percentage. The combo finished second and third in those areas, respectively; that's with Hill playing decent minutes for the Coyotes and Raanta and Kuemper each making a spot start for Tucson as they recovered from injuries.
The Boston and Providence Bruins pairing was the only one more consistent, from NHL to AHL, than Arizona.
"Other AHL teams play a different game than their NHL team plays," Hill said, noting that with the Coyotes and Roadrunners, "everything is the same. When one guy gets called up, a goalie, whatever, we're playing with the same system. … They're teaching the same things, talking about the same things, day in and day out."
While Coyotes brass certainly plans for Kuemper and Raanta to be the only goaltenders needed for however long this postseason scenario might last, the idea that the Arizona roster is three —or even four — NHL-caliber goalies deep is plausible.
Hill is already NHL tested, appearing in 30 combined games over the last three seasons — including 13 in each of the last two. And he's only seen his numbers get better at the NHL level from year to year.
The 24-year-old Hill is well aware of the logjam. As long as the Coyotes have a healthy Kuemper and Raanta playing at their best, his path isn't clear cut.
"For me, it's fun. It's competition, right? I know I'm going against two of the best goalies in the league every time out in practice," Hill said. "I know I have to match their level."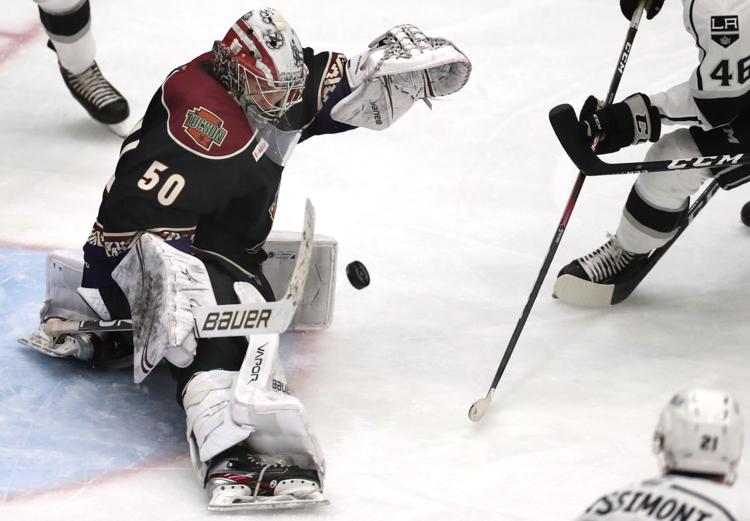 Corey Schwab, the Coyotes' goaltending coach, has worked extensively with all four goaltenders, especially of late with rosters expanding as part of the NHL's return-to-play protocol. Schwab can relate to Hill's situation.
A rising star himself some 25 years ago, Schwab backstopped the AHL's Albany River Rats to the 1995 Calder Cup as, statistically, the league's top goaltender. (Roadrunners general manager Steve Sullivan — this past week was named the Coyotes' interim GM, too — was the River Rats' top offensive producer that same season.)
But Albany was the affiliate of the NHL's New Jersey Devils, which won the Stanley Cup that same season. It was the second full NHL campaign for Martin Brodeur, who would become the most accomplished goaltender in hockey history.
That 1994-95 season, Brodeur and Chris Terreri were in net for the Devils, and Schwab and Mike Dunham played for Albany. Over their careers, the quartet combined for nearly 2,200 regular season NHL games played, spanning 54 combined NHL seasons.
"A lot of times you feel like, you know what, do I have a chance? Am I going to have a chance?" Schwab said. "You're going to get that chance. … I've been through that process.
"Adin learns watching the guys on his team," Schwab added. "He learns watching goalies on the other team. He's learning what it's like to be a regular NHL player."
Hill is also convinced his chance will come.
"My goal, as every other goalie's, is to be a starter in the NHL. So obviously I want to have the net as much as I can," Hill said. "I feel I've proven to myself and the organization I can play at that level. But I'm still young and I've got to earn it and give them no reason to take me out."
Schwab added that it's "comforting to have a No.3 guy … who has recent experience with our group.
"I think we're in a good spot right now where have two excellent NHL goalies, and two excellent prospects both at different stages at their development," he said.
As for the coming days, Hill said he's ready for whatever his role ends up being.
Hill will likely be sporting a suit and tie on Sunday, sitting upstairs and watching the 11-seed Coyotes take on the No. 6 Nashville Predators in the first game of their Stanley Cup qualifying series at Edmonton's Rogers Place.
The 21-year-old Prosvetov, meanwhile, could also still find himself an injury away from heading north at some point.
"It's the job. Whenever they give you the chance, you have to ready. If you're not, then what?" Prosvetov said. "I'm looking up the three of them, and watching a lot of other NHL goalies, too. But I am focusing on making myself better every day. Just stop the puck. That's my job."
For now, Prosvetov is holed up in the Phoenix area, watching from TV and staying mentally sharp, should such the emergency need for him to jump on a plane present itself.
Prosvetov plans to stay connected to his teammates in Canada, in both official and unofficial ways.
"A lot of (video) gaming, for everybody," Prosvetov said, laughing when asked what he's been up to while staying inside — and what he imagines those in the Edmonton bubble will be doing when not on the ice.
"It's 'Call of Duty Warzone' right now. Me and (defenseman Ilya) Lyubushkin play a lot."
Be the first to know
Get local news delivered to your inbox!