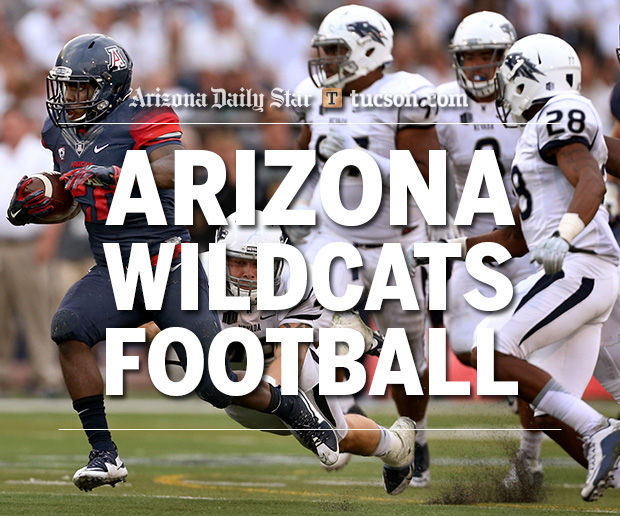 The 2016 NFL scouting combine was a mixed bag for Arizona Wildcats prospects Scooby Wright and Cayleb Jones.
Wright came to Indianapolis hoping to prove to scouts that he's more athletic than they think. But the linebacker's 40-yard dash time of 4.90 seconds Sunday fell short of expectations. Word from the Wright camp was that he'd run in the high 4.6s or in the 4.7s at worst.
Wright did turn in a good time in the 20-yard shuttle, which measures lateral quickness and explosiveness in a short area. Wright's shuttle time of 4.47 seconds tied for 13th among linebackers, according to NFL.com. It was one of two drills in which he ranked in the top 15 at his position. The other was the bench press. Wright's 22 reps tied for fifth among linebackers.
His father, Phil Wright, said via phone Sunday that Scooby was disappointed in his performance but looking forward to Arizona's March 24 pro day, which will afford him a second chance in front of NFL reps.
"Things happen," Phil Wright said. "No excuses. Live to fight another day."
Jones, who worked out Saturday, ranked in the top 15 in only one category — the 20-yard shuttle. But tying for seventh among wide receivers at 4.14 seconds in the shuttle has to be considered a positive sign. Jones measured at 6 foot 3, 209 pounds, which makes his 40 time of 4.65 seconds more palatable.
Another local product, Stanford linebacker and Tucson native Blake Martinez, enjoyed an impressive afternoon at Lucas Oil Stadium. Martinez, who attended Canyon del Oro High, ranked in the top five among linebackers in the 3-cone drill (6.98), 20-yard shuttle (4.20) and bench press (22). He ranked 11th in the 40-yard dash (4.71).
Other UA sports
Wildcats in fourth after first round
The Arizona men's golf team is in fourth place after the opening round of the National Invitation Tournament at Omni Tucson National.
The Wildcats shot a 3-under 285, seven shots behind first-place Santa Clara. UA's Jordan Gumberg is tied for fifth among individuals with a 3-under 69. Kolton Lapa is tied for ninth with a 2-under 70.
The UA women's swimming and diving team finished fourth at the Pac-12 championships in Federal Way, Washington, late Saturday. USC took first. The Arizona men will compete at the Pac-12 championships starting Wednesday.
NFL
Salary cup increasing almost $12M
NEW YORK — The NFL's salary cap for 2016 will be $155.27 million, an increase of nearly $12 million.
The NFL Players Association confirmed the figure Sunday, and will release the franchise and transition tag numbers on Monday. Free agency begins March 9, but teams must apply those tags by Tuesday.
Among the players whose contracts have expired and might wind up getting tagged are Super Bowl MVP linebacker Von Miller of Denver, and other All-Pros such as Carolina cornerback Josh Norman, Tampa Bay running back Doug Martin and Kansas City safety Eric Berry.
Since the 10-year labor agreement was reached in 2011, the cap has risen more than $35 million per team.
This year's increase is based on several economic factors, including a new Thursday night TV package that includes both CBS and NBC.
Soccer
Manchester City wins League Cup
LONDON — Manchester City beat Liverpool 3-1 in a penalty shootout to lift the League Cup at Wembley Stadium on Sunday, and claim the first major trophy of the English football season.
Willy Caballero was City's hero, making three saves in the shootout to deny Lucas Leiva, Philippe Coutinho and Adam Lallana after the match finished 1-1 after 90 minutes and extra time.
Miscellaneous
Injured Vonn extends lead
Hampered by a fractured left knee,
managed to extend her overall World Cup lead by placing 13th in an Alpine combined event, while
of Germany clinched his second four-man bobsled overall World Cup title by winning the final race of the season on Sunday.
secured the ski jump World Cup overall title in impressive style Sunday with six events remaining.
of France won a men's World Cup giant slalom by a huge margin on Sunday for his third straight victory in the discipline.
In tennis, third-seeded
defended his Brazil Open title with a 7-6 (4), 6-3 victory over
Includes material from news releases