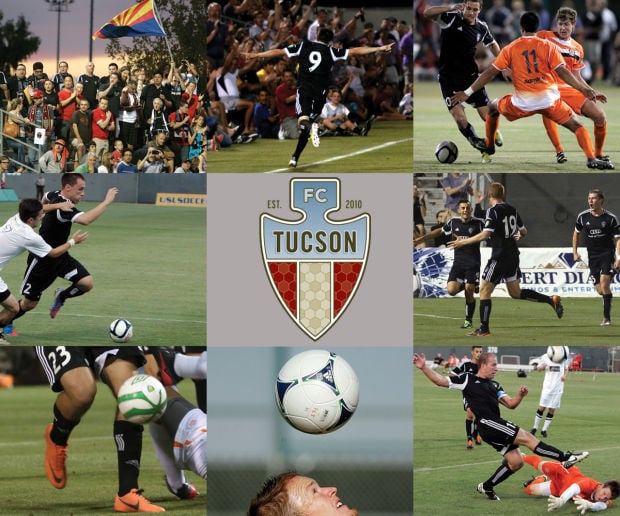 When describing Friday night's stadium opening, FC Tucson co-managing partner Greg Foster said, "It feels like the community is embracing soccer and Kino Sports Complex."
This embrace was like a bear hug that almost squeezes the breath out of you.
An over-capacity crowd of 2,414 jammed into the new grandstand and circled the field as FC Tucson christened the Kino Sports Complex North Stadium with a 1-0 exhibition victory over Major League Soccer's Chivas USA.
And the men in black did it in storybook fashion, thanks to an 89th-minute goal by a 17-year-old local product, Sadam Ali, who will begin his high school season next week as a member of the Rincon/University team.
It was the first time in the pro development club's three-year history that it came out ahead against a team in the nation's top professional league. FC Tucson had managed just two draws in the previous seven matches against MLS teams.
"It was unbelievable," FC Tucson coach Rick Schantz said. "After last night's training, I was trying to figure out how I was going to tell them a 5-0 (loss) would have been OK. But their commitment to perform was phenomenal. … They're playing for a community and for a city that really want them to succeed."
Led by the constant chanting and big drum banging of the club's supporters group, the Cactus Pricks, Friday night's faithful created a cacophony that reverberated off the metal roof of the new 1,700-seat grandstand.
On a night when the new facilities could have grabbed the lion's share of the attention, it was a team made up of former FC Tucson players, some young legs with potential and a few veterans from other leagues that rose to the top.
As many of the fans were still settling in, FC Tucson quickly showed it was up for the challenge. At one point in the first half, the Tucson lads had outshot Chivas USA 3-1 and could have been ahead 2-0 — a goal by Saeed Robinson was waved off because of a foul and, a few minutes later, Dakota Collins' shot on an open goal skittered just wide of the far post.
Even a nil-nil scoreline at the break failed to burst the spectator enthusiasm.
"It's so exciting," said Lisa Childs, who was attending the match with her husband, Tyler, and 13-year-old son, Cole. "Soccer is the future baseball."
And now those converts to the beautiful game have a venue that's just for them — down to a scoreboard that actually shows shots on goal.
"It's a world-class place," said Salpointe Catholic High School coach Wolfgang Weber, one of the forefathers of the game in Tucson. "It's creating a real soccer stadium atmosphere.
"It's a dream come true. Years ago, you couldn't realistically believe it was going to happen. I certainly didn't think it was going to happen in my lifetime."
Ali, a Somalian refugee who is now a U.S. citizen, gave many in the stands a moment they might remember for the rest of their lives.
He was the beneficiary of some hard work by Ricardo Mardoqueo and some good fortune.
Mardoqueo, who was invited to play in the match after being scouted last weekend, picked up the ball near the center stripe and began a hard-charging run down the right side with only Chivas defender Matthew Fondy in his way. Fondy slipped and Mardoqueo took off past him. That gave him the moment of daylight he needed and allowed him to find Ali in the box. Ali calmly struck it and gave Tucson the lead.
"I went behind the defense so he could cross it to me," Ali said. "I imagined it way before it happened.
"I'm in high school still, and I'm playing with a pro team, it was just too exiting."
He wasn't the only one harboring that feeling.
"This is about our families, this is about our kids, this is about a great amenity for our community, this is about new money being brought into the community by professional sports — this is great," said Pima County Supervisor Richard Elias, who has been instrumental in the progress of soccer at Kino. "This would not have happened 10 years ago."
No one probably thought a Tucson team beating an MLS club would ever happen either.