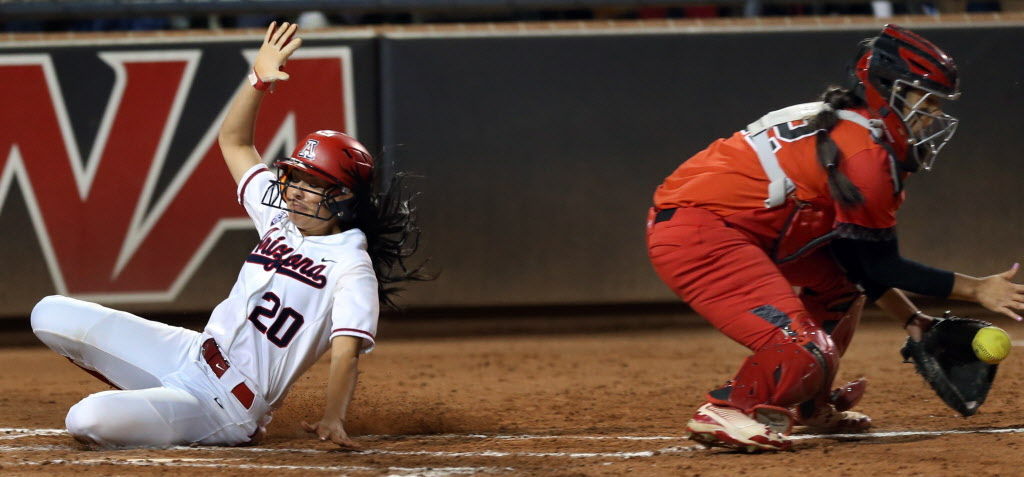 When Ashleigh Hughes went to bat in the fifth inning for Arizona, she hadn't driven a run home in exactly three weeks.
The speedy Hughes only had four RBIs on the season to begin with, and was 0 for 2 with two strikeouts to start against Utah.
As Arizona's pitching has dominated this season, its bats have often gone silent. It was that way Thursday night, as Danielle O'Toole was stellar for the Wildcats early on against Utah.
When Hughes came to the plate, the game tied 1-1, two outs, the Wildcats had only one hit — and eight strikeouts — as a team.
So Hughes belted a single up the middle, driving in two runs in a 3-1 win for the Wildcats (21-9, 3-1 Pac-12) at Hillenbrand Stadium. It was the only other hit on the night for UA. Lauren Young and Merrilee Miller scored on the play.
"My biggest thing was just to wipe my last couple of at-bats out and try to start new, come up with a new plan and put the ball in play," Hughes said. "It felt good to contribute."
It's the type of performance coach Mike Candrea has seen a lot of this season — a top-notch effort in the circle and struggles at the plate.
It can put a coach on pins and needles when hits can sometimes be few and far between, a far-cry from the powerful lineups the Wildcats boasted in recent years.
O'Toole's only real mistake of the night came in the first inning when she gave up a home run to Utah's Hannah Flippen.
It helps to have Katiyana Mauga around, though.
In the fourth inning, the Wildcats' hard-hitting junior launched a home run to left-center field to tie the game up.
"That was a big one," Candrea said. "Just to get a sigh of relief and put a run on the board."
Added Mauga: "I wasn't shooting for a home run. I was just shooting to get on base. A home run will come, but hitting that home run and scoring the first run for us and tying it up, it felt great because I just know I stepped up for the team."
That clutch home run, Mauga's 11 of the season, combined with Hughes' clutch hitting is all that O'Toole (12-5) would really need the rest of the way.
"Well, it's not how many" hits, Candrea said. "It's when."
After allowing two singles to open the fifth, O'Toole retired eight straight before an error by first baseman Joelle Krist in the seventh inning. It didn't matter after O'Toole closed the inning, and game, out unscathed.
Her final line — seven innings, six hits, one earned run, two walks and four strikeouts.
"Tonight, it was all Toolie," Candrea said. "She pitched her butt off and really had some good defensive plays. You just find a way to win, at this stage, that's what you do."
Be the first to know
Get local news delivered to your inbox!