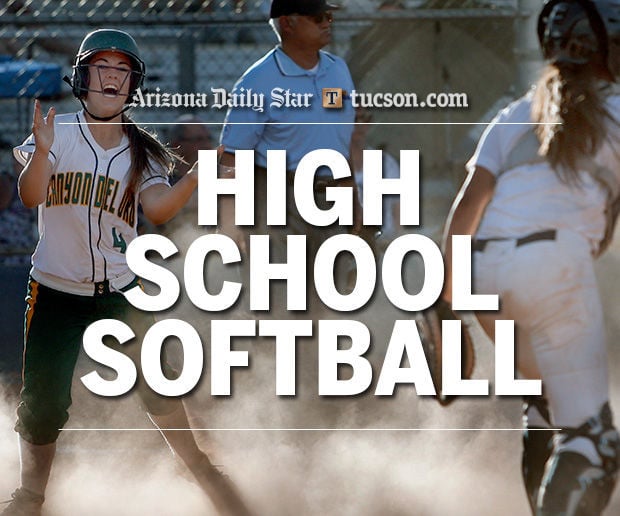 PHOENIX — Hitting and scoring was never an issue for Canyon del Oro's softball team this spring, as it led the state with 373 runs, 16 more than any other team among all four divisions.
But on Wednesday night, in a must-win game, the offense just wasn't there.
Junior pitcher Randi Longville struck out 11 and gave up eight hits over eight innings but the seventh-seeded Dorados were quiet at the plate and lost to No. 9 Peoria Sunrise Mountain 2-1 at Rose Mofford Sports Complex, to be eliminated from the Division II state tournament.
"We hadn't seen a pitcher's duel all season," CDO coach Kelly Fowler said. "Randi Longville threw amazing. She threw like a senior; I couldn't have been more pleased with her performance.
"It was a fabulous performance, she was very gutsy."
With CDO's loss, second-seeded Salpointe Catholic and No. 4 Cienega are the two remaining Southern Arizona teams in the tournament. They meet Thursday night at Cherry Field in a double-elimination semifinal game at 6:30 p.m.
The Dorados (32-7) finished with seven hits and had just one in each of the first three innings on Wednesday. A factor in the low-production night was the absence of No. 3 hitter Ellessa Bonstrom, who was batting .420 with a team-high 40 RBIs. She suffered a concussion in the third round of the tournament last Thursday.
"We missed her bat," Fowler said.
In addition to the lack of offense, a base-running miscue in the bottom of the sixth inning also plagued the Oro Valley power.
Senior catcher Heather Knight led off the frame with a ground-rule double, giving the Dorados the go-ahead run on second with no outs. Following an error on a bunt by Ari Acedo, Robyn Young, Knight's courtesy runner, was tagged out at home on a bunt by Arianna Felix.
"I was very pumped," Knight said. "I thought we were going to score."
Sunrise Mountain pitcher Valerie Vidal struck out two in a row from there to strand runners on first and third, sending the game into the seventh inning still tied 1-1.
"That happens," Fowler said. "You don't want it to happen, but it happens."
The Mustangs, who lost against CDO in the 2012 state title game, took a 1-0 lead in the top of the third and then went ahead 2-1 with two outs in the eighth. Brianna Ray led off with a double and scored on a full-count RBI single by Whitney Chamberlain.
Carli Campbell, a junior, led off the bottom of the inning with a single to left field but ended up stranded there after Vidal retired three in a row to secure the win.
The Dorados scored their lone run in the bottom of the fourth inning after Acedo opened up the bottom frame with a bomb off the left-field fence. Felix followed that with a bunt single and a throwing error allowed the game-tying run to score and Felix to reach second. But, once again, Vidal retired three in a row to get out of the inning.
After giving up a two-out RBI double in the third inning, Longville retired seven straight batters until giving up a lead-off single in the top of the sixth. Longville also got out of some jams in the later innings, such as when she sat down three straight in the top of the seventh after giving up a double to start the inning.
"Heather called a great game behind the plate," Longville said. "We were going back and forth with rise balls, just like they did."
CDO reached the title game last year and had been in the state final seven times in the last 10 years so the early exit brought on a strange feeling for Knight, who is signed to play at Purdue next year.
"It's so weird, I don't even know what to think of it," she said. "Our hitting just wasn't there. She had a really good rise ball and we just couldn't get on top of it or make the adjustments.
"Randi did a heck of a job out there and I'm very proud of her."
---
PEORIA SUNRISE MOUNTAIN 2, CANYON DEL ORO 1 (8 INN.)
Sunrise Mountain 001 000 1 – 2 8 1
Canyon del Oro 000 100 0 – 1 7 1
W – Vidal. L – Longville.
2B – SM: Krosky, Ambrose, Ray. CDO: Knight, Acedo.
Contact high school sports coordinator Daniel Gaona at 807-7761 or dgaona@tucson.com. On Twitter: @DanielGaona13