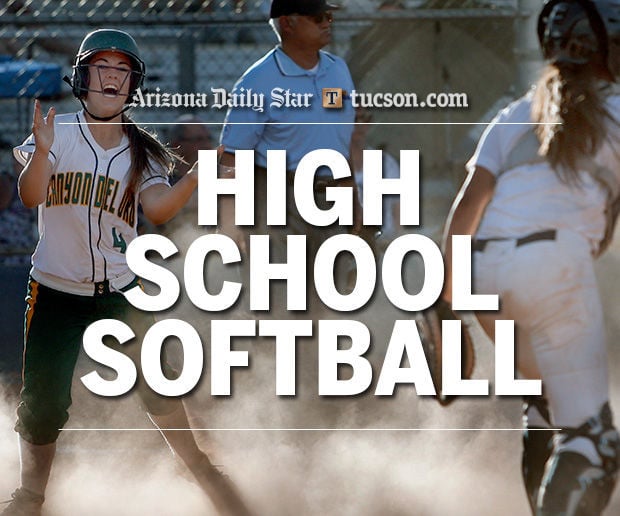 After coming up a run short in last year's Division II softball state championship, No. 7 Canyon del Oro still has a chance to avenge its loss after surviving an extra-inning elimination game against No. 6 Sahuaro with a 12-11 win.
"It was just a good-ol' dog fight," said CDO coach Kelly Fowler about Saturday's game at Ironwood Ridge. "It had everything. Multiple lead changes, extra innings, errors, lead-off walks, big hits, timely bunts, double plays."
Dorados freshman Alexis Kaiser delivered the winning hit in the top of the eighth inning on a two-run double to shallow right field, after being inserted with a 1-1 count.
"It's something you don't even imagine happening," said Kaiser. "Like 'Oh, my God, I'm a freshman and the game is on the line.' I don't even have words to describe how it felt. I was in the box and I could feel my whole body shaking."
The Dorados will next travel to Rose Mofford Sports Complex to play No. 1 Goodyear Desert Edge at 6:30 p.m. Wednesday in another loser's bracket tilt.
---
The Empire and San Manuel softball teams both won Saturday to reach Monday's Division III and IV state championship games at ASU's Farrington Stadium. Click here to read more.
---
CDO senior Heather Knight sent the game into extra innings with a game-tying two RBI double to the right-center gap, scoring freshman Anya Gonzalez and junior Carli Campbell.
"She has waited for this," said Fowler about Knight. "She sat behind a great catcher for three years, so she sat and watched. This was her moment and she took advantage of every opportunity."
Knight who finished with four RBIs, tied the game at 3 in the third on a hit-and-run turned home run to deep center.
"We been in this situation three years in a row," said Knight. "We wanted it and we knew we had to fight for it."
By the end of the third inning both starting pitchers had been chased as CDO led 5-3 after a bunt by sophomore Arianna Felix and a throwing error by the Cougars scored a pair.
The Dorados would extend their lead to 8-3 with a mix of small ball and more mistakes by Sahuaro.
Facing their largest deficit of the day, the Cougars came to life in the fourth, scoring three.
Andie Larkins, who also hit a two-run single to give Sahuaro a 3-1 lead in the first, came up big again for the Cougars in the sixth, driving in the first of four runs in the inning.
A single by Madison Wiley gave the Cougars a 9-8 lead, and a double by Danielle Jamieson made it 10-8.
Trailing by a run in the bottom of the eighth after another Larkins RBI, the Cougars' comeback was in sight with two on and none out, before a double play at third base doused any hopes.
Junior Gabrielle Blevins, who had pitched just two innings heading into the postseason, earned the win, with freshman Faith Orton recording the save.