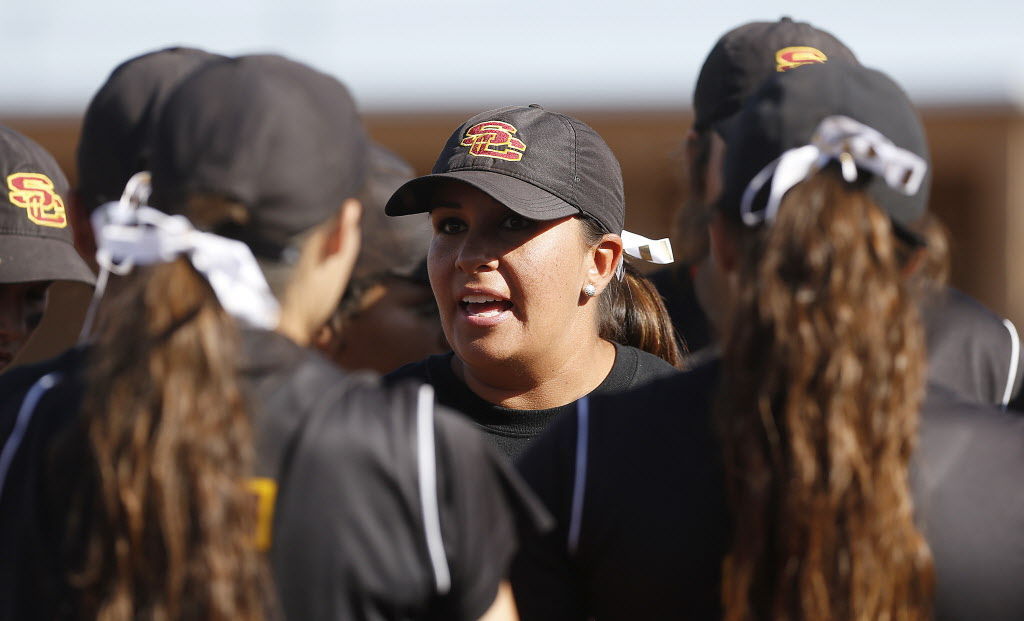 All season long, Salpointe Catholic's softball team has played with the idea of blocking out the 'what-might-be's' and the 'what-could-be's' by focusing on the next pitch.
That tunnel vision approach and the Lancers season motto of, "stay humble, stay hungry" rung true when Salpointe routed No. 7 Canyon del Oro 12-4 at Amphitheater on Thursday night in the third round of the Division II state tournament.
The win is the team's 13th straight and marks the second over the Dorados this spring. It pins the second-seeded Lancers against No. 3 Glendale Cactus in the quarterfinals of the winner's bracket, two wins from a trip to the state finals.
---
Click here to view more stats and scored from around Southern Arizona on Thursday along with Friday's state tournament schedule.
---
CDO dropped to the loser's bracket with the loss but can keep its season alive with a win Saturday, when it plays No. 6 Sahuaro at Cherry Field at 11:30 a.m. The Cougars beat Dorados 7-2 earlier in the season.
"We're one step away from reaching our goal," Salpointe coach Amy Baray-Rocha said. "They've played their hearts out every single game, I'm just so proud of them.
"They just focus on the next pitch and don't try to look ahead, they just live in the moment."
Thursday night sure had a few moments to remember.
Junior Brianna Aguilar-Beaucage, whose fingerprints were all over this game, came in to pitch in relief of senior Delfina Morales in the fourth inning after CDO's Heather launched a two-run single to centerfield.
The Dorados had notched nine hits up to this point, but then Aguilar-Beaucage got CDO freshman slugger Ellessa Bonstrom to ground into an inning-ending double play.
From then on, she shut down CDO, cooling the bats of the hot-hitting Dorados and not allowing a hit the remainder of the game.
In Aguilar-Beaucage's next at-bat in the fifth inning, she singled to left field with the bases loaded to bring home the go-ahead run. That helped spark a rally leading to two more runs and a 7-4 lead. She finished 3-for-3 with a double and two RBIs.
"She's a gamer," Baray-Rocha said. "She's someone you want on the mound representing you when your backs up against the wall because you know she's going to get it done."
The Dorados came unraveled when the Lancers tacked on five more runs in the bottom of the sixth inning on one hit, an error and a walk. CDO was doomed by six hit batters, five walks and four errors.
"We've been working hard for this, of course its great to win and keep going," Aguilar-Beaucage said. "But, this win is just another game to get closer to a championship."
Essentially, last season's state runner-up didn't stand a chance, especially after the miscues started to add up.
CDO coach Kelly Fowler realized some nerves came into play, but she doesn't expect her squad to dig themselves into another hole the next time on the diamond.
"Its hard to defend free walks," Fowler said. "Our pitchers, they'll get better, it was a freak thing what happened tonight. I really don't see that happening again."
---
SALPOINTE CATHOLIC 12, CANYON DEL ORO 4
Canyon del Oro 011 200 0 – 4 9 4
Salpointe Catholic 310 035 x – 12 8 0
W – Aguilar-Beaucage (9-1). L – Orton. 2B: CDO – Acedo. SAL – Acuna, Aguilar-Beaucage.