A large tour bus with New Mexico license plates slowed to a stop outside Hi Corbett Field at 4 p.m. Tuesday. A logo on the bus said "Herrera Tours." A more fitting logo might've been "Incredible Journeys."
The first person off the bus was Tod Brown, Sabino High School Class of 1989, Mr. Incredible Journey himself.
On Tuesday, Brown was, as his father Michael Brown said an hour later sitting behind the third base dugout, "back home."
In baseball, home can be a fleeting term. Tod Brown, now the head coach of the New Mexico Lobos, has spent the last 30 years playing baseball in Minnesota, Wisconsin and Canada, and coaching the game in such non-baseball precincts as Bowling Green, Ohio, and Fargo, North Dakota.
That's not the prescribed route to a successful baseball career, but as Brown coached the Lobos against his alma mater on Tuesday evening — Arizona won 11-8 — the words of his father hit home.
"Tod's happy," he said. "He's doing what he loves."
I think back to the long-ago time when Brown, a non-scholarship pitcher for Jerry Kindall's Wildcats, accepted an invitation to play for our city rec-league baseball team. The club was loaded with successful men: UA basketball legend Steve Kerr, Arizona football coach Dick Tomey, UA television play-by-play voice Dave Sitton, UA golf coach Rick LaRose, future Pac-12 communications vice president Dave Hirsch, future Utah athletic director Mark Harlan and UA outfielder Todd Devereaux, soon to be drafted by the New York Yankees.
Brown was no different; he was similarly driven to succeed.
As Arizona baseball coach Jerry Stitt said when he hired Brown as a volunteer pitching coach in 1998, "Tod's one of the most competitive guys we've ever had here."
It's that competitive nature that has taken the 1988 Sabino Sabercats quarterback on a baseball journey few could've seen coming.
Many walk-on college ballplayers who don't get off the bench for two seasons wouldn't have stuck it out, as Brown did at Arizona. His determination paid off. By his junior year he was the Most Outstanding Player of the 1993 NCAA Regional. A year later he won six games and saved eight more, leading the team.
"When I finally got a shot in my third year, I wasn't going to let them take me out," Brown said after pitching batting practice before Tuesday's game. "I performed. After that, they could not not let me pitch."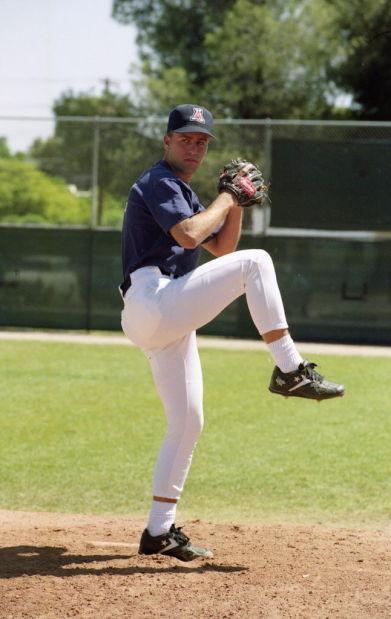 He was finally awarded a scholarship.
Brown's fastball? If it hit 85 mph it was a good day. Yet Brown became a success in baseball the same way he has in coaching: refusing to give in, making the most of what he has.
After a three-year minor-league career, the Cleveland Indians released Brown just before Christmas, 1996. His career track? He didn't know.
"I was just moping around when I ran into my old Sabino High chemistry teacher, Bruce Johnson, at the mall," Brown remembers. "He asked me to come and see him after New Year's."
That meeting led to Brown being hired to work at Sabino. He went to night school, got his teaching certificate, coached the freshman football team for Jeff Scurran and helped coach the Sabercats to the 1997 state baseball championship. He had found his life's work.
"Ten years later I was the head baseball coach at North Dakota State," Brown says, shaking his head.
Winning in baseball at North Dakota State seemed like a fairy tale. In his first season at NDSU, Brown's club was funded by 4½ scholarships. The NCAA limit was 11.7. A week before school started, NDSU had just 17 players.
"It was very stressful," says Brown. "I was afraid I had made the biggest mistake of my life. But in three years we went from 12 wins to 40, making the NCAA Tournament. We started clicking."
Brown was bold enough to schedule Arizona to open the 2012 season. The Wildcats, with five future MLB players and ranked No. 5, would go on to win the College World Series. Yet the Bison beat their coach's alma mater on a day Terry Francona threw out the first pitch.
In 14 years at NDSU, Brown's clubs won 341 games, a school record. In the summer of 2021, New Mexico recruited him to be its head coach, the same position held by former Pima College and Tucson High baseball icon Rich Alday from 1990-2007.
Building the Lobos will take time. Brown inherited a program that went 10-17, 11-16-1 and 11-19 in the Mountain West in the three previous full seasons. But the early returns are promising: The Lobos, hitting .332, led the NCAA in batting average for eight weeks earlier this season. Brown and his pitching coach, former Wildcat infielder Michael Lopez, are in the early stages of rebuilding New Mexico's pitching staff.
At 51, in the prime of his coaching career, Brown and his wife Janet (they met at the UA) and their two college-aged kids (Brooks and Blake) could write a book about their rise from the Bowling Green coaching staff to 14 years in North Dakota to their move to Albuquerque.
No challenge has been too big.
"This is a great opportunity," says Brown. "We're just getting started."