Greg Patton refers to Clancy Shields as "Fire" and Luke Shields as "Ice", doing so with such passion that capital letters are required.
Patton refers to their showdown in Friday's first round of the NCAA Men's Tennis Tournament — Arizona v. Boise State — as "The Clash of Titans."
Get your tickets while they last.
"Clancy is like the Bruce Willis character in the 'Die Hard' movies," Patton says with a laugh. "His intensity could start a nuclear reactor.
"But his brother Luke is like 'Cool Hand Luke.' If you take him lightly — he's the toughest mental competitor I've ever been around — you are making a mistake.
"This is a rivalry that has been brewing for 40 years."
Patton won't pick a favorite in Friday's match at the UA's Robson Tennis Center because he loves and respects the Shields brothers like sons. This isn't just an old coach exaggerating.
Patton coached Luke and Clancy Shields at Boise State from 2005-09, a union so strong — a relationship so rewarding — that Patton turned down an offer to coach the nation's No. 1 team to keep coaching the Shields brothers.
"It's true," Patton says now. "I'll never regret it."
Illinois won the 2005 NCAA men's tennis championship, after which coach Craig Tiley resigned to become director of Tennis Australia. The Illini had been so good for so long they were able to handpick Tiley's replacement
They chose Boise State's Patton, 52, in the prime of his career, a former U.S. National Junior Team head coach. Patton had been the 1997 NCAA Coach of the Year at BSU, and, against all odds, coached the Broncos to a top-10 finish in 2005.
But Patton told the Illini no. The tennis community couldn't believe it. Did you really say "no?" Illinois had gone 89-5 the previous three seasons. But Patton chose to remain at Boise State.
"I could not bear the thought of leaving Luke and Clancy because I loved them and cared about them," says Patton. "And because the ride was so fun and exciting with them."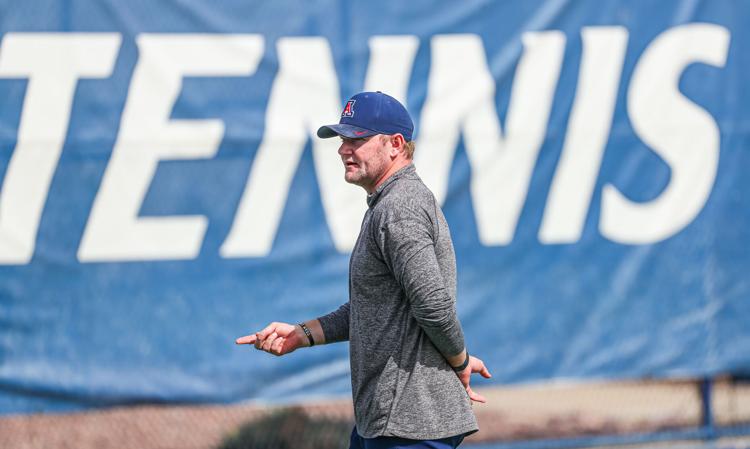 When the Shields brothers were inducted into the Colorado Tennis Hall of Fame last fall, their mother, Teresa, suggested her tennis-playing sons — both ranked in the NCAA top 10 during their Boise State careers — are better at coaching tennis than they were at playing tennis.
"They're almost like parents to these college kids," she said. "It's a joy to see them love their work."
Friday's Boise State-Arizona match will be the long-awaited first time Patton has seen the Shields brothers go one on one outside of their daily practice sessions in Idaho from 2005–09.
Who's better? Who knows? Patton prevented a Shields v. Shields showdown in the championship match of the 2007 Fall Mountain Region Championships in Las Vegas. Clancy reached the finals through one side of the bracket; Luke worked his way to the finals through the opposite side.
But on the morning of the championship, Patton asked both to withdraw.
"Tennis is too often a me-me-me sport," Patton remembers. "I didn't think anything good would come from them playing for that championship. They've competed against one another since they were 4 or 5 years old, competing day after day, and I didn't want there to be a winner. If you know them, you know what I mean. They are the true meaning of brotherly love."
That brotherly love will take a break Friday at the Robson Tennis Center. Boise State, the Mountain West Conference champ, and Arizona, the Pac-12 regular-season co-champion, will play for something greater than me-me-me.
Their teams will play for a berth in the Round of 32 of the NCAA Tournament.
Actually, the Shields brothers have coached against each other once: In a February 2017 tournament at Loyola-Marymount, Fresno State — where Luke coached for six seasons before FSU eliminated its men's tennis program — beat Clancys' first Arizona team, 4-3.
"They were the tougher team," Clancy said.
Since then, much has changed.
Arizona's long-irrelevant men's tennis team has become a certifiable top-25 program. Shields has twice been named the Pac-12 Coach of the Year. He has stopped embarrassing, decades-long losing streaks to USC, UCLA and Stanford.
At the same time, Luke has "gone home" to Boise, turning around a Broncos program that had struggled since Patton's retirement five years ago
"It was inevitable they would meet one another on a big stage like this," says Patton. "The one thing I know is that neither one of those brothers will give an inch."
Since their formative years in Grand Junction, Colorado, the Shields brothers have climbed the tennis ladder, peaking simultaneously this week in the NCAA Tournament. What you see is what you get.
"Clancy is like an evangelist; he'll all but sing hallelujah to get his team going," says Patton. "Luke is like a missionary, stoic. Very smart. He exemplifies what it takes to be a champion.
"Who wins? I don't know. But I do know I'd like to have them coaching my team."