The Star's longtime columnist on what Azuolas Tubelis could learn from Sean Elliott ... historically excellent Tucson high school teams ... Allie Skaggs' unheard-of defensive season ... Clancy Shields' next step ... and more.
---
Elliott's career, including senior year at UA, worth emulating
A few heartbreaking hours after No. 1 Arizona lost to Oklahoma in the 1988 Final Four, Sean Elliott walked to the room of assistant coach Kevin O'Neill at Kansas City's downtown Alameda Hotel.
"I'm outta here,'' Elliott told O'Neill, a story repeated to me by both O'Neill and Elliott in April 1988. "I'm turning pro.''
O'Neill invited Elliott into his room. They talked until 3 a.m. By the time Elliott went to bed that night, he had decided to return to Arizona for his senior season, 1988-89, in which he became college basketball's Player of the Year, the No. 3 overall draft pick and the leading career scorer at Arizona and in the Pac-12.
It's a story that those like Arizona junior Azuolas Tubelis should hear before making an irreversible decision to bypass a senior year of college.
Elliott's long-ago decision returned to mind Friday when the 55-year-old San Antonio Spurs radio and TV analyst announced that he had completed his degree work and graduated from Arizona. If anyone is qualified to mentor an aspiring basketball player like Tubelis, it would be Elliott, who seemed to make all the right moves in his college and pro career.
In '88, when Elliott held a news conference to announce his decision to stay at Arizona, he said: "I don't want to be a washout. If I can improve this much in three years, I imagine I can get a lot better in one year.''
Said O'Neill: "Sean doesn't want to be a sub when he gets to the NBA. He wants to be an All-Star. He wants to be completely ready.''
And so he was. Elliott scored 10,544 points for San Antonio, making the franchise's most historic shot — the 1999 Memorial Day Miracle — becoming an All-Star in 1993 and 1996 and earning $42 million, the equivalent of about $60 million today.
The Spurs retired Elliott's jersey in 2004.
Talk about making all the right moves.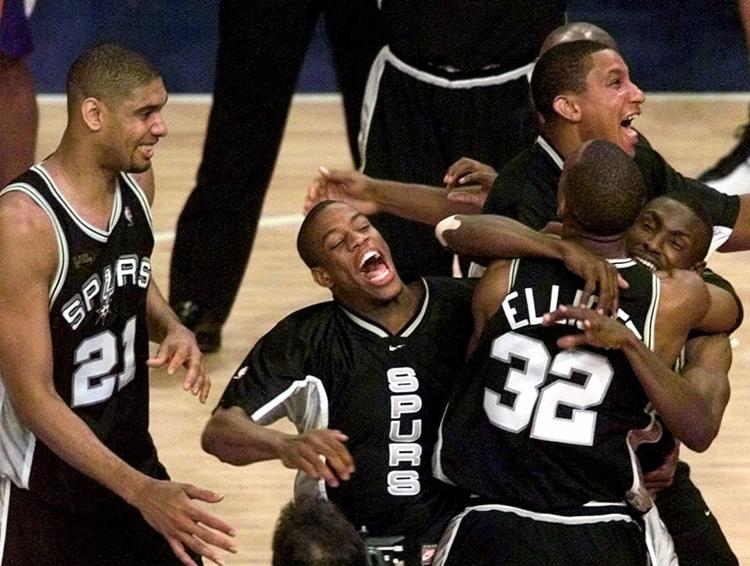 Elliott told me he studied 1980s big-name early-entry draftees, specifically Pearl Washington of Syracuse and Walter Berry of St. John's. Both were out of the NBA in three years.
He further said he was impressed by the decisions of Navy's David Robinson, Kansas' Danny Manning and Georgetown's Patrick Ewing to play four years of college basketball. All went on to star-level NBA careers.
No, this isn't 1988 any longer. No one as good as Ewing or Manning (or Elliott) would stay in college for the duration today. The money is too much for elite prospects to decline.
Arizona's 2018 one-and-done center, Deandre Ayton, for example, has already banked $71 million and has another $102 million remaining on his contract through 2026, even though he has turned out to be something less than an All-Star.
There's also an important academic component to Elliott's career, and not just because he finally earned his UA degree last week.
In 1988, the UA athletic staff directory listed four employees in the academic support department. Today there are 15 tutors, counselors, learning specialists, you name it. You are now eligible to be paid $5,980 per year if you show progress toward graduation, which is almost unavoidable given the day-to-day support.
If that type of support had been available to Elliott in 1988-89, he probably would've graduated 34 years ago. Imagine how much easier progress toward graduation becomes when you can work remotely while on long, four-day trips to Oregon and Washington. The entire process is expedited.
During the '88 and '89 seasons, both of which Arizona was periodically ranked No. 1, Elliott's mother, Odiemae, took out a loan to travel to select road games and the NCAA Tournament. Now the Elliotts could pay for it out of what would be a robust share of NIL money and the $5,980 progress-toward-graduation supplement.
All of those things are available to someone like Tubelis today. It wouldn't be a shock to find that Tubelis is worth more than $100,000 in NIL compensation. So why not stay in school, work on your game, improve your draft status and earn a degree?
Elliott has long been a role model for all things basketball. Now he's a role model for the importance of academics. He's a valuable resource for all NBA hopefuls like Tubelis.
---
3 Tucson HS teams making, vying for history
May is state championship time in Tucson, and three teams are using high school's biggest stage to pursue/create history:
• Catalina Foothills' boys tennis team won its ninth consecutive state title last week, undefeated at 15-0. Coach Jeff Bloomberg's club has now gone 114-1 since the retired South Dakota attorney moved to Tucson to take charge of Tucson's top prep tennis program in 2016. If Foothills wins again next year, Bloomberg will tie former CFHS coach Robb Salant, who won eight state titles from 1997-2011.
This year's starting lineup had familiar standouts like Jared Perry and Grant Cohen, but also new contributors like Suraj Shah, Edwin Uche, Jason Jia and Aaron Zeldin, who helped greatly to win another championship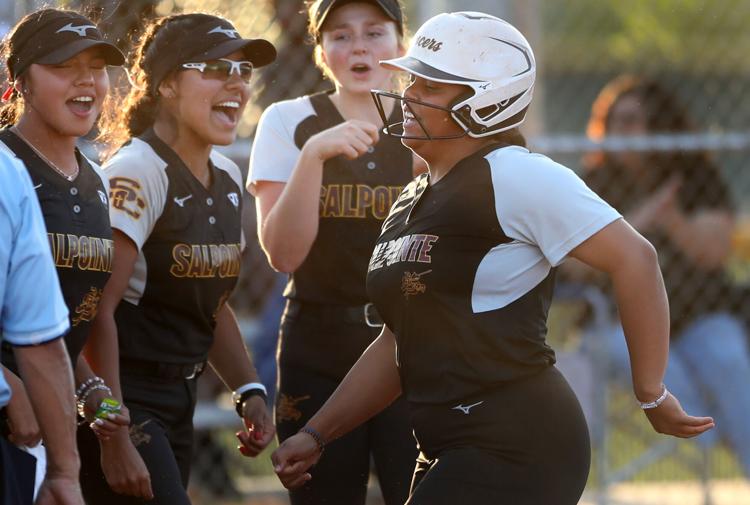 • Salpointe Catholic's softball team, 34-1, will play for the Class 4A state championship Tuesday at 8 p.m. at Hillenbrand Stadium. That's no surprise. The Lancers have won four consecutive state softball titles and are 142-12 in their last 154 games heading into Tuesday's championship showdown against Phoenix Greenway.
But what few could've expected was that Salpointe, or anyone, would challenge CDO's 2011 team as the greatest in Tucson history. The '11 Dorados went 35-1, capping a run in which they won five state titles in six years, going 167-15, setting the bar so high it seemed unlikely anyone would challenge
Yet the '23 Lancers have outscored opponents 373-54 and have a team batting average of .410. It helps when six Salpointe hitters are hitting in excess of .400: Gianna Mares, .490; Anyssa Wild, .489; Gianna Payne, .471; Taiya Teixeira, .436; Monique Bustamante, .410; and Jae Castillo, .408. On top of that, Mares is 9-0 with 118 strikeouts in 69 innings, one of the elite seasons of Tucson prep softball in history.
• Catalina Foothills' baseball team has been so close to a state championship so often that the memories must be painful. The Falcons finished No. 2 in the state in 2002, 2004, 2005, 2010 and 2018. They have not won a state baseball title.
But CFHS, 27-2, will try to break that streak in the championship game Tuesday night at Tempe's Diablo Stadium against Queen Creek Casteel. Senior Troy Sanders — son of Santa Rita High School's early 1990s standout Anthony Sanders, a former MLB outfielder who is now the first base coach of the Baltimore Orioles — leads Foothills offensively with a .361 batting average and 11 doubles. He has plenty of support from Anthony Diaz, batting .370, and pitcher Ethan Bell, who is 9-0.
---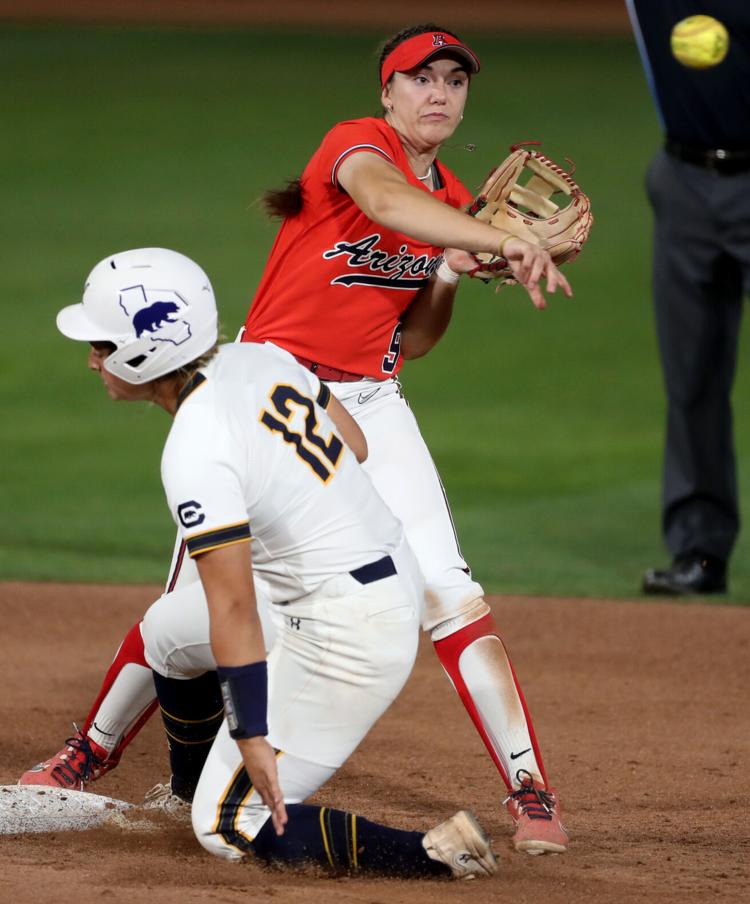 Short stuff: Skaggs' defensive dominance, Grigsby's achievement, Shields' next step
What makes Arizona second baseman Allie Skaggs' selection as Pac-12 softball Defensive Player of the Year so impressive is that she didn't commit an error in 168 chances. That's unheard of for a middle infielder.
In UA softball history, no starting middle infielder has gone error-free over an entire season. In 1992, first baseman Amy Chellevold made just one error in 356 chances, and in 2001 catcher Lindsey Collins made one error in 585 chances. But that doesn't compare to a second baseman's opportunities.
Perhaps Skaggs benefited from having two Pac-12 defensive players of the year on Arizona's coaching staff. Head coach Caitlin Lowe, a 2007 All-American center fielder, did not commit an error in 61 chances. The UA's second baseman that season, Chelsie Mesa, committed 13 errors, and even at that, she was a standout on a national championship team. Arizona assistant coach Lauren Lappin, a catcher, was twice the Pac-12 Defensive Player of the Year at Stanford in 2005 and 2006. ...
... Nic Grigsby, who gained 1,153 yards when Arizona broke through to give Coach Mike Stoops his first winning season in 2008, returned to Tucson last week as a graduate. Grigsby, who gained 2,957 yards at Arizona, completed his degree work after spending six years trying to make it in the NFL. He played three CFL seasons. He is now a realtor in Cape Coral, Florida. ...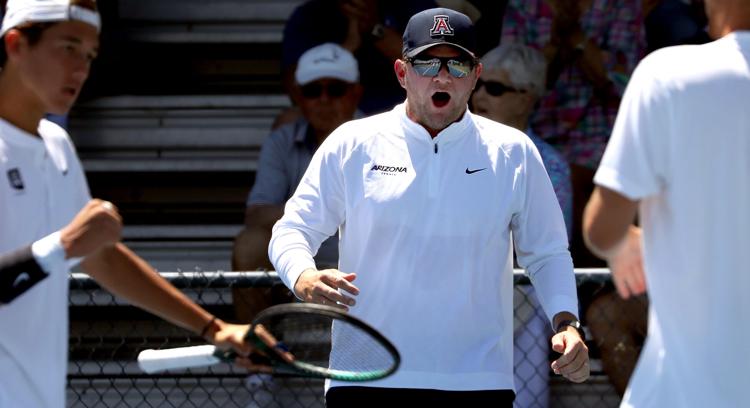 ... As good as Pac-12 men's tennis teams UCLA, USC and Stanford have been the last 50 years, Arizona and coach Clancy Shields ran into an unusually tough opponent Saturday when they lost in the Sweet 16 at No. 3-seeded Ohio State. The Buckeyes have gone 172-2 on their home court since 2006. That's the next level of tennis that Shields will now try to achieve. Buckeyes coach Ty Tucker has coached his team to a 219-13 record in the Big Ten and has won 17 consecutive regular-season conference championships. Talk about a formidable Sweet 16 opponent. ...
... Small-world department: Xavier coach Sean Miller and former Georgia Tech coach Josh Pastner — both with long histories in the Arizona basketball program — were guest speakers at the NABC coaches clinic this weekend in Nashville. Miller continues to reinvent himself since his introvert-type lifestyle in Tucson. Last week he attended the Kentucky Derby, dressed in a gala party outfit with his wife, and posted it to his Twitter page. I had to look twice to see if it was really him.
---
My two cents: Math working against UA softball to make NCAA field
The depth of college softball is such that Arizona seems likely to get late consideration for a berth in the field of 64 on Sunday even though the Wildcats had their worst-ever Pac-12 season, 6-18, and are No. 51 in the NCAA's current RPI.
There are 32 conference champions and 32 at-large berths in the field of 64. Those at-large berths will go fast. The SEC is so good that all 13 of its softball teams have a higher RPI than Arizona. So do eight Big Ten schools, six ACC schools and six in the Pac-12.
The math suggests that Arizona will be about No. 34 in the at-large pool. Arizona might miss its first NCAA Tournament berth since 1986 because ASUN teams Liberty and Central Arkansas, and AAC teams Wichita State and UCF, all seem to rank ahead of the Wildcats.
Once you squeeze in all the champions from the WAC, WCC, Big West, Big Sky, Big East, Big South, MAC, MEAC, MVC, NEC, Ivy and Horizon leagues, among others, it's simple math for Arizona to get squeezed out for the first time in a record 35 seasons.