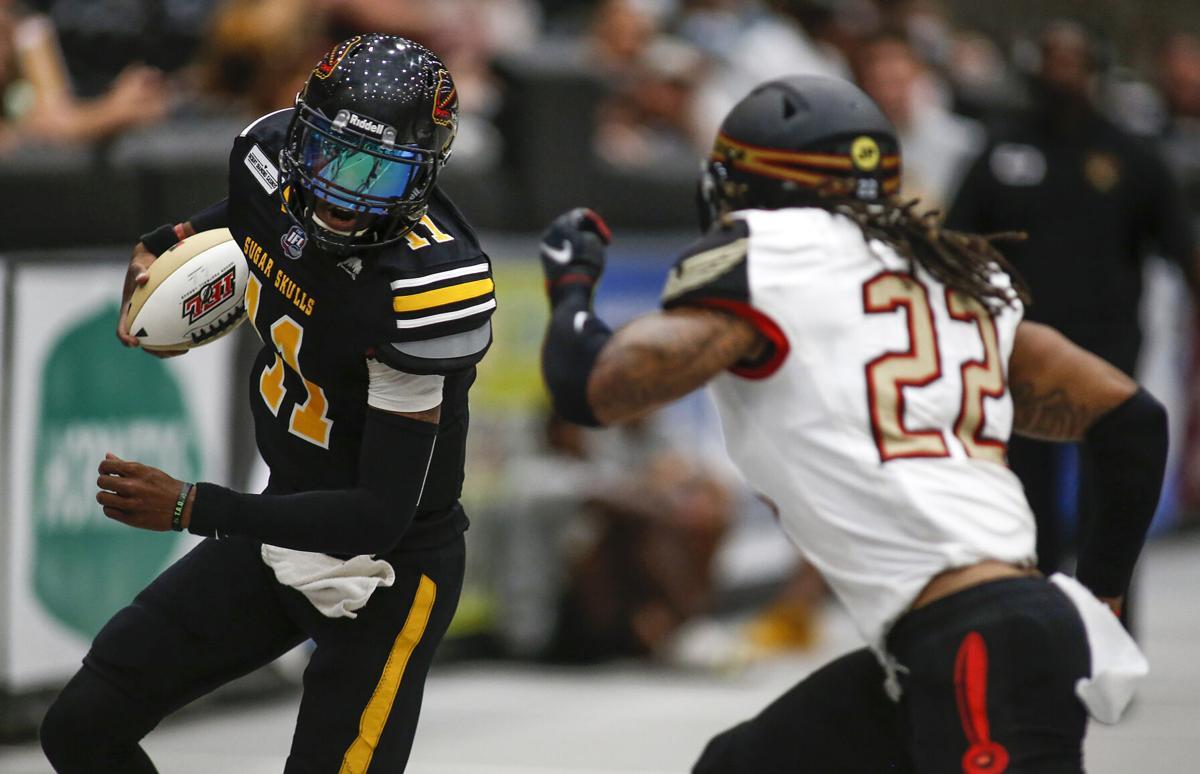 Dixie Wooten's home debut as the Tucson Sugar Skulls' head coach didn't go according to plan in a 33-13 loss to visiting Iowa on Saturday night.
The contest was the first time in two years the Sugar Skulls had hosted a game, and they and did it in front of a half-full Tucson Arena.
"The fans were great, the environment was great, we just have to be better as a team," Wooten said. "This is our first home game, so I think the next home game is going to be a little different."
Wooten's "Super Bowl" against an Iowa Barnstormers team he won an IFL championship with — and earned Coach of the Year honors — was spoiled, as Tucson dropped to 1-2 and 10th in the standings ahead of Northern Arizona (0-3) and Louisville (0-5).
"We made a lot of mistakes on the field — offense, defense and special teams. Iowa put together a great game plan that gave us trouble here and there," Wooten said.
What happened? What's next? Here is the latest news and notes as the Sugar Skulls head into another week with an IFL juggernaut on the schedule.
Bend but don't break … until the end
As expected, the connection between the Barnstormers and Sugar Skulls produced "jaw-chattering" during the game.
Tucson signed four former Barnstormers for 2021, including All-IFL wide receiver Ryan Balentine, defensive back Jajuan Harley, wide receiver Juju Augustine and offensive lineman Brandon Haskin.
Wooten took over as head coach and general manager of the Sugar Skulls prior to what would've been the 2020 season before it was shut down for the pandemic. Still, Iowa kept most of its roster intact, so both teams were familiar with each other, including Barnstormers quarterback Daquan Neal, who signed with Tucson in 2020, but returned to Iowa in '21.
"That's family still. It's like fighting your brother, but you love them at the same time," Harley said.
Defensively, the Sugar Skulls had a sound performance against Neal, the 2019 IFL MVP, and Iowa's offense. The Sugar Skulls limited the IFL passing and touchdown leader to 11-for-26 passing for 104 yards, two rushing touchdowns and an interception.
"They had the MVP and our defense played lights out. … Our defense did a great job on him tonight," Wooten said. "We were supposed to win that game, because our defense played a great game."
Iowa got inside the red zone just twice compared to Tucson's five trips, and converted just once, which didn't come until running back Evan Owens' three-yard run in the fourth quarter. Iowa was 5-for-9 on third-down conversions — 0-for-2 on fourth down.
"We have to be more disciplined, we have to fight together and I think we did a good job finishing until the end," Wooten said. "But we have to understand it's going to be a long season, and at the end of the day, I have to get better as a coach."
Harley said the Sugar Skulls defenders plan to "create overtime" in practice this week in order to prevent fourth-quarter breakage moving forward.
"They got the best of us," Harley said. "We fought and fought, but at the end of the day, they put wear and tear on us. … That's what we're going to do. We're going to work out. So, when we're done with practice, we're going to go over drives, hit bags, do drills — so the next time we face adversity, we will not be able to break, we'll be ready for whatever."
Croft settling in
Compared to his six-touchdown performance in a 20-point win over Duke City, which earned him IFL Offensive Player of the Week honors, Sugar Skulls quarterback Demry Croft had a mild performance against Iowa, completing 18 of 25 passes for 154 yards and two interceptions.
Croft took over for E.J. Hilliard after the ex-IFL Offensive Player of the Year took a personal leave of absence.
In Croft's home debut, Tucson's offense sputtered in the second half, especially in the fourth quarter when the Barnstormers stopped the Sugar Skulls on a critical fourth down, which was then followed by an interception on the next drive. Both sequences resulted in touchdowns for Iowa, and extended its lead from a touchdown to 33-13.
"We shot ourselves in the foot a couple times. Those two drives — back-to-back — put us down in the score."
Wooten shouldered the blame for Croft's outing.
"I'm the play-caller and got to make sure to put my guys in better position to run and throw the football," Wooten said. "I have a young quarterback, and last week I put him in position to be successful."
Luckily for Croft, he has All-IFL veterans — both offensively and defensively — to lean on during his first season in the IFL.
"I told him, 'Keep believing in yourself. Sometimes, things don't go your way. It's how you respond. That's what life is.' … It's going to show what kind of man you are," said Harley. "If you're a man, when adversity hits, you just crumble or are you going to be like, 'Alright, let's go. I got knocked down nine times, get up 10 times.'"
Punishment for punch
Following Croft's second interception with 3:15 left to play, Sugar Skulls offensive lineman Antonio Rosales blindsided Iowa defensive lineman Tony Jones after the play was whistled over, his second personal foul penalty of the game, warranting an ejection. The former Tucson High and San Diego State standout also punched an official who attempted to remove Rosales from the scuffle.
Rosales' punishment will be announced this week.
"We'll talk about that later on this week," Wooten said. "I'll get with my coaching staff and we'll make a decision this week."
Looking ahead
The Sugar Skulls will next face the rival Arizona Rattlers in Phoenix at 5:10 p.m. Saturday. Coached by Sugar Skulls co-owner Kevin Guy, the Rattlers are led by IFL veteran quarterback Drew Powell.
Tucson lost all four contests against the Rattlers in 2019, including a 50-49 overtime thriller in Phoenix.
Contact sports producer Justin Spears at 573-4312 or jspears@tucson.com. On Twitter: @JustinESports