The Florida pipeline is strong for the Tucson Sugar Skulls.
Eight of the 27 players on Tucson's Indoor Football League roster have Florida ties: linebacker Zach Allen, quarterback Jake Medlock, defensive back Emmanuel Roker, offensive lineman Jordan Budwig, running back Mike Jones, center Mike Montero, offensive tackle Trenton Saunders and wide receiver Jeremiah Harris.
Budwig, Medlock, Saunders and Montero all played at the same college — Florida International — before turning pro.
Which is to say Harris, a kick returner and wide receiver, wasn't completely out of his element when he signed with the Sugar Skulls in late April after being cut by the Orlando Predators.
"That helps out a lot because sometimes outside of football we get a little homesick, but at the end of the day we have some guys that are in the same boat as us," said Harris, who leads Tucson into a must-win regular season finale Saturday against the Quad City Steamwheelers. "When we hit that field, we bring the same type of energy like we did in Florida."
Harris' journey to Tucson is different than the others. Harris grew up in Orlando and graduated from Dr. Phillips High School, a powerhouse in the Class 8A division. Dr. Phillips has produced athletes such as Chicago Bears defensive back Ha Ha Clinton-Dix, Boston Red Sox legend Johnny Damon and, locally, former Arizona Wildcats football player Trey Griffey and former UA women's basketball guard Taryn Griffey. The school counts NSYNC singer Joey Fatone, producer DJ Khaled and comedian Wayne Brady as alumni.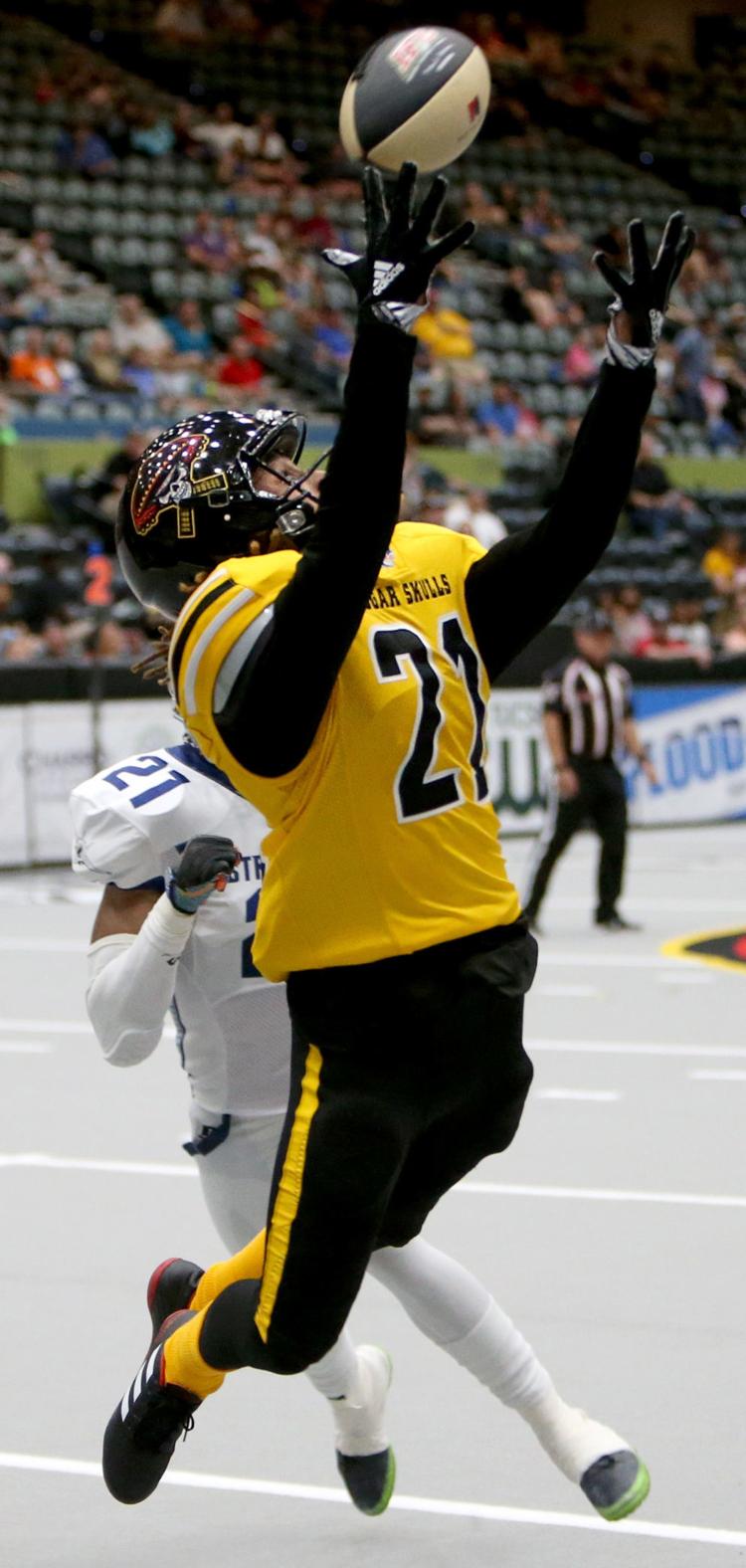 Harris helped lead Dr. Phillips to a 12-1 record as a senior in 2014. He then attended Webber International University, an NAIA school in nearby Babson Park. Harris signed with the Predators of the National Arena League for the 2019 season, but was released shortly after.
Unemployed and hungry for another chance to play football, Harris punched up Facebook in mid-April and searched for indoor football teams. He came across the Tucson Sugar Skulls. Harris sent a message to Tucson offensive coordinator Hurtis Chinn about playing. Chinn and Tucson's coaches liked what they saw on film; soon after, Harris visited Tucson for the first time in his life.
Harris' size — he's listed at 5 feet 7 inches — initially worked against him in Tucson, just like it did in high school and college.
"I'm not going to lie, when he first got here I said, 'Oh here we go, another short guy,'" Medlock said in May.
Then Harris took the field.
"He grabbed one in practice and took off and I said, 'Oh, this is different,'" Medlock said. "He told me he was from Orlando Dr. Phillips. I told him straight from the heart, I apologize. Just seeing him run is amazing, he's so fast."
Harris was initially used as a kick returner, and he averaged 22.7 yards per return (on a 50-yard field) over his first three games. He has been more involved in the offense in Tucson's last two games, both against the powerhouse Arizona Rattlers. He caught nine passes — one more than he had in his first three games combined — for 88 yards and two touchdowns in a May 25 game at Tucson Arena. Last week in Phoenix, he hauled in eight passes for 96 yards and a score. His over-the-shoulder, mid-stride catch led to a 40-yard touchdown.
Harris punctuates each of his scores with a standing backflip. There's a story behind that, too.
"One college game I did a backflip after a touchdown and they flagged me for it. I went to the sideline and my coach chewed me out for it. I told myself, 'If I can get to a level where I can backflip and not get flagged for it, I'm gonna do it,'" he said. "(Tucson's coaches) love it and they encourage it."
Added Tucson head coach Marcus Coleman: "The more he backflips, the better for us. If he's four or five backflips in, I know we're having a pretty good day on offense."