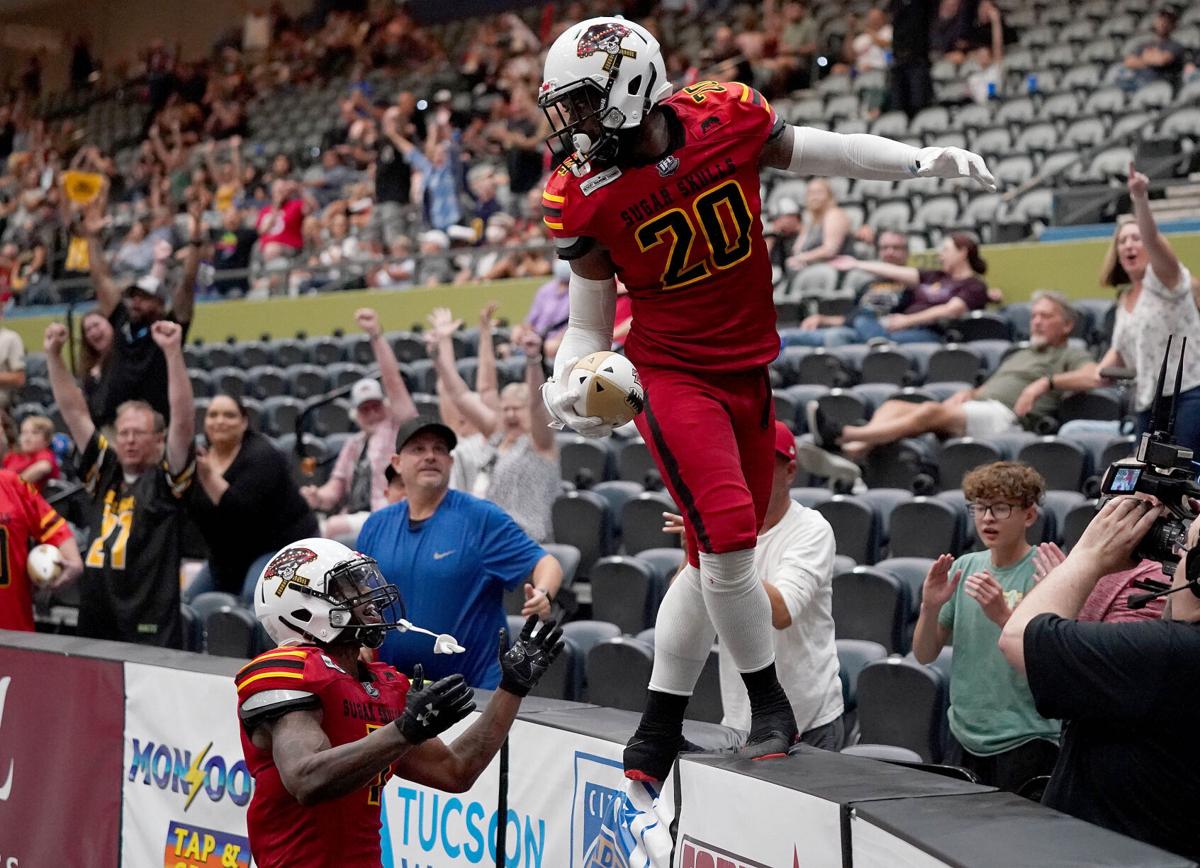 The Tucson Sugar Skulls' final game of the regular season represents a push for the IFL playoffs, but the team has a different name for it.
"We're calling it the world tour," said Sugar Skulls quarterback Cory Murphy.
That tour continues in Prescott Valley on Saturday night, where Tucson (5-8) will face the Northern Arizona Wranglers (1-12) with a playoff spot on the line.
How long will the tour last? That's up to Tucson. And the Bismarck Bucks. And the Sioux Falls Storm.
Tucson needs to win Saturday and hope the Bucks and Storm both are victorious in order to make the playoffs. Bismarck faces the seventh-place Duke City Gladiators, while the eighth-place Storm faces the ninth-place Green Bay Blizzard. The top eight teams make the playoffs.
The Sugar Skulls will be scoreboard-watching before kickoff — and possibly during the game, too.
"I'm human, so I'm going to have two phones (watching the other games): one from our trainer and the other one from our equipment guy," Sugar Skulls coach and general manager Dixie Wooten said.
If all goes according to plan, Tucson will qualify for the playoffs for the second time in as many completed seasons. (The team did not play the 2020 season because of the pandemic). The Sugar Skulls are coming off a thrilling 63-59 win over the Duke City Gladiators. Tucson trailed 21-3 before rallying in a game that included onside kicks, two of which were returned for touchdowns; a clutch strip fumble; and a game-winning score with less than 10 seconds left.
"I'm still getting over that game," Wooten said. "It was fun and exciting, but for a coach? You just hope not to have a heart attack."
Tucson trailed by 10 points with less than three minutes remaining, and some Sugar Skulls fans headed for the parking lot. But, typical of their season, Tucson rallied back. The Sugar Skulls started the season 1-6 before winning four of their last six games.
"We went down 1-6, but you go into that locker room and look into those guys' eyes and see that they weren't willing to quit," Wooten said. "Most teams would go 1-6 and run, but these guys have always believed, they have fun and motivate each other now. What makes these guys special to me is they went 1-6 and never blinked an eye and thought about quitting. That's a great thing about this group."
The Sugar Skulls are led offensively by Murphy, an indoor veteran who signed with the club and was named the starting quarterback within a span of days. Since adding Murphy, Tucson has posted 34, 48 and 63 points in its three wins.
"It's a blessing just to be able to play football, especially at this level," Murphy said. "It's a great experience, and any opportunity I get to play the game I love, it's a great feeling."
Murphy's rushing abilities have bolstered a productive ground game that also includes All-IFL running back Mike Jones. The passing-game production has gradually improved, too. In last week's win over Duke City, Murphy went 17 for 23 passing for 195 yards, four touchdowns and one interception.
"We've done nothing but improve," Murphy said. "Offensively, we're definitely gaining momentum, and the guys on defense have been creating turnovers all year, so we're confident that we can get in and compete with any top seed."
Wooten is hopeful Tucson's monsoon — hey, it's the season — of momentum will propel the Sugar Skulls into the IFL playoffs, and possibly into a first-round matchup with the in-state rival Arizona Rattlers.
"I feel like if we get in, it's going to be something special," Wooten said.
But in order to get in, Tucson must beat a team poised to play spoiler. The expansion Wranglers' only win of the season came against the Sugar Skulls in June.
"If we jump on them right away and get a 14-point lead or 21-point lead, then those guys will know, 'Look, we're not playing for anything. Let's not get hurt and just go home,'" Wooten said. "That's the mindset we want to give them."
Tucson's IFL team plans to relish the postseason, should it qualify.
"This team has been a playoff-caliber team — a championship-caliber team — all year," Murphy said. "We've just been able to put some things together over the last month that has us right there.
"If we get in, I think we're going to be just as dangerous as any team out there."
Extra points
• Sugar Skulls wide receiver Ryan Balentine was named IFL Offensive Player of the Week after his nine-catch, 130-yard, three-touchdown outing in Tucson's win over Duke City last Saturday. It was the second game of the season Balentine scored three touchdowns.
• Tucson kicker Jimmy Camacho was named IFL Special Teams Player of the Week for his perfect 7-for-7 mark on extra points last week. Camacho also nailed a 50-yard field goal and converted a successful onside kick with the game on the line, resulting in the Sugar Skulls scoring the game-winning touchdown.
• The Arizona Rattlers (11-2) will be in a battle for the No. 1 seed with the Frisco Fighters (10-2) on Saturday.
Contact sports producer Justin Spears at 573-4312 or jspears@tucson.com. On Twitter: @JustinESports