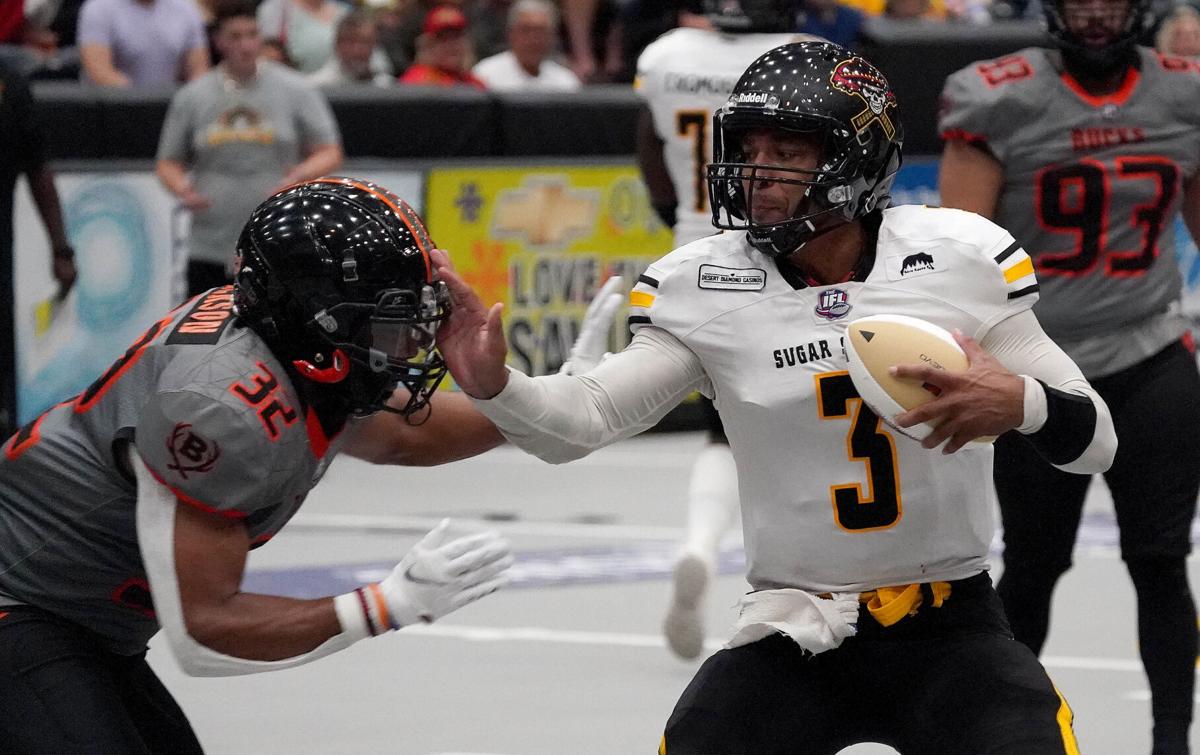 Dixie Wooten has a rule: He never adds players to the roster until it's midway through the season or later.
Of course, Wooten — the Sugar Skulls' coach and general manager — makes exceptions.
When Tucson fell to the expansion Spokane Shock two weeks ago, falling to 2-7, Wooten decided to make a change. He called quarterback Cory Murphy, an indoor football veteran who was living in the Bay Area after playing for Champions Indoor Football's Wichita Force.
"When we lost to Spokane, I said, 'You know what? I need some competition,' and I told him to come in," Wooten said. "He came in and became a leader that we needed all year, and he ended up winning the job."
Murphy started in last week's 34-27 win over Bismarck, rushing for three touchdowns while completing 2 of 7 passes. He'll do it again Saturday, when the Sugar Skulls host the Northern Arizona Wranglers at Tucson Arena.
Murphy noted the "extra week has helped out with the timing of passes" with All-IFL wide receiver Ryan Balentine, Malik Stanley and Juju Augustine.
"We could've done a lot better in the passing game, but we asked someone to come in and understand the pass plays in less than a week, so that's pretty tough," said Wooten. "This week, we'll be better in the pass game."
The 29-year-old Murphy's indoor football-playing journey has taken him from Billings, Montana, to Sioux Falls, Iowa — and most recently to Wichita, Kansas. The quarterback said he's wanted to play for Wooten ever since the Sugar Skulls' head coach was offensive coordinator for the Cedar Rapids Titans. Wooten, who jokingly calls himself a "quarterback whisperer," was an assistant coach for Cedar Rapids, Dylan Favre (Brett's nephew) "was a pretty good quarterback." Wooten was soon promoted to head coach of the Iowa Barnstormers, and Drew Powell delivered him a championship in 2018. Daquan Neal was the IFL's Offensive MVP in 2019.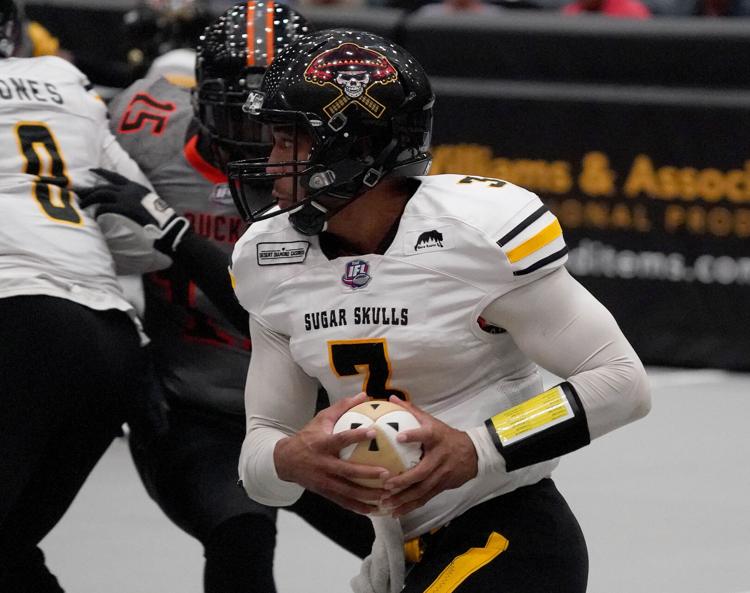 "He's had nothing but success with his quarterbacks, and that's not by mistake," Murphy said. "He's a great coach. I've watched him for years and I'm just glad to be a part of this team."
The 29-year-old Murphy said he was stunned to get a call from Tucson.
"I wasn't expecting it, to be honest," Murphy said. "But I stay in shape, so I was ready to come immediately."
Murphy sprung into action, driving the 12 hours to Tucson. Coaches emailed him the playbook, and Murphy practiced twice with the Sugar Skulls before taking on Bismarck. He set the tone with a 42-yard rushing touchdown on the second play of the game.
"The first day he came in he showed so much leadership, and these guys believed in him the first day they got into the building," Wooten said. "He studied hard, he focused hard and just showed that he's a (veteran) in the indoor league. He controlled the huddle, controlled the atmosphere and the guys bought it in; that's why he was the starter. …
"When he got into the game and scored that first touchdown, all the guys became believers."
Murphy is hoping his arm catches up with his legs in his second start. The success could help both the Sugar Skulls and their new quarterback.
"It's a grind to play at this level," Murphy said. "If you're playing at this level, you know that you love the game. Guys out here, we're away from our families, we're away from our home area. … Guys come out here with hopes of being able to move up.
"You just perform well and hope the CFL or NFL gives you a look. So, personally, I haven't been fortunate enough to do that yet, but I love this game. I treat it like my NFL or CFL."
Extra points
Tucson safety-converted-linebacker Jajuan Harley was named IFL Defensive Player of the Week after recording a season-high 11 tackles, 4.5 stops for loss, two sacks and a fumble recovery in last week's win over the Bucks.
Sugar Skulls offensive lineman Brandon Haskin is out for the season with an unspecified injury.
Since taking over the starting role in June, Northern Arizona quarterback Verlon Reed Jr. ranks seventh in the league with 995 passing yards. Reed scored five touchdowns in Northern Arizona's first contest against Tucson.
Contact sports producer Justin Spears at 573-4312 or jspears@tucson.com. On Twitter: @JustinESports