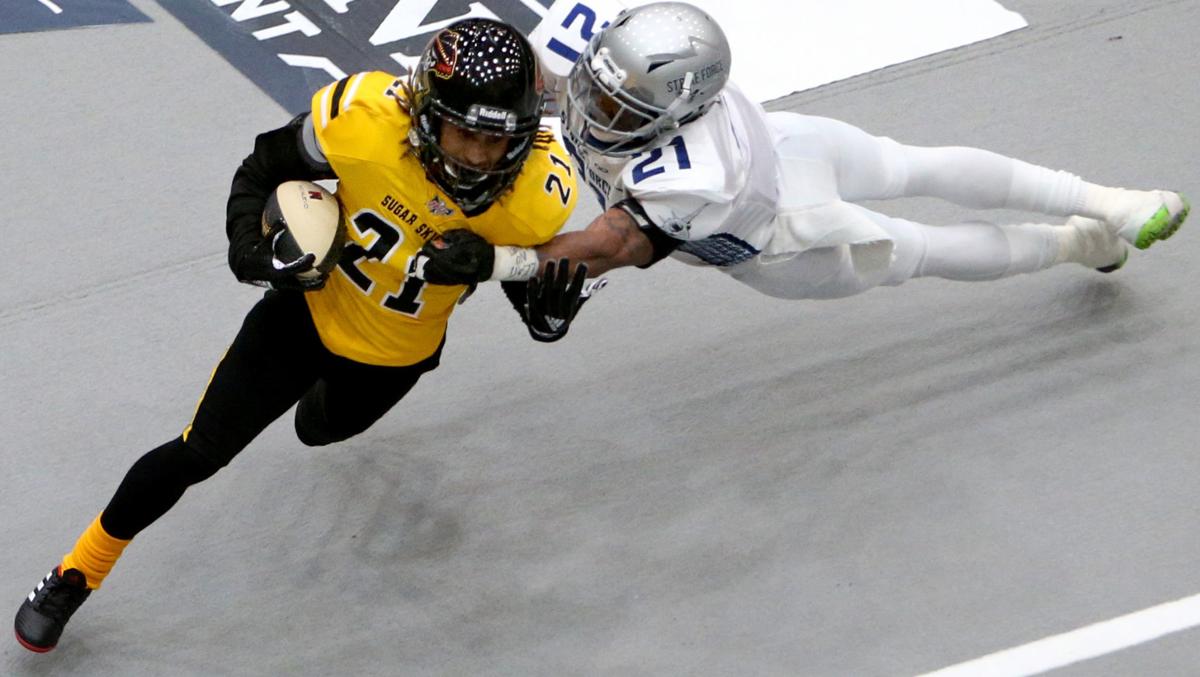 When the Sugar Skulls previously played against the Strike Force in San Diego, neither team had a win under its belt. Heck, the Sugar Skulls hadn't played their first game yet.
On Thursday night, Tucson will try to complete a season sweep when it takes on the Strike Force at Pechanga Arena. The Skulls (4-5) already have three victories in as many tries against their 1-8 foes.
It's the second time the two have met in less than a week. The Sugar Skulls routed San Diego 54-34 on Saturday at Tucson Arena, snapping a four-game losing streak in the process. Tucson's struggling defense rallied, surrendering 163 total yards. San Diego quarterback Jihad Vercher only threw for 96 on Saturday.
The Quad City Steamwheelers lost on the same day, meaning Tucson currently sits in sixth place in the IFL standings. If the season were to end today, the Sugar Skulls would be playoff-bound — if only barely.
The Star caught up with Sugar Skulls coach Marcus Coleman before their road trip:
How was the defensive secondary able to bounce back last weekend against San Diego?
A: "We covered well on the back end and we didn't give up many deep balls and we also played well against the run as well. Between the pick-six and the kickoff return, we only gave up 21 points defensively. Since I've been studying it, the ideal number is 35 (points) to what you want to hold teams to and that number gives you a good chance to win ballgames. They did a good job of fixing mistakes and played well so I was pretty happy about that."
San Diego wide receiver and kick returner Marques Rodgers had two touchdowns on Sunday. What about his game is a challenge for you?
A: "He's been their main constant all year. He's not overly flashy and anything like that, but he's a pretty good route-runner, he's tough and game time he shows up every week. There hasn't been a time where I watched film on San Diego and he didn't show up in some capacity."
The Sugar Skulls added kick returner Jeremiah Harris last week and he returned three kickoffs for 105 yards. How does a player like that benefit the team?
A: "We've flipped the field. Usually this year it's been the defense is playing on a shorter field while the offense is on a longer field. When you have a kick returner like that, it flips the field. When you have a returner that can set up your offense on the 20 or the 25-yard line, it gives us a higher chance of scoring. You can also be more creative with the plays because you have options. But it's been great because special teams sets the tone for everybody. Kickoff and kick return sets the tone for the unit that's about to come out. Having big returns like that motivates the team and it gets the offense excited to go out and want to score. Once we score, our kickoff unit is motivated to pin our opponent deep in their own territory so it's a trickle-down effect when you have a guy like that."
Does your team feel more pressure now that every week's results are crucial for playoffs?
A: "No it just means playoffs started last week. It just means we're already in the playoffs. Now with five games left, we're in a five-game playoff right now and once we get to the other playoff, we'll start a new season and roll from there. It's a new season every week. We played the new season last Saturday and this week is a whole new season. That's the type of mentality we have."
Sweet nothings
Running back Mike Jones was inactive last week against San Diego but will return to the offense on Thursday. Jones scored three touchdowns at San Diego in March and currently leads the league in rushing yards per game with 61.4.
Defensive back Kasey Johnson made his IFL debut last week, and led the Sugar Skulls with seven tackles.