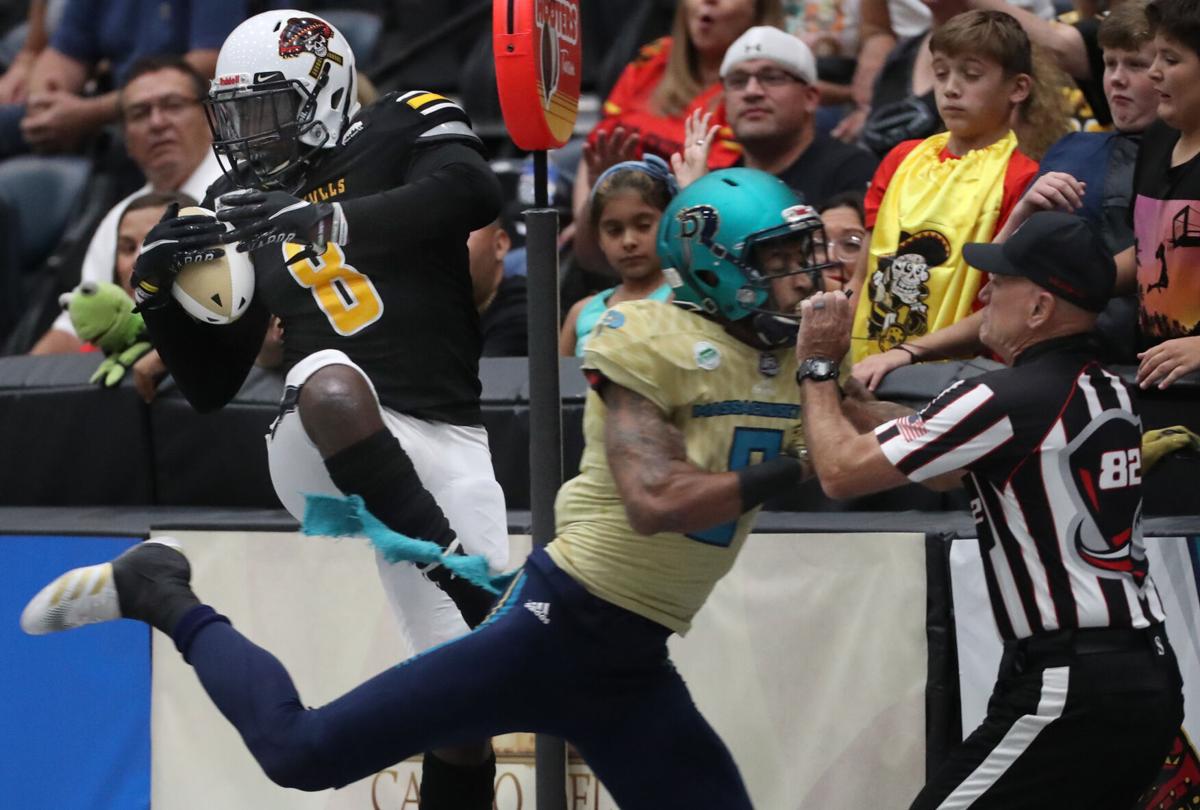 Dixie Wooten faced one of the most nerve-wracking decisions of his coaching career.
The Tucson Sugar Skulls had just scored a touchdown, cutting the Duke City Gladiators' lead to 40-39 with 8 seconds remaining in last Saturday's game at Tucson Arena.
Would Tucson kick the extra point, tying the game and likely forcing overtime? Or would the Skulls go for two, likely winning with a conversion … but losing if it failed?
Tucson quarterback Demry Croft took the snap, ran behind a key block from running back Mike Jones and crossed into the end zone for the win, giving Tucson a 41-40 win and snapping a five-game losing streak.
Wooten said Croft and his offensive teammates influenced the decision to go for it.
"When I looked up, I saw Croft and all the guys on offense put on their helmets and say, 'Let's go for two!' When I saw that, it was a situation where I could trust my team and turn this season around," said Wooten, the Sugar Skulls' head coach and general manager. "But what also went through my head was, 'What if we don't make it? It could kill our season.' I had to go with my guys."
Added Wooten: "That was a time where I had to show that I believed in them and make sure they got that feeling. It was a great feeling to win a game like that."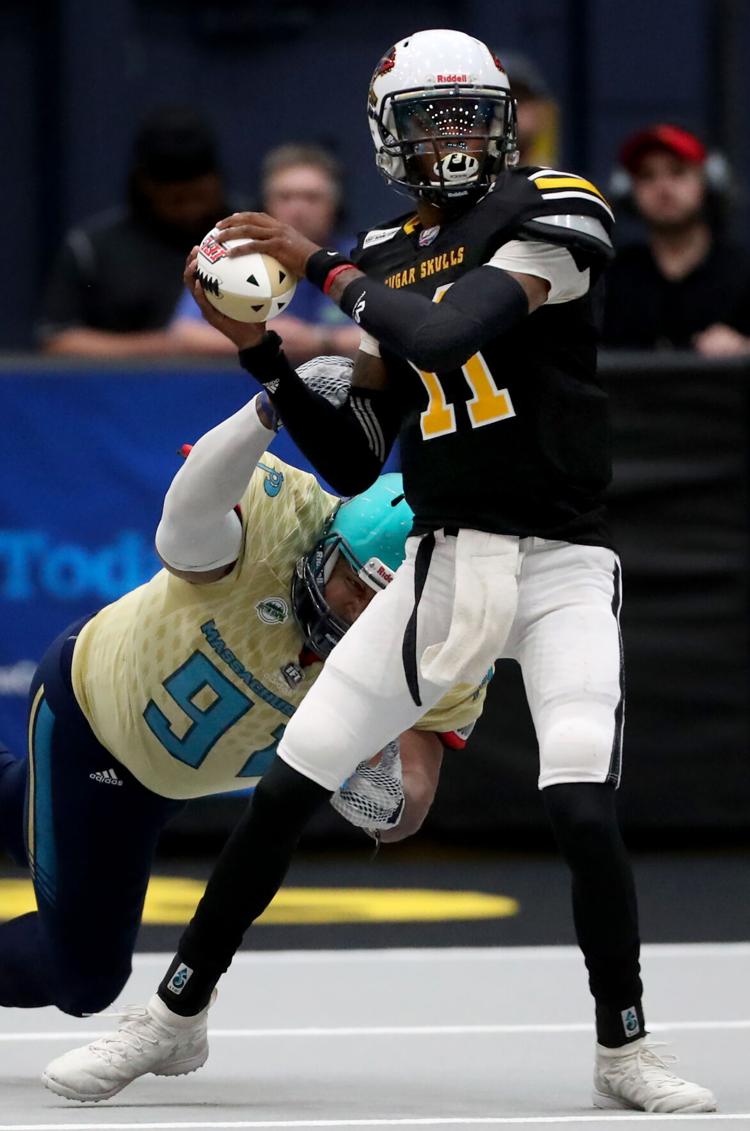 Wooten and the Sugar Skulls (2-6) will try to carry the momentum into Saturday's contest against the Spokane Shock in Washington. The Shock, fresh off a 46-35 win over the Sioux Falls Storm, are 5-2 in their first season as an IFL franchise.
The Sugar Skulls could be 5-2 — or better — had they executed down the stretch in the majority of this season's losses. The club led in the fourth quarter in five of its six losses — the only exception being their home-opening loss to the Iowa Barnstormers in the home opener. But late-game miscues and costly turnovers resulting in points for the opponent have plagued the Sugar Skulls.
With Tucson season on the line, Wooten gave his players a chance to step away from the daily grind. The Sugar Skulls played a game of kickball after a special teams meeting; players chirped Wooten-isms at each other and grew closer as teammates.
But when reflecting on what last week's win meant, Jones mentioned a Dick Tomey-ism, inadvertently channeling the former UA coach.
"It always feels good to win, but I'm just happy we came together as a team," he said. "The whole week we were just talking, 'The team, the team, the team,' and it finally paid off."
Jones, the longest-tenured Sugar Skull, accounted for five touchdowns in last weekend's win, his best performance of the season.
"Mike Jones is a great player for our team," Wooten said. "You could use him through the air, you could use him on the ground, you could use him to block, he's an unselfish player. Whatever you need him to do, he'll do it."
Jones has been battling a groin injury all season long, but said he was finally "close to 100%" last week.
"You're going to see a lot of Mike Jones for the rest of the season," Wooten said.
Tucson's offense could hit another gear with Jones, the IFL's leading rusher in 2019, joining the Sugar Skulls' experienced wide receiver corps of Ryan Balentine, Juju Augustine and Marquise Irvin. If it does, Tucson's "second season" could be the polar opposite of the first half.
"Now they have a taste of what it takes to finish games," Wooten said. "The type of fashion we won in, you could see it. There's two things that can happen: You can either not finish games and continue to have that feeling, or you can finish games and have that feeling. But in order to finish games and be successful, you have to put that work in and effort in and it goes from there."
Extra points
Spokane is quarterbacked by former Alabama standout Blake Sims. Sims replaces the injured Charl McCullum. The Shock's roster also includes running back Davonte Sapp-Lynch, the younger brother of former NFL star Marshawn Lynch.
Balentine will return this week after missing the last game with a knee injury. Balentine, the IFL's all-time leading receiver, ranks eighth in the league with 422 yards and eight touchdowns.
Saturday's game will be streamed on Stadium's digital platforms.
Contact sports producer Justin Spears at 573-4312 or jspears@tucson.com. On Twitter: @JustinESports