The Tucson Sugar Skulls made history by becoming the first expansion team to make the Indoor Football League playoffs, but the Sugar Skulls will have to wait until next season for a postseason win after they fell to the Sioux Falls Storm 50-47 Sunday afternoon.
In a game that included five lead changes, the sixth-seeded Tucson Sugar Skulls were unable to complete the comeback late in the fourth quarter after trailing by nine points.
"I thought we played good to tell you the truth," said Sugar Skulls head coach Marcus Coleman. "When you're playing a team like Sioux Falls in their home building, you expect that. It's always going to be a tough, tight game. That's just how it is. … We just didn't make enough plays."
After missing the regular season finale with a toe injury, Tucson quarterback Jake Medlock started under center and played arguably his best game of the season completing 22 of 25 passes for 273 yards and six touchdowns.
"I thought he played a great game tonight," Coleman said. "He did a good job moving around when he could, making the right reads and throws — even some unorthodox throws that kept drives going, but that's what Jake does. I'm definitely proud of how he played tonight and I can't think of anything he did wrong."
Medlock's top targets throughout the game were the usual suspects: wide receivers Rico Brown, Jeremiah Harris and Shaq Curenton, who all averaged over 11 yards per catch and had two touchdowns. Brown extended his touchdown streak to seven games and caught 14 over that span. Brown's touchdown just before halftime gave the Sugar Skulls a 21-20 lead.
After Sioux Falls took a 30-28 lead in the third quarter, kicker Josh Gable's 52-yard field goal was blocked by T.J. Neal and recovered at the Tucson 9-yard line. Two plays later, Sioux Falls quarterback Lorenzo Brown Jr. rushed in for a touchdown and the Storm led 36-28. Sioux Falls never looked back. Tucson finished with 311 yards of total offense to Sioux Falls' 216, but the Storm's time of possession was over five minutes longer than the Sugar Skulls.
"Give them credit," Coleman said. "They made plays when it counted. We just couldn't close it out."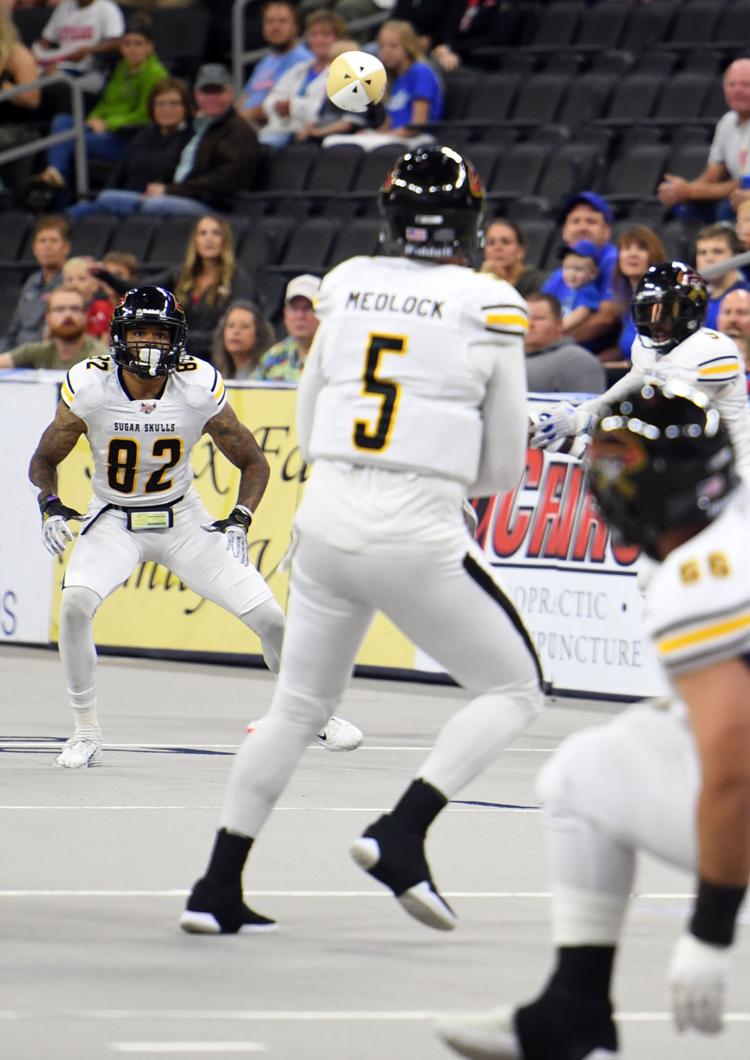 Despite the disappointing finish, Coleman views Tucson's season as a success considering it went toe-to-toe with every team remaining in the IFL playoffs. Now it's all about building and gearing up for the 2020 season, which comes with higher expectations.
"We had a successful season. It was our first year building from the ground up. Making it to the playoffs this year, we have a lot to build on," said Coleman. "We're going to build off the season we had this year. Not only did we finish (the regular season) 7-7, we made the playoffs and we're still the first ones to do that as an expansion team and that's the foundation. … You don't go down, you go up, you only progress and there's a lot to build on."
Sioux Falls will travel to play the second-seeded Iowa Barnstormers while the undefeated Arizona Rattlers will host No. 5 Nebraska Danger at 6 p.m. Saturday.