The Tucson Sugar Skulls know every game matters, especially now.
The Sugar Skulls have been in must-win mode since starting their season 1-6. They're 4-8 now and, with two regular-season games remaining, their gotta-win mentality has gone into hyperdrive.
Fortunately for Tucson, New Mexico's Duke City Gladiators are coming to town for Saturday's home finale. The Sugar Skulls are 2-0 against the Albuquerque team this season.
Tucson head coach and general manager Dixie Wooten joined Spears and Ali on ESPN Tucson earlier this week to discuss the current state of the Sugar Skulls and what needs to happen in order for the 10th-place Skulls to finish in the top eight and make the playoffs. Tucson will wrap up its regular season Aug. 21 at Prescott Valley; the Sugar Skulls beat the Northern Arizona Wranglers in triple-overtime two weeks ago.
What's your assessment of last week's loss to the Arizona Rattlers, and what was the turning point in the game?
A: "Man, we started off with seven points early, but after that, we hit a barrier that was tough. We turned the ball over and everything we did against those guys, we went down the field and made plays, but we turned the ball over too much. We turned the ball over inside the goal line three times — I'm talking about inside the (five-yard line). When you do that, you can't expect to win a football game. We had guys who were open, but we chose to throw it to other people and it kind of put us in a bind. Defensively, the crazy part about it is the Arizona Rattlers offense only ran 25 plays, in a league where you average 40 plays or more. That's how much our defense was on the field, because our offense was making so many mistakes. …I think by far that was our worst game of the season.
"The good part: those guys came into the building and were humbled and understood that they made mistakes. So, these guys went out, practiced and understood what they had to do to run over the script tomorrow, so we can get better. If we win these next two games, we can get into the playoffs."
Quarterback Cory Murphy has given your offense a new energy over the last few weeks since he was installed into the starting lineup, but he was replaced by Demry Croft early on against the Rattlers, what happened?
A: "(Murphy) got tackled one play and messed up his shoulder. He could've went back in, but Demry had a little fire, so I left him in because I knew how the score was going and we needed to get ready for the next two games. I needed Cory healthy so when we step on the field Saturday against Duke City, we'll be healthy so we can beat them and then beat Northern Arizona, and hope the chips fall where they fall and get into the playoffs."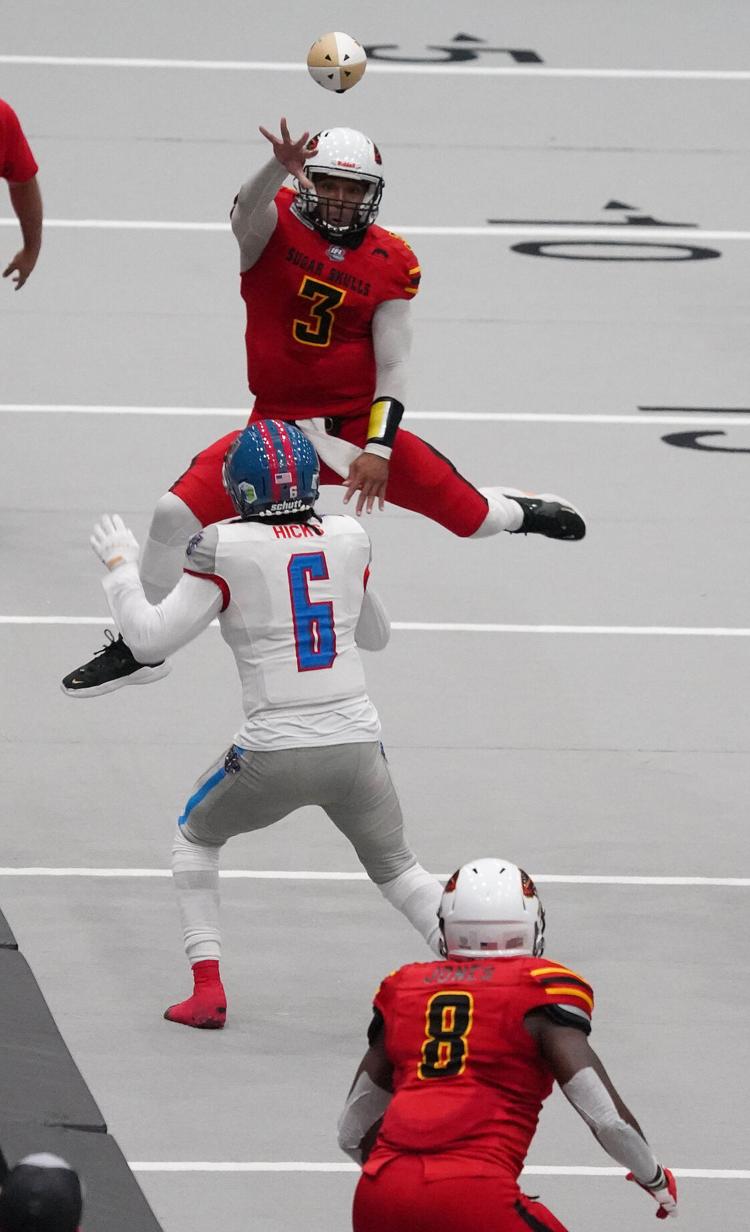 The Sugar Skulls are 0-7 all-time against the Rattlers. Is it a mental barrier or just the circumstances?
A: "We had a lot of injuries this year, so we had to put a lot of pieces in place. Just like Cory, it was his third game. Their quarterback played for a year and a half with the Rattlers. He's been throwing to the same receivers since he's been with the Rattlers. The offensive line guys have been with them for the whole year. When you don't have that many injuries, your practice team is full. The Rattlers' practice team is full, too, and they're able to have practices with all of their guys. They understand each other and understand the system, so if you go and look at the roster, they don't have a lot of veterans, but they have a lot of two-, three- and four-year players that understand the system and understand what the coaches expect from them. With (Tucson), there's a lot of new guys, so next year when I go out and recruit, I need to recruit guys that have been in my system and keep a few guys from here.
"Most of the guys that have been through my system know my style of coaching and things like that."
What needs to happen in order for the Sugar Skulls to sneak into the playoffs?
A: "We need Green Bay to lose, and the thing about Green Bay: They're playing the two most dangerous teams in the league (Frisco Fighters and Sioux Falls Storm) on the road. So they have a chance of losing out. We have to beat Duke City this week and then Duke City has to lose next week, but they're playing another team that's trying to go into the playoffs, and they have a bye week this week. I'm definitely on the phone with Bismarck (Bucks) every day to give them pointers and something to beat Duke City. We handle our business, (Bismarck) handles theirs, and that's how we get in this year."
Of course, the ultimate goal is to secure a playoff spot, but have you thought about what next year's roster could look like?
A: "In my office, I have a board — getting to the playoffs, play for a championship, but I also have a 2022 board for positions that we need, positions that we want to keep. Even though we're in-season, you always have to look for next season as well."
What's a checklist of goals you have for your team this week?
A: "First thing (with Duke City) on offense, when they put guys in motion, that's when they want to go deep. So, we have to make sure our safeties come up and bang them on the line of scrimmage. If we do that, we slow down their offense. Defensively, we have to make sure that we run the football and attack them, because they give up the middle of the field all day. If we beat these receivers up for four quarters, we'll get another victory."
Extra points
The Sugar Skulls will don all-black uniforms Saturday night. It's also fan appreciation night.
Contact sports producer Justin Spears at 573-4312 or jspears@tucson.com. On Twitter: @JustinESports