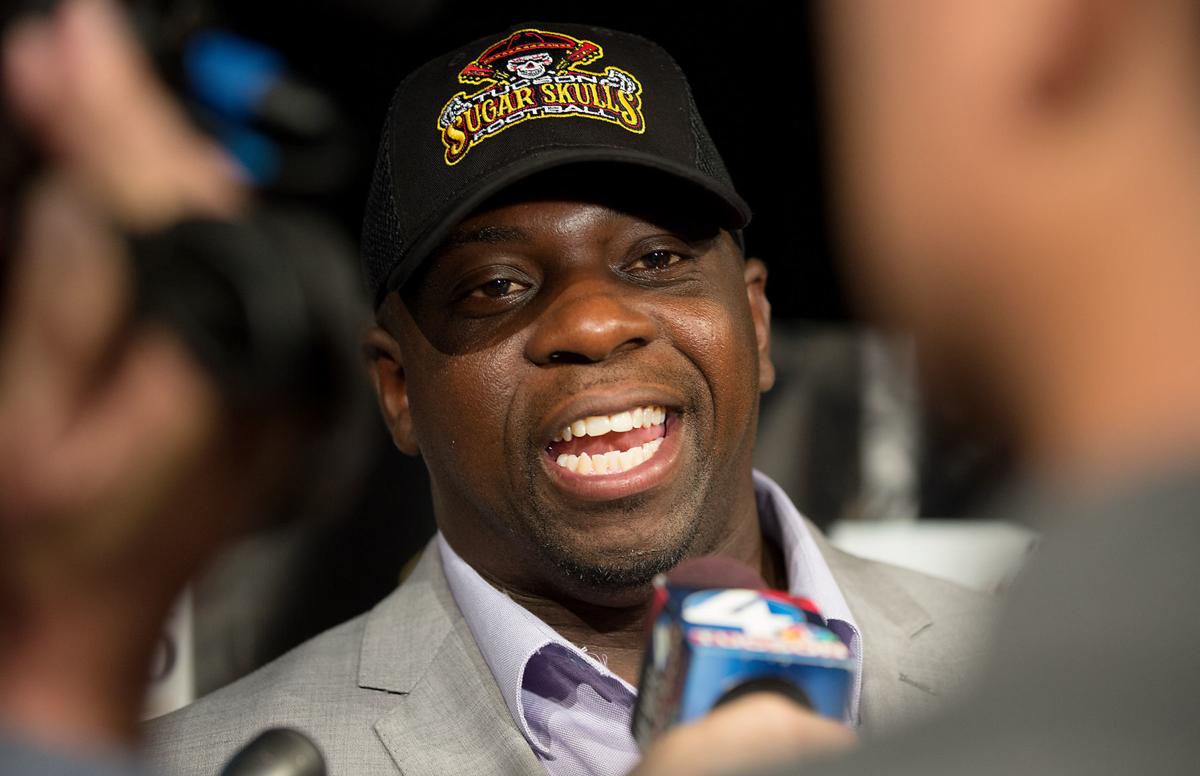 The Tucson Sugar Skulls reported to training camp on Tuesday. Dixie Wooten was waiting, in style.
Wooten, the the team's first-year coach and general manager, sported white and black Air Jordan 3s. The classic kicks were a gift from his former players with the Iowa Barnstormers.
"They said I had to get a new look, so they bought me a few pairs of Jordans. I did a lot for them, so they went out and bought me a few pairs of these," Wooten said with a smile. "I wouldn't be able to coach without my players doing their jobs, and I make sure to treat them like men and respect what they do, push them and make them better than when they came in. Once you do that, your players appreciate you."
Wooten has brought a new vibe to the Sugar Skulls, who open their second season March 19 at Cedar Rapids.
Wooten posted a 36-8 record over final three seasons in Iowa, earning league Coach of the Year honors twice. In 2018, Wooten led Iowa to the franchise's first United Bowl championship. The relationships he developed with his players led a handful of them to follow him to Tucson. Quarterback Daquan Neal, defensive lineman BJ Butler, wide receiver Ryan Balentine and defensive back Jajuan Harley were all standouts for the Barnstormers.
"They wanted to come along, because they knew what this was all about. They understood it's all about getting to a situation where you can move up to the next level," Wooten said. "When I told them about Tucson, I talked to them one time, and all of them were all in."
Neal threw for 2,642 yards and 59 touchdowns last season, earning league MVP honors as a rookie. Neal also finished fourth in the IFL in rushing with 649 yards and 24 touchdowns. His 265-yard, five-touchdown performance against the Sugar Skulls in April led the Barnstormers to a come-from-behind win.
Neal "makes us a championship team right off the bat," Wooten said. "With his attitude toward the game, his work ethic, his understanding (of the game) … plus, the way he pushes teammates, he's second-to-none. Right now, he makes us one of the teams to beat in this league," Wooten said.
Wooten and Neal are looking for their first ring together after the Barnstormers fell in last year's IFL semifinals.
"One of the first things we talked about was getting redemption and going to a championship," Neal said.
Tucson fared well in its inaugural season, going 7-8 and making the playoffs under coach Marcus Coleman, Wooten's former defensive coordinator at Iowa. The Sugar Skulls planned to bring Coleman back for 2020, but once Wooten stepped down at Iowa, hiring one of the best in the business was a no-brainer.
The team introduced Wooten as its new coach in September.
"We'd rather have him coach for us," co-owner Cathy Guy said, "than (go) against him."
Wooten says this year is "championship or bust."
"I've won a championship before, so we're not coming in here and rebuilding," he said. "In the IFL, it's about winning now or losing now. Second place doesn't get you a ring, so at the end of the day, it's all about winning a championship and nothing else."
The quest starts Thursday, when the team holds its first practices of camp.
"You've got to come in here and buy in from Day 1," Wooten said. "Once the team buys in and the training camp is successful, nine times out of 10 you'll have a success season."
Sweet nothings
Running back Mike Jones, linebacker Robert Metz, defensive back Cam Gaddis, offensive lineman Antonio Rosales and wide receiver Jeremiah Harris all return from last year's team.
Former Cienega High School and Army wide receiver Edgar Poe will participate in training camp. Poe had indoor football stints with the Maine Mammoths and, most recently, the New York Streets of the National Arena League.
The IFL's new team in Texas will be known as the Frisco Fighters, with a fighter jet as its logo. The league has 13 teams: the Tucson Sugar Skulls, Arizona Rattlers, San Diego Strike Force, Spokane Shock, Frisco Fighters, Bismarck Bucks, Green Bay Blizzard, Oakland Panthers, Quad City Steamwheelers, Cedar Rapids River Kings, Iowa Barnstormers, Sioux Falls Storm and Duke City Gladiators. The Duke City team plays in Albuquerque.
Be the first to know
Get local news delivered to your inbox!