After living in Tucson for nearly 10 months, Marcus Coleman is impressed by the Old Pueblo's food culture.
"I had no idea you guys were such a food town, and it's not just one thing," said Coleman, the Tucson Sugar Skulls coach.
Coleman's appetite has taken him across the city for Mexican food, a slice of pizza or even authentic Italian. If a local restaurant has a decent Yelp rating, there's a strong possibility Coleman has been there.
His sixth-seeded Sugar Skulls will face the No. 3 Sioux Falls Storm in Sunday's first round of the Indoor Football League playoffs, and Coleman — a football-coaching foodie — is eager to see the product on the field. The Sugar Skulls made the playoffs on the final day of the regular season after discovering a winning recipe and unlocking offensive coordinator Hurtis Chinn's "Everybody Eats" offense.
For Coleman, who was hired last September off the Iowa Barnstormers staff, it started with finding the right players. Linebacker Zach Allen, defensive tackle Keith Jones Jr. and cornerback Dee Maggitt Jr. followed Coleman from the IFL champion Barnstormers. Coleman and his staff then added a mix of locals, IFL veterans and a batch of starving rookies looking to keep their football dreams alive.
"When you're starting something new, it takes a special kind of person to step into a role and be a leader on this team," Coleman said. "Everybody was all-in too, and it was our opportunity to see what ingredients we need in order to make a nice dish. What kind of casserole can we make?"
From the beginning, Tucson was cookin'. The Sugar Skulls started 3-1, winning games by 21, 20 and 20 points.
Then they went the entire month of April without a win. At the season's midway point, the Sugar Skulls were below .500 and out of the playoff picture.
Robert Metz, who could start at linebacker if Allen doesn't play due to injury, said the Sugar Skulls "lost our vision" in April.
"In the locker room, guys were kinda getting testy. I think we had to bring each other together and say, 'Hey we can still make playoffs,'" he said. "We rallied around each other and it worked out for us."
Coleman, a first-year head coach, didn't panic. The team went 3-1 in May, the only loss coming to the undefeated Arizona Rattlers on the road. Tucson needed to beat Quad City in the final game of the regular season to make the playoffs; it did, outlasting the Steamwheelers 55-50 at Tucson Arena.
Coleman said it was "easy for me to be patient with the players and what we're doing."
"As a former player, I've seen it on both sides," he said. "I've been 1-15, and (12-4) with being one game away from a Super Bowl."
Last week's win against Quad City has provided a spark of confidence as Tucson heads into the playoffs.
"It lets us know that we're going in the right direction after getting this thing from the ground up," Coleman said. "We've had an up-and-down year, but the city has stayed right behind us and we try to stay the course. We're trusting the process — I know it sounds cliche, but we're trusting the process in what we're doing. We're here now. We're in the dance."
Tucson's first-round matchup against Sioux Falls won't be easy. The Storm has one of the top passing attacks in the IFL, and Tucson is ranked ninth out of 10 IFL teams in passing yards allowed per game (171.4). Sioux Falls quarterback Lorenzo Brown Jr. ranks third in the IFL in passing yards and touchdowns, and his top target, Brandon Sheperd, is third in touchdown catches. Sioux Falls ranks seventh in passing yards allowed, meaning Sunday's contest could come down to whichever defense makes the most stops.
"You have to be fundamentally sound," said Coleman. "Just from facing this team in the past, they don't do a whole lot, but they do everything better than everybody else and they take advantage of mistakes their opponent makes. … You have to play a full game with these guys. You can't get up and take the foot off the gas pedal.
"We have to be physical with this ballclub and show them that we can play. That's really what it's going to take. There's not really much X's and O's that's going to go into this game."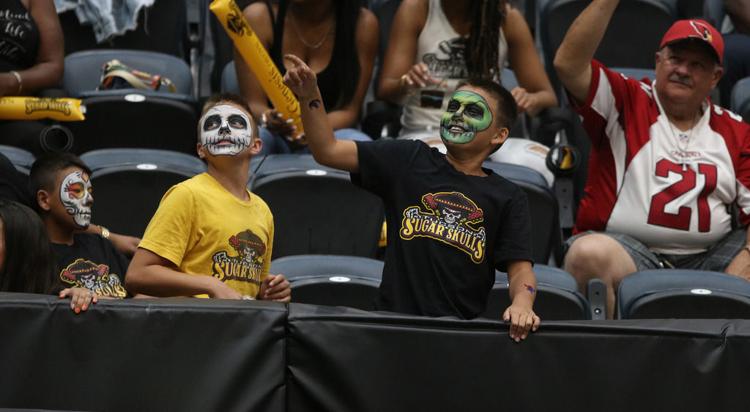 A win Sunday would mark another step toward completing the Sugar Skulls' season-long vow to their city.
"We all promised Tucson a winning season this year — or at least a successful season — and it feels great to live up to that promise," Metz said. "Hopefully, we can finish things out and finish business."
Sweet nothings
The undefeated Rattlers have a first-round bye, and will play the lowest-seeded team remaining in the playoffs next week in Glendale. A Tucson win on Sunday would set up an in-state showdown.
Tucson running back Mike Jones won IFL Offensive Player of the Week after rushing for a season-high 116 yards and three touchdowns in last week's regular-season finale.
After missing last week's game with a toe injury, quarterback Jake Medlock participated in team portions of practice. The Sugar Skulls still haven't announced who will start under center on Sunday.
Sioux Falls has added IFL quarterback legend Chris Dixon to the roster to back up Brown. Dixon is in the IFL Hall of Fame and led the Storm to three IFL championships.