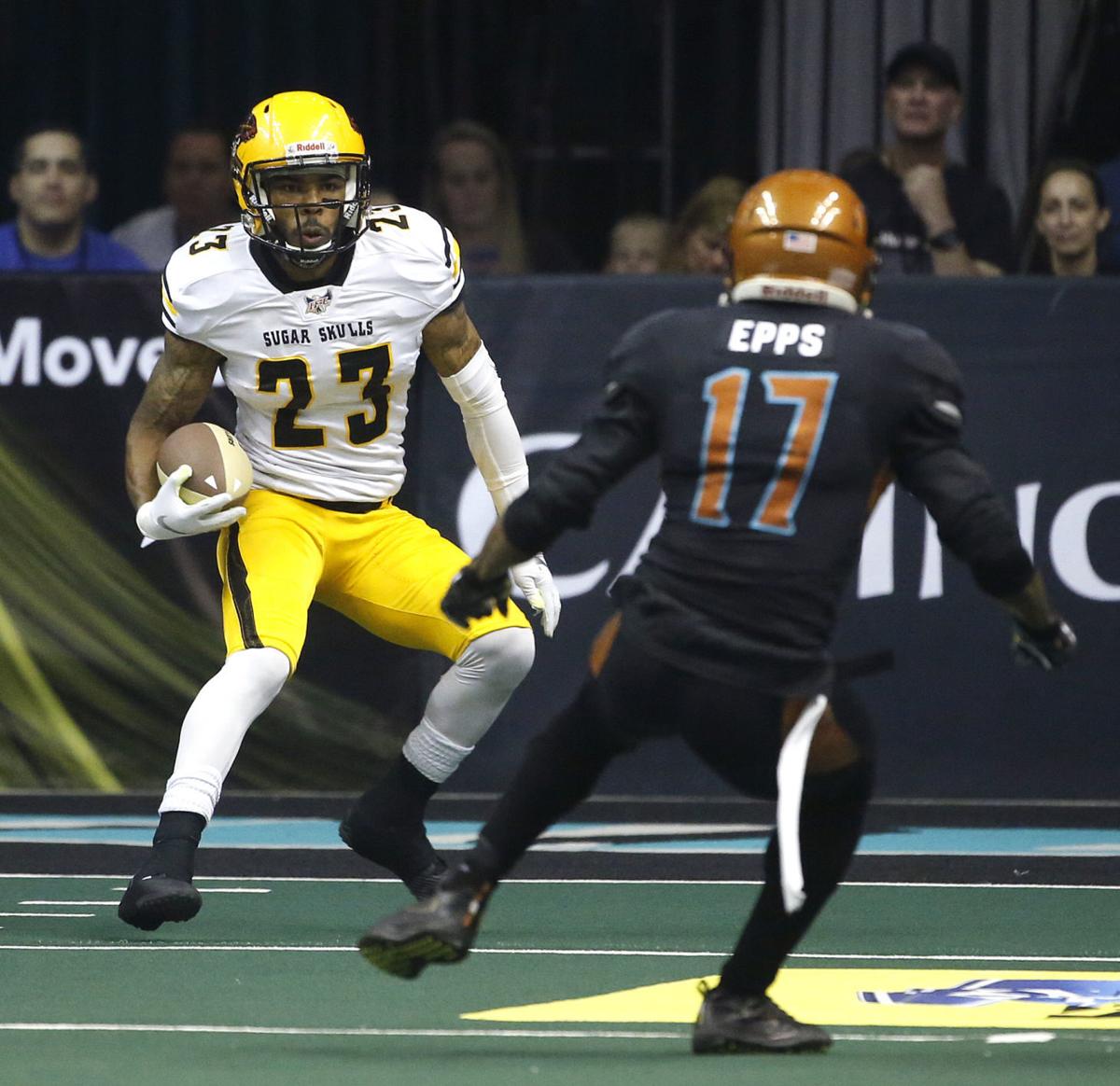 For the first time in their inaugural season in the Indoor Football League, the Tucson Sugar Skulls have a losing record.
With seven games remaining on the schedule, Tucson (3-4) faces an uphill climb. The Sugar Skulls will host the 6-1 Iowa Barnstormers this week, before they play the San Diego Strike Force twice, Bismarck Bucks on the road, Arizona Rattlers twice and the Quad City Steamwheelers at home to end the regular season.
"The challenge is there; it's just, do you want to face it head-on?" Sugar Skulls head coach Marcus Coleman said. "This is a game where you as a player take a little bit of ownership and step up to the challenge."
Here's a look at what's in store for the Skulls:
Old acquaintances: Coleman will face a familiar foe this week. Last season, Coleman was the defensive coordinator for the Barnstormers and won the United Bowl championship.
Facing adversity: There's no debate that the Sugar Skulls are in a slump right now. Tucson has coughed up a lead in each of its last three games. Against Nebraska, the Sugar Skulls had a 6-0 lead. Against the Rattlers, Tucson led 14-7. Then once more against Quad City, held a 17-10 lead in the first half.
The first loss of the season against Arizona in Phoenix was the only matchup in which the Sugar Skulls didn't lead.
"You have to be comfortable in the uncomfortable," Coleman said. "We have a plan to correct the mistakes and get things back on track. This isn't unusual in sports and it's not unusual in this league."
The Rattlers started the 2017 season, their first in the IFL, with a 2-3 record before winning 10 of the 11 remaining games en route to a United Bowl championship. Coleman likes to look at the Rattlers' 2017 season as optimism for his club.
Coleman was part of a New York Jets team that went 1-15 in 1996. A year later, they won nine games.
"So it's not like it can't be done," he said, "and changes will happen."
Still here: Tucson has 17 players remaining from its original preseason roster. The core group will now try to figure out how to finish the season on a strong note.
"Right now we're dealing with adversity and we'll see how well our players respond," Coleman said. "We have a plan in place to get everything right."
Nightmarish performance on defense: Saturday marked a historically bad night for the Sugar Skulls' defense. Quad City produced 334 yards of total offense and scored 72 points, the most Tucson has allowed all season. The Steamwheelers averaged 9.3 yards per play, and quarterback E.J. Hilliard threw for 247 yards and five touchdowns in the rout over Tucson.
"That was one of the poorest performances that I've been around as a coach and I told them that. They got that message," Coleman said.
The Barnstormers have the fourth-best offense in the league. Iowa averages 255.3 yards per game, trailing the Sugar Skulls (276), Rattlers (272) and Steamwheelers (260).
'Inconsistent' QBs: Coleman said quarterbacks Jake Medlock and Matt Behrendt were "inconsistent" in last week's loss.
Medlock and Behrendt have been sharing the load and swapping snaps and games at quarterback all season. Behrendt's appearance against Quad City last week was his first since a 53-47 loss to Nebraska, when he threw two interceptions. Medlock got the nod to start against and completed 11 of 20 passes for 120 yards, two touchdowns and an interception. It was Medlock's third consecutive game throwing a pick.
One of the many reasons Tucson's quarterbacks have struggled this season could be their previous stops in the IFL. Before Tucson, Medlock was the IFL passing leader in 2018, and Behrendt quarterbacked the Green Bay Blizzard.
"They were kind of used to things their own way and playing backyard ball and not really being in a structured offense," Coleman said.
Remembering the draft: The NFL Draft is this week, and Coleman remembers the moment he was selected by the New York Jets in 1996.
At the time, the NFL Draft was broken up into two days, with the top three rounds on the first, followed by the fourth, fifth and sixth rounds the next day. Coleman, fresh off his final season as a defensive back at Texas Tech, hosted a draft party at his Dallas apartment with his parents and then-girlfriend sitting beside him. He was certain his phone would ring on the first day.
"I was projected to go second or third round," Coleman said. "The first day ended and I was heated. I'm mad, I'm crying and I'm outside in the parking lot yelling. I was pretty upset and frustrated. I wasn't even thinking about money. I was just upset that I knew I was better than a lot of the guys that were picked ahead of me. I knew for a fact that I was better than most of the guys picked over me."
The Jets took Coleman in the fifth round. He spent six years in New York before playing for the Texans and Cowboys until 2006.