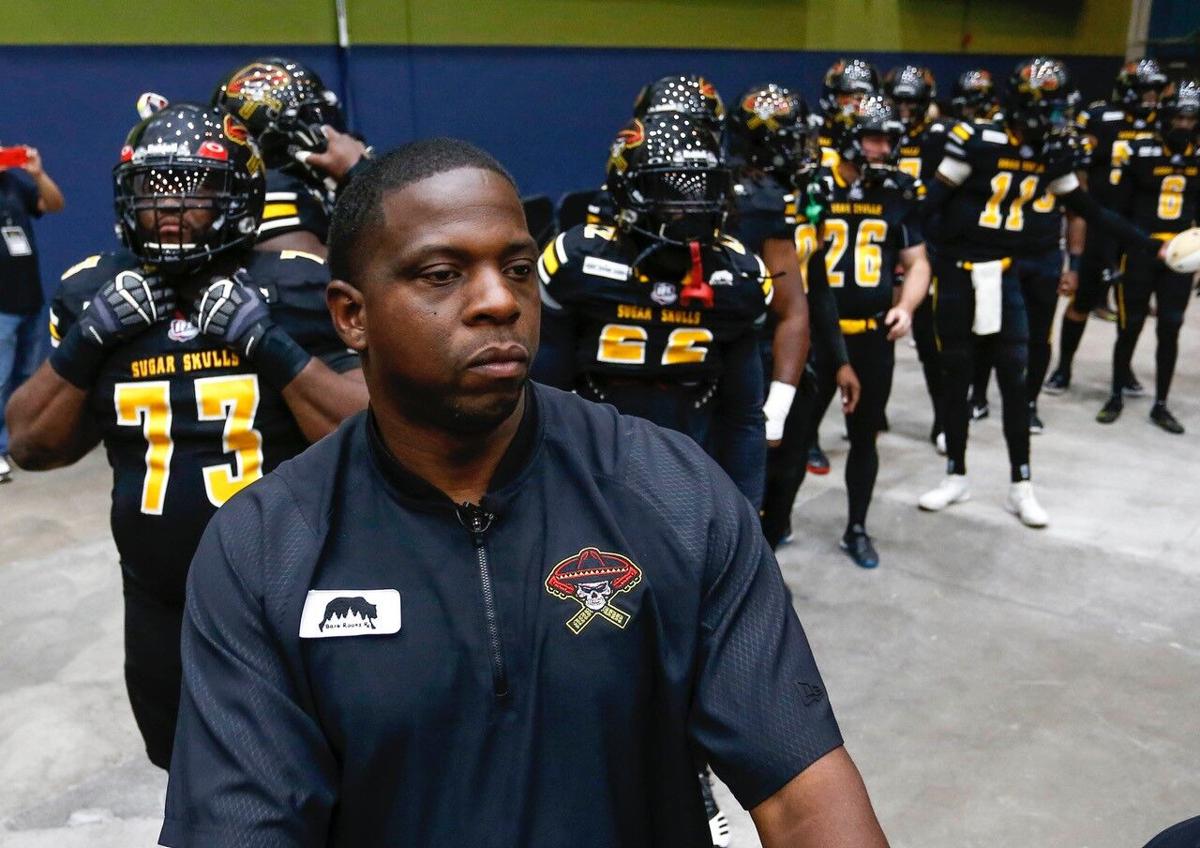 PHOENIX — Like the previous four Tucson Sugar Skulls-Arizona Rattlers contests, the IFL team down south didn't have enough and fell short. 
Tucson lost to its in-state rival 44-34 during Saturday's primetime slate at the recently renovated Phoenix Suns Arena for Arizona's home opener — and first IFL game in the Valley since the 2019 United Bowl title game. 
Arizona's win over Tucson also marked the first time Rattlers head coach — and Sugar Skulls co-owner — Kevin Guy beat Tucson head coach Dixie Wooten. It was also the fifth time the Rattlers beat the Sugar Skulls since Tucson's inaugural season in '19. 
"It was fun and it's always great to play against Kevin Guy's team. You always know you're going to have a great game and it's going to be physical and fast, and they have some great players," said Wooten. "But I'm proud of our young guys for the way they stepped up to the challenge."
After a mild performance last week, Sugar Skulls quarterback Demry Croft completed 12 of 20 passes for 142 yards, four all-purpose touchdowns and an interception. 
Tucson fell behind 16-0 in the first quarter after a pair of rushing touchdowns by Rattlers quarterback Drew Powell, who won the IFL championship in 2018 under Wooten with the Iowa Barnstormers. 
The Sugar Skulls coughed up a safety on their first offensive possession when Croft was penalized for intentional grounding inside Tucson's 5-yard line. 
With a raucous crowd absorbing their first IFL game in Phoenix in two years, Sugar Skulls wide receiver Kent Shelby momentarily deflated the energy on a crucial fourth down, and grabbed a 21-yard touchdown pass from Croft to give Tucson life in the second quarter to cut the lead to 16-6.
"When you come into the 'Snake Pit,' this is a tough place to play, and this is (Croft's) fourth game ever playing indoor football," Wooten said. "After the safety, he settled down and knew what he had to do." 
A week after Tucson's defense kept the Sugar Skulls in contention during the 33-13 home-opening loss to Iowa, the Rattlers managed to score on nearly every offensive possession in the first half. The Tucson offense that sputtered and was shut out in the second half last week brought new life in the second quarter on Saturday. 
Croft scampered in for a 9-yard touchdown to bring Tucson's deficit to 23-13, and after another Rattlers touchdown, the 2019 IFL leading rusher Mike Jones hauled in a 25-yard pass from Croft, keeping Tucson within striking distance, 30-20. 
The full momentum finally swayed to Tucson just before halftime, when the Sugar Skulls blocked a last-second field goal attempt to remain down 30-20, and set up the offense to begin the second half.  
Tucson captured a 34-30 lead entering the fourth quarter following a pair of touchdowns by wide receiver Jazeric Peterson and Jones. 
"Dixie did a great job of changing up some tendencies tonight, and they showed some guts coming out in the second half and taking the lead," Guy said. 
But the lead was short-lived and similarly to last week, the Sugar Skulls spiraled in the fourth quarter. 
The Rattlers regained the lead midway through the fourth quarter and didn't look back. With a chance to take the lead back, Tucson wide receiver Ryan Balentine threw an incomplete pass after Rattlers defensive back Dillon Winfrey "read his keys" and pressured Balentine in the backfield, and the trick play on fourth down handed the ball back to Arizona. 
Croft said "that's what took the momentum away." 
"I've always said, 'How do you stop momentum? You take it right back and stop them with momentum,'" Guy said. "We got that fourth down stop and it kind of turned the game and the energy came back into the building. They made a run on us, and I'm proud of the team for coming back and showing some energy and momentum to stop them on fourth down."  
Similarly to last weekend's loss to Iowa, the game was sealed after Croft threw his only interception of the game deep into Rattlers territory. 
"We have a very good football team," Croft said. "We just have to put all four quarters together — all three phases together — and once we do that, we're going to be a hard team to beat. ... After this week, we'll have everything figured out." 
Tucson's loss brings its season record to 1-3, with losses to Green Bay, Iowa and now Arizona. Up next: Tucson will host the Massachusetts Pirates on Saturday at 6:05 p.m. at Tucson Arena.
"The only thing you can do is go up," said Wooten. "We're 1-3, and we've played in three road games and one home game. We don't have any bye weeks and people are beat up, but at the end of the day, every game we lost it was because of something we did to ourselves. 
"So I think right now as a coach, I'm going to look back on these four games, see what type of pieces we need to bring in ... and get my young quarterback ready, so we can go out fighting." 
Extra points
The Rattlers have former Arizona Wildcats center Steven Gurrola and defensive lineman Larry Tharpe the on roster this season. Gurrola, an All-IFL selection and Phoenix Washington High School graduate, is now in his third season with the hometown Rattlers. Gurrola played at the UA for the 2013 and '14 seasons, and was the starting center for the Wildcats' Pac-12 South championship team. Tharpe spent the '16 and '17 seasons at Arizona, before turning pro. 
Announced attendance for Saturday's game at Phoenix Suns Arena was 5,766. 
Balentine is 36 yards away from becoming the league's all-time receiving yards leader. 
After releasing offensive lineman Antonio Rosales this week, the Sugar Skulls had a change in the lineup, starting Isame Faciane, Matt Burrell and Osaro Eromosele. 
Contact sports producer Justin Spears at 573-4312 or jspears@tucson.com. On Twitter: @JustinESports