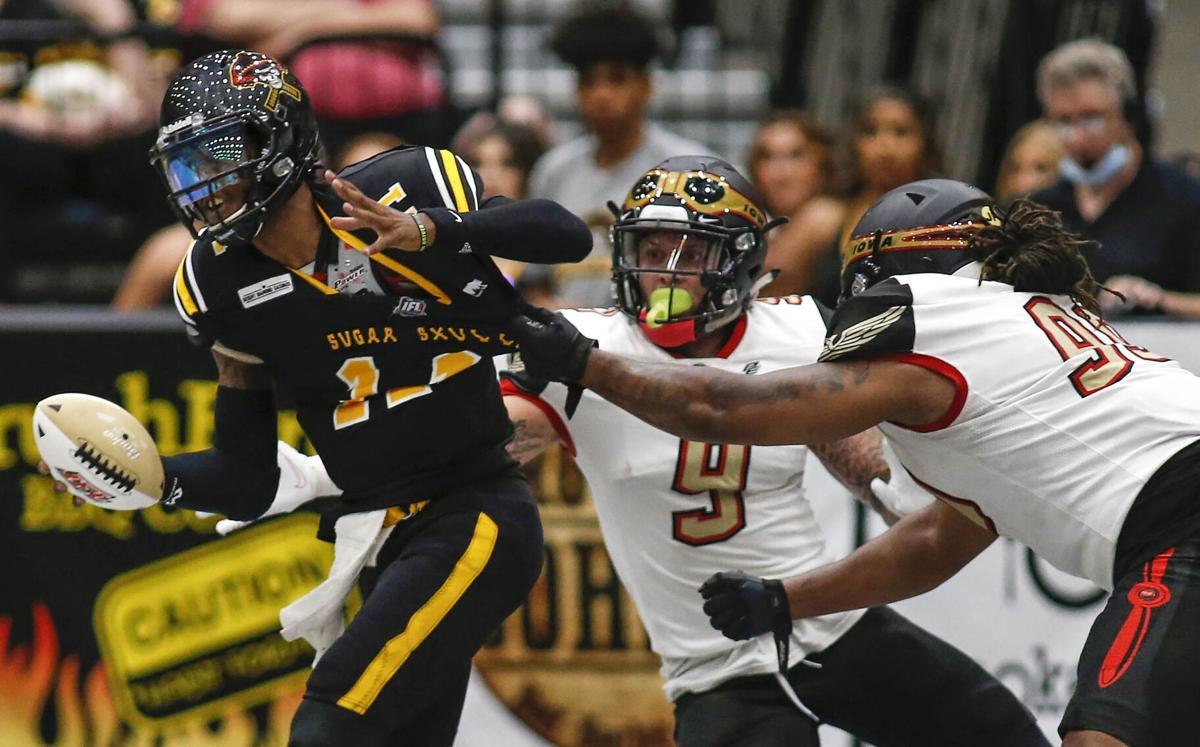 At the halfway point of the IFL season, the Tucson Sugar Skulls' 1-6 record wasn't what most were expecting considering the roster of all-league veterans and notable rookies that head coach Dixie Wooten assembled in the spring.
With seven games remaining before the postseason, the Sugar Skulls are in the cellar of the IFL standings, and Wooten is in uncharted territory as a head coach. But his positivity and drive to fulfill the "championship-or-bust" expectations hasn't wavered.
"It's not how you start, it's how you finish," Wooten said. "This is my first time going through this type of adversity, but I look at it like a challenge. Why not me? Why not step to the challenge and show my guys that I'm not gonna hang my head because we're losing right now.
"We can always step up harder and win games. … Losing a game makes me mad and frustrates me at times, but when I think about the big picture of life, it makes me come back and come to the drawing board and get ready for the next week."
Tucson looks to snap a five-game losing skid at 6:05 p.m. Saturday when it hosts the Duke City Gladiators — the only team the Sugar Skulls have defeated this season — at Tucson Arena. Coming off the franchise's sixth consecutive loss to in-state rival Arizona Rattlers, Wooten's experience and growing wisdom has allowed him to stay calm in these tense circumstances.
"When I was young after a loss, I was ready to throw a brick through the wall. Now, I understand that I have to get back to work," said Wooten. "We lost the game Saturday, I was back to work Saturday night trying to break down the film and get ready for Sunday. It's a process — a long process — and if we're still losing, we gotta find ways to rewrite the script."
So, the Sugar Skulls' season will go down one of two ways: Tucson can go on a run and still qualify for the postseason, or lose at least three games and put the final nail in the coffin of a disappointing year for a franchise hopeful to make a splash in its second official season.
"If we run the table, we're in the playoffs," Wooten said. "Can't lose three games, because that'll definitely put us away. We're one game at a time. So, we're calling this the second season of the year and we're starting Game 1 again."
If there was a to-do list for the Sugar Skulls' "second season," limiting turnovers in critical moments of games is at the top and underlined five times, one for every loss during this streak. Tucson has led in every contest of this losing skid, including three times in the fourth quarter, but "key mistakes killed us at certain times and made us lose games," Wooten said.
Most of Tucson's turnovers this season have been at the hands of quarterback Demry Croft, who is second in the IFL in passing yards (1,256) and third in rushing (383), but goal-line fumbles and and second-half interceptions have plagued the Sugar Skulls from either taking two-possession leads or cutting into a deficit.
Despite the miscues from the IFL rookie, Wooten isn't ready to hand the keys to the offense over to a new quarterback and said, "his potential is through the roof, but I just have to put him in position to not turn the ball over."
"If we bring a guy in now, he's probably not in the best shape, he's not better than what you have on the roster, because the guys you have on the roster have been working out all year and have been in the system all year," Wooten said. "You bring in somebody what we call 'off the street,' they come in and practice and are open for injury. … We're going to stick with the guys and go over film and practice and do whatever it takes to be successful."
The roster is set for the Sugar Skulls, so how do they shake their losing ways? With a game of kickball, of course. The first practice after the loss to the Rattlers, Wooten ended the special teams meeting and directed his team to the practice fields at Kino Stadium, divided up the players and watched them play kickball.
"There's always a message through everything," Wooten said. "So, I sat back and heard everything I told them: 'Be coachable, talk, communicate.' I told them: 'Everything you brought to kickball, bring it to football, and bring the fun with it, too.' I think with this group, we get over this hump and we're gonna make a run."
The players were receptive to Wooten's team-bonding tactic.
"Any time you have a team-bonding situation like that, there's always a lot of positives you can take from it," said Sugar Skulls safety Matt Elam, a former first-round NFL draft pick by the Baltimore Ravens in 2013. "We learned to rally our guys — and trust our guys. … I feel like it's going to help us in the long run."
A recharged Sugar Skulls team desperate for a win will get their answer if kickball worked, when they face Duke City with a new mindset.
"We're approaching it like it's the playoffs," Wooten said.
"This is a must-win game for us. We gotta have this one and go out there and win this one game. … All we gotta do is jump over the hump in the fourth quarter."
Extra points
The Sugar Skulls will wear yellow jerseys, yellow pants and black helmets against Duke City on Saturday.
Saturday's home is "Teacher Appreciation Night." The first 1,000 fans will receive a Sugar Skulls foam finger.
Tucson looks to win its first home game of the 2021 season on Saturday. The last time the Sugar Skulls won at Tucson Arena was on June 15, 2019 against the Quad City Steamwheelers.
Contact sports producer Justin Spears at 573-4312 or jspears@tucson.com. On Twitter:
@JustinESports