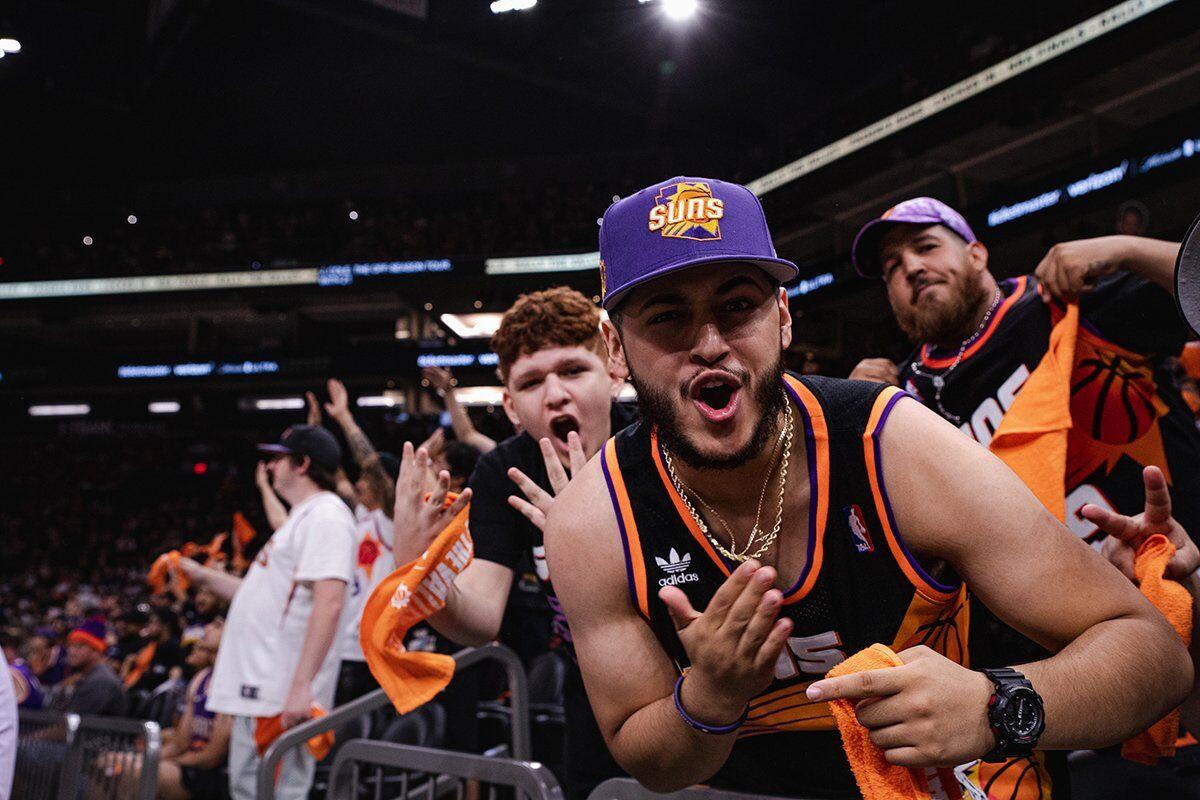 PHOENIX – No one would have guessed the Suns had just lost Game 3 of the NBA Finals with the many fans rooting inside and outside Phoenix Suns Arena Sunday.
Ernesto Gastelum was loudly chanting, "Suns in five, Suns in five" while enjoying a piggyback ride from a family member outside the main entrance, and then followed with another mantra: "We bend, but we don't break."
"We believe in our boys, and it is all good if we lose one," Gastelum said. "We're going to bring it to Phoenix, and we're going to win this 'ship in our hometown."
The Suns' "Road Game Rally" — what felt like a home Suns game — had fans waiting in line at least two hours before the doors opened. The $10 tickets made for a sold-out stadium, with seats available on a first-come, first-served basis.
Baseemah Uqdah arrived at 1 p.m. with food, water and 12 family members. Once doors opened at 3:30 p.m., her family moved swiftly to claim an entire row of seats.
"We sprinted. We pushed through the crowd. We were not playing," Uqdah said, chuckling. "Everyone just buckled hands."
"There's 12 of us, so it's hard to afford tickets like that. The fact that they do this for families is really amazing," she added.
The volume was so loud that the only time announcers could be heard was when the Bucks scored or the Suns were down by a large margin. Fans stood on their feet, twirling orange towels after big plays, and let out boos when they disagreed with the officiating.
Every television break was filled with entertainment, from dancers to basketball competition to a DJ spinning mixes on the court.
However, two short-lived screen glitches were the reminder that the Suns were at Fiserv Forum in Milwaukee.
Anne Rickard and her daughter had front row seats and said her experience attending a Suns rally in 1993, which was when the team was last in the finals, was similar, except the energy this time was elevated.
"The same, well maybe a little wilder," Rickard said. "It was exciting back then, even though we are not physically seeing the game in person."
Rickard's daughter Courtney grew up watching the Suns and enjoyed the experience of sitting so close to the court.
Those same seats are listed at $4,950 on Ticketmaster.
Amber Uthe also attended the 1993 rally and is glad her sons could experience this version as well.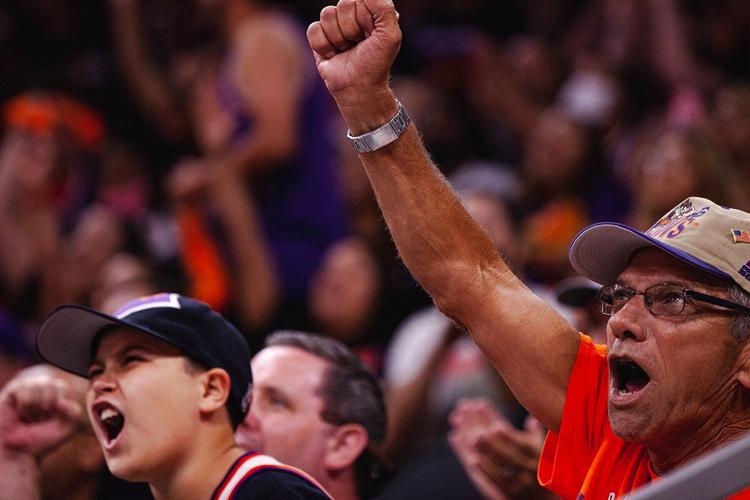 The $10 ticket allowed Uthe to bring her two kids, while her husband stayed at home with their youngest. Her sons came with their basketball team, with many of them holding Big Head cutouts of their favorite Suns players.
Uthe's 8-year-old son, Caleb, called the experience "good" and "really squashed."
The jam-packed event brought large groups, too.
Erika Rios' group of 30-40 people ran to claim four rows so it could be part of the party-like experience. Adding the halftime performance of Tempe-based band Katastro made the event more exciting.
"It's so much fun to be a part of this experience. I love that they did this for the fans," Rios said.
Near the end, some fans trickled out, but for many, the party never stopped. They are excited the Suns now have the potential to win the title Saturday at Phoenix Suns Arena.
A Game 4 watch party is scheduled for Wednesday at Chase Field, the nearby home of the Arizona Diamondbacks. Tickets were sold out as of Tuesday.