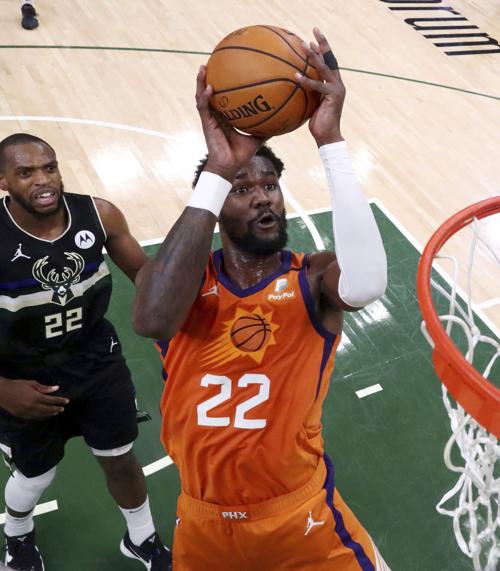 PHOENIX — The Dallas Mavericks didn't give Luka Doncic a supermax rookie extension of five years for $207 million to continue falling short in the first round of the playoffs.
They expect the first-team All-NBA selection to deliver multiple chips.
The Atlanta Hawks didn't agree to a max rookie extension with Trae Young with a 30% escalator clause that'd uplift the guaranteed $172 million to $207M should Young be voted All-NBA just because he looks like the second coming of Stephen Curry.
Young is "box office," and put that on full display in leading the Hawks the conference finals. They see more of that to come.
And the Oklahoma City Thunder didn't give Shai Gilgeous-Alexander the same guaranteed money in his rookie max extension as Young with the 30% escalator clause just to show their commitment to him.
He's a super talent and received the proper treatment the best player on a rebuilding team deserves.
Deandre Ayton, the former Arizona Wildcats star and the top overall pick of this special 2018 draft class, doesn't check any of those boxes for the Phoenix Suns.
He's not their best player. That's Devin Booker.
He's not box office. Great personality, but hasn't reached star status.
He's not on a rebuilding team, either. The Phoenix Suns are very well built.
So why should they give him a rookie max extension for five years, $173 million according to Spotrac?
One, the Suns aren't winning a championship in the near future without him.
They don't have a big man who could replace him or someone who can defend, rebound and post double-doubles on the regular like him.
Say they get the hots to trade Ayton and he wins a title — and the Suns don't.
They'd never hear the end of it.
Two, he has the potential to become an All-Star, All-NBA and their centerpiece.
Booker is their best player. Chris Paul is the most accomplished and complete, but Ayton is the most talented with an upside that's off the charts
If he reaches his full potential, that $173 million will feel like a bargain — just as that $158 million does now with Booker.
Ayton doesn't have the stats like his fellow 2018 draft mates Doncic, Young and Gilgeous-Alexander, but he's already achieved something they haven't.
He's played in the NBA Finals.
He's on a team that's set to make another run at it this upcoming season.
With General Manager James Jones and head coach Monty Williams in the fold, the Suns are going to remain in playoff mode beyond this season.
Booker has one of Phoenix's two allotted designated rookie extension slots. Ayton is in a better position than Mikal Bridges to receive the other.
Bridges should get paid, too. He hasn't missed a game in his NBA career so far, is reliable and made a huge improvement from his second season to his third.
Bridges can defend multiple positions, knock down 3s, is excellent in transition and his midrange game is only going to improve.
He's a valuable piece, but Ayton is different.
He showed it in the first round against the Los Angeles Lakers before All-Star big Anthony Davis went down with multiple injuries.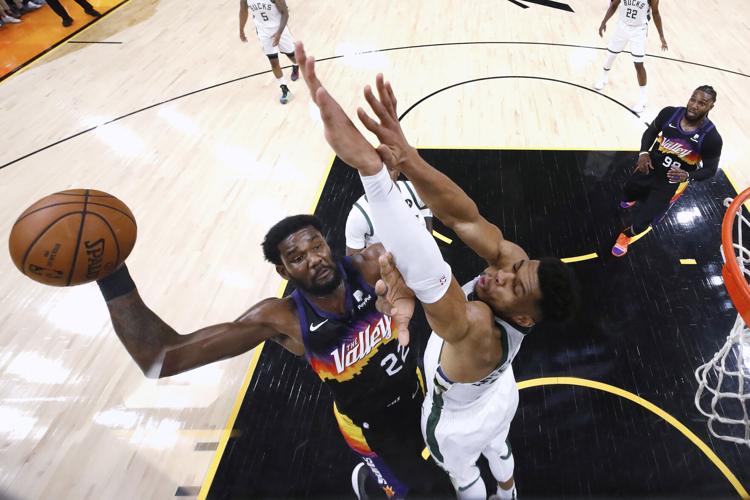 He earned NBA MVP Nikola Jokic's respect in the conference semifinals against Denver, won Game 2 of the conference finals with his "Valley Oop" with 0.7 seconds left to stun the Los Angeles Clippers.
Giannis Antetokounmpo ultimately got the better of him in the finals, but Ayton now knows there's another level he has to reach.
The Suns giving him a rookie max extension would tell him they believe he can rise to that necessary level for Phoenix to win a championship.
Ayton and Doncic have the same agent: Bill Duffy of BDA Sports Management.
So he's in the hands of someone who has been here and done this many times over.
Paul helped put Gilgeous-Alexander on the path to his huge payday in their one season together in Oklahoma City.
Now the 16-year veteran will enter Year 2 of showing Ayton what it takes to become a special player.
Ayton will likely never put up the same numbers as Doncic, Young and Gilgeous-Alexander. Those three handle the ball all the time.
Ayton screens, rebounds, blocks, defends — and scores off either dribble penetration or pick-and-roll. He has much more in his offensive bag, but Williams stripped him down to bare essentials with an emphasis on playing with force.
Now that's Ayton's baseline has been established, the Suns can now open his game with post touches, jumpers, ball handling and an occasional 3. If he plays with consistent force, improves his strength and starts embracing contact, averaging 22 points and 14 boards a game is well within his reach.
Ayton averaged 14.4 points on a career-best 62.6% shooting from the field on just 10 shot attempts a game and 2.5 free throws a game.
He can reach that 20-plus points with a couple more FGAs and up to six more FTAs. It'd help to raise his free-throw percentage from the career-best 76.9% he shot this past season to 80-plus percent this upcoming season.
More money means more responsibility and requirements.
It requires a player to perform at a higher level than he already has shown.
This is why some are wondering if Ayton is deserving of the extension.
Has he shown his best? Can he consistently play at a high level?
All of that is wrapped into that huge ball of Ayton's potential and upside Phoenix must believe will grow into dominant play on both ends every night.
He's not a perimeter player. The game is centered around them.
He hasn't put up crazy numbers, but what Ayton has done is show the Suns they need him to not only compete for a title now, but in the future.
That's why it looks like he'll receive a rookie max extension like Doncic, Young and Gilgeous-Alexander did, but for totally different reasons.