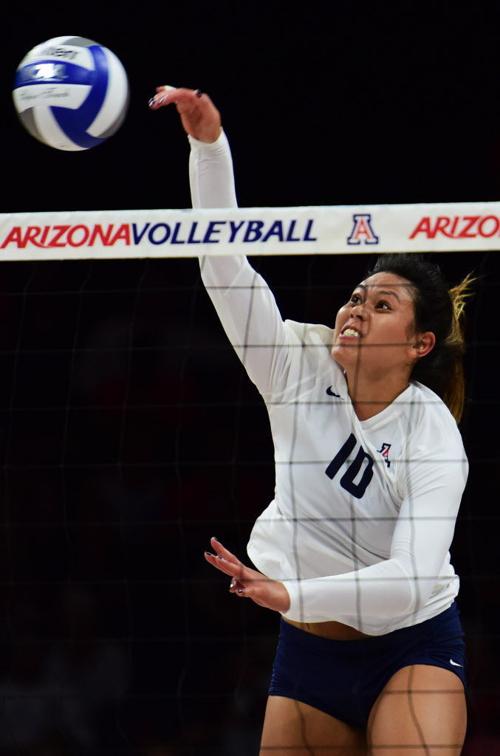 Plainly speaking, Dave Rubio did not see this coming.
Entering the year with a hodgepodge mix of veterans, transfers and freshmen — 11 newcomers in all — Rubio wasn't all that convinced that the Wildcats would be NCAA tournament-bound for a third straight season.
Last Friday morning wasn't exactly overflowing in optimism either: Heading into what likely was a make-or-break match with rival Arizona State, Arizona would be without outside hitter Kalei Mau and libero McKenna Painton, both out with concussions.
Rubio learned not to count out his team, though, and the Wildcats responded with a 3-1 win over the Sun Devils, putting them in the tournament, where they will open with Western Kentucky on Friday in Provo, Utah.
"The team really pulled together throughout the season, and it was evident when we lost Kalei Thursday night leading into ASU, and lost McKenna the day of the match," Rubio said. "For our players to step in and play at a high level speaks a lot about that group."
The Wildcats found themselves on the brink earlier this season, when a three-match slide threatened to spiral out of control. Rubio said it best: "In this conference, once you lose, you're not sure when you're going to win again."
The loss at No.  12 UCLA, OK, you can stomach that.
Falling at No. 1 USC, sure, maybe even expected.
But when Colorado came to Tucson on Oct. 23 and dealt Arizona a 3-1 loss, it was clear something had to be done.
"(Coach Gregg Whitis) said we were too soft on them; we have to push them," Rubio said. "He was absolutely right. The next couple weeks we got on them a little more."
Rubio had entered the season a bit toned down from the previous two years, when veteran-laden Wildcat squads expected to be pushed, and pushed hard.
"Last year he was more loud with us, when we lost or should be playing better," middle blocker Halli Amaro said. "It was more of an aggressive caring matter. This year he doesn't puff out his chest as big. It's a matter of what tone of voice he's using and who he's talking to."
Added Rubio: "Last year was completely different in terms of the direction and the message I was sending. That's what keeps coaches coming back for more. If you've been in the business as long as I have, no year is the same. It keeps you fresh, challenges you to change the message for a particularly group or individual."
Rubio's chest puffed anew, Arizona emerged from the skid by winning three of four, and now the Wildcats can look to their rebound as motivation should Friday's match tilt toward a feisty and ferocious Western Kentucky team.
Unlike the beasts of the big, bad Pac-12, the Hilltoppers are closer in size to the Wildcats, and at 31-3, they've used their speed and savvy to their advantage.
Rubio put the disparity succinctly: "We're used to seeing giant kids who play volleyball."
That's what they'd see again if they were to advance to the second round, where they would likely meet BYU, which takes on Ohio at home. The Cougars ended Arizona's season last year in the second round.