The Wildcast (Bonus): Arizona DT PJ Johnson's children his 'driving force' to enter NFL Draft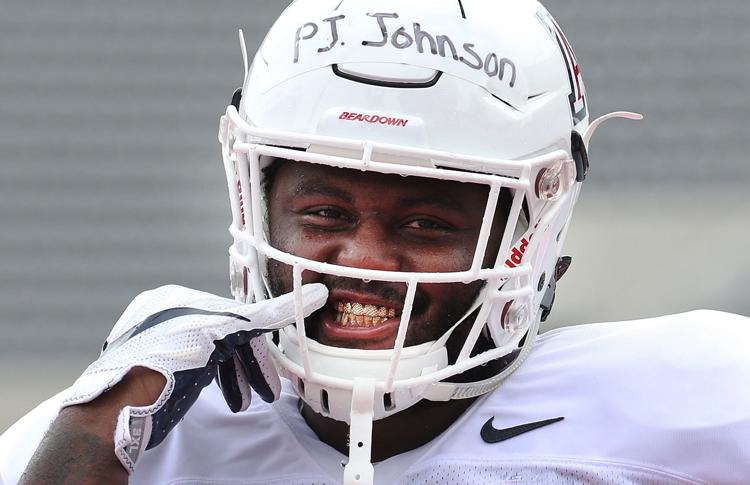 Arizona Wildcats defensive tackle PJ Johnson declared for the NFL Draft on Wednesday afternoon. Johnson joined The Wildcaster's Justin Spears on ESPN Tucson 104.9 FM to explain why he declared for the draft and what the next steps will be during the process to become an NFL-caliber player. Johnson, a juco transfer, looks back on his time in Tucson as a Wildcat. Join Spears on ESPN Tucson (104.9 FM, 1490 AM) weekdays from 3-6 p.m.
Sports producer
Justin Spears is an award-winning sports journalist and Tucson native. He can be reached at jspears@tucson.com. On Twitter @justinesports.
Related
Arizona Wildcats defensive tackle PJ Johnson shows off his gold grill.
Social Media Examiner's seventh annual Social Media Marketing Industry Report, a survey of 3,720 marketers, business owners and solopreneurs from the U.S. and overseas, reveals some social media trends gaining momentum, as well as some surprising stalls, writes Suzanne Delzio.96% of survey p…
I have come to notice that many of my millennial friends are not avid mobile shoppers, as many would assume.  HOWEVER, what they will buy via mobile are DEALS!  "Almost half (44%) selected a coupon or deal for a product they are looking for and 37% said they would want a close by sale or coupon."
Social Media Examiner's seventh annual Social Media Marketing Industry Report, a survey of 3,720 marketers, business owners and solopreneurs from the U.S. and overseas, reveals some social media trends gaining momentum, as well as some surprising stalls, writes Suzanne Delzio.96% of survey p…
I have come to notice that many of my millennial friends are not avid mobile shoppers, as many would assume.  HOWEVER, what they will buy via mobile are DEALS!  "Almost half (44%) selected a coupon or deal for a product they are looking for and 37% said they would want a close by sale or coupon."